Need a bike to escape? The Bombtrack Hook EXT tackles roads, paths and trails!
The Cologne-based brand have set out to create unique bikes that capture the joy of riding bikes. Be it on the track, touring, road racing, cyclocross racing, gravel grinding, commuting, mountain biking – they have something for just about anything. 
We received a Hook EXT to test, which could best be described as a 'beefed up' version of their Hook cyclocross and gravel bike. The Hook bikes are available in steel, alloy or carbon. While the Hook has proven to be an exceptionally versatile drop-barred bike, with team rider 'Fish' finishing the seven-day Transalp mountain bike race on one. But Bombtrack believed there was room to push the Hook even further. Enter the Hook EXT.
With a Columbus steel frame, huge carbon fork, oversized down tube, through-axles, 1x11 drivetrain and 650b wheels sporting 2.1" tyres – the Bombtrack Hook EXT stands out from the rest of the range. It's the rough and ready cousin of the family, the kid who drinks straight from the milk container, the older brother who can get away with anything – all rolled into one. The Hook EXT sits apart from the rest of the range.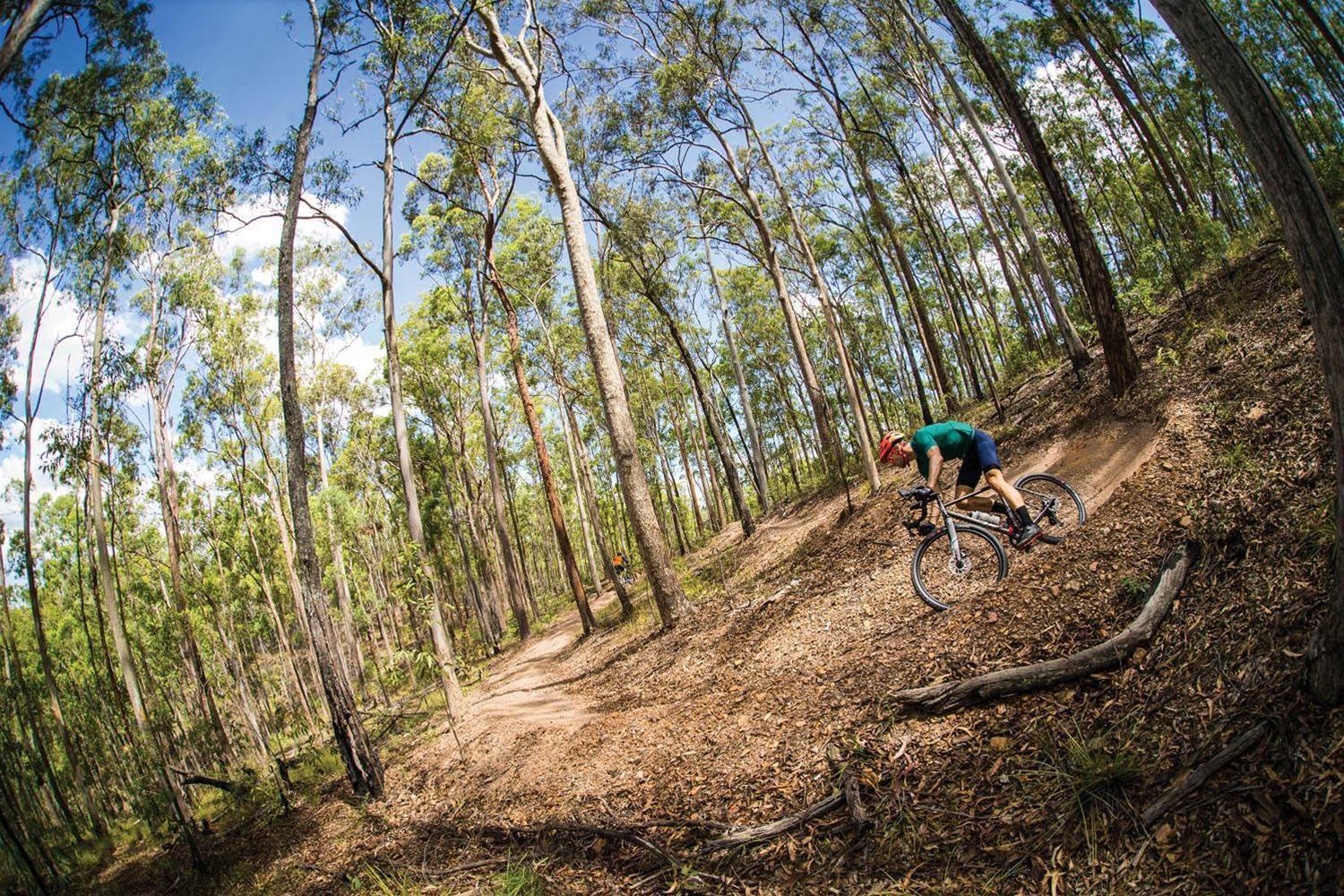 Initial Impressions
An 'adventure bike' is the exact bike everyone needs! Or so you might be lead to believe if you follow cycling-centric social media intently. I feel that just about any bike you own is an adventure bike. I can't think of many bikes I have had since my early teens that haven't provided untold joy. Be it via the freedom of my own transport, the rush of speed, trying to figure out how to jump (never got it right), exploring new roads, trails, mountain ranges and countries, or meeting new people. Some of my best adventures were after school on a BMX bike, or riding across Mongolia on my mountain bike.
The other side of this argument is that any tool, or bike, can be improved for a task. Cyclocross bikes, like the Hook range, are nothing new. But their broader use has expanded. I used my last cyclocross bike for bunch rides, cyclocross racing, exploring back roads, riding trails, commuting, a mountain bike marathon, short track cross-country racing, and even some road criteriums – although I was always under-geared. Cyclocross bikes typically are limited in their tyre width. While the UCI states a maximum width of 33mm is allowed, some frames will take 40mm – but not much more. With steep angles for agility, riding a 'cross bike off-road outside the realms of a set course is a challenge, albeit a very fun challenge for most experienced riders.
With disc brakes and tubeless tyres coming into the cyclocross world, all of a sudden the bikes became more capable off road. And, at the heart of it, the Hook EXT frame and fork is aimed at pushing the limits of what is possible with a drop handlebar rigid bike. So it's fitting that you can opt to just buy the frame and fork if the whole bike isn't for you – that package sells for $1,199.
Looking more closely at the frame and fork, the huge tapered steerer carbon fork has a mammoth amount of clearance – about 75mm between the fork legs. We've heard of 2.4" 27.5" mountain bike tyres being used in this fork. It can also accommodate a 700c wheel with up to 45mm tyres. That's a skinny 29er MTB tyre, or enough room to roll on something pretty useful like a Maxxis Rambler 40mm. The fork is tied together with a 15mm through-axle – the same as a mountain bike uses.
The frame uses Columbus CROMOR double-butted custom tubing. There is no denying that it's a tank, built to take you to the end of the world and back, less so for deftly hoisting it onto your shoulder for a cyclocross run-up. The downtube is big, and has a cable stop for a front derailleur if you chose to run a 2x drivetrain on a custom build. Otherwise the one shifter cable and outer runs off-centre to the right of the top on the top tube – well and truly out of the way of mud, grime, and your shoulder should you look to portage the bike, or hop some barriers.
There are two water bottle bosses on the inside of the main triangle, and mounts for a rack on the stays and drop outs. Those drop outs use a 142x12 through-axle, and the dropout tabs are replaceable as well.
The bottom bracket shell is pretty nifty, optimized for the PF386 standard. So that's 86mm wide but set to take pressfit 30mm bearings. Matched with a steel plate to start the driveside chain stay, this means Bombtrack could design the bike with short chain stays for sharp handling, and allow as much clearance for wide tyres as possible. Funnily enough this bike comes with a GXP crank with a converter in the bottom bracket for the 24mm axle.
The spec includes 27.5" wheels and 2.1" wide tyres. This makes it stick out. The outer diameter is about the same as a 700x28, especially given the WTB tyre is quite tall. With a larger volume of air beneath the rider, and a greater contact patch – it is this choice of wheel size that really starts to push the boundaries of what bikes like this can do. And yes, we've seen 2.4" tyres on this very model. The WTB rims are tubeless ready – alas the tyres aren't. If this was to be your bike, get something setup tubeless.
The SRAM Rival 1x group set has a 44t chain ring paired with an 11-36t cassette. This is a nice broad range, and great for cyclocross and back roads. But I had a feeling it might come up short (or tall) for the kind of trips the Hook EXT is capable of. The hydraulic brakes are nice and powerful, and while some people don't like the tall hood shape of the SRAM hydraulic brakes – for rough and tumble riding it does offer some greater security if you're riding in the hoods and not the drops. To that end, Bombtrack's own bars (and stem and post) finish the bike nicely, and the bars have 10 degrees of flare at the drops, meaning a bunny hop while in the drops doesn't mean a stiff crack to the wrists.
Standing back and looking at it, the Hook EXT cuts a fine line. It does actually look ready for adventure.
Set for adventure
If the Hook EXT is ready to do it all, I thought it best if that's what I went and did. My first ride took me on some lumpy back streets of Brisbane, to meet friends for a ride at some local trails. Getting on the bike and pedalling it was easy to feel at home. The contact points were spot on, mostly as the bars and shifters had been really well set up. Even on road descents I noticed how steady the bike was, and I found if I wanted to wrestle it around a little more up and over gutters it was best done in the drops.
What I also noticed on the hilly back streets of Brisbane was the weight. With 11.28kg (plus pedals, water, spares and myself) it's not spritely like a road bike, or cyclocross bike, or either of my mountain bikes. The Hook EXT has some girth – but that's part of the design – it's meant to be used for EXTended, EXTraordinary or EXTreme advenures.
Getting onto dirt once I'd met with some mates was a blast. We were on a mix of bikes but just having fun playing on the firetrails that lead to the purpose-built trails we wanted to check out. With the wheels and tyres I was never concerned about traction on the rolling climb, but was right up in the low gear for most of it. Part of running a single chain ring is getting the right chain ring on there. For where I live, a 40t would be more suitable. The 44t would be better for flatter areas.
Pointing down a local 'flow' trail - which is short on mountain bike gnar, but high on berms and fun factor - was a blast. I wasn't as fast as my mates on mountain bikes, but it was fun and I held my own. Actually heading off on mountain bike trails must be right at the limit of what the Hook EXT is designed for, but save for a clench-in-fear moment in a rock garden it was an afternoon well spent. The combination of direct steering from the monstrous fork, the sure-footedness from proper mountain bike tyres and stopping power of disc brakes meant I could enjoy finding the limits of the bike and my skills. Sometimes one before the other.
The gravel experience
Adventure bikes should also be great on gravel, although really those bikes tend to be their own niche. The Hook EXT with the 27.5" wheels and fat tyres is meant to excel on gravel, as the greater footprint of the tyre combined with the slacker than cyclocross geometry gives stability that gravel racers search for. So, I took it to the Great Otway Gravel Grind that we featured in our last issue.
The bike was a ball to ride, allowing untold speeds on descents and predictable grip even on gravel corners. The Hook EXT had stability that even put my dual-suspension cross-country bike to shame. It still responded to input, but didn't get bucked off line easily – which is a happy medium that isn't always hit. Our route mixed road, dirt road and fire trail and the Hook EXT was adept at all of them – but sluggish on the transition to pointing upwards. This is a result of a longer wheelbase and the weight of the bike. It seemed to want to settle and start plodding uphill, while my colleague Richie Tyler on the very spritely Focus Paralane would skitter down the descents and dance away on the climbs. Two adventure bikes, and two very different rides.
And that's what pushes the Hook EXT apart from the crowd, it really is built for more rough and tumbl adventurese. I loaded it up with some basic bikepacking bags, and it didn't faze the bike at all. It's a steady ride, and while it is no truck when it comes to handling, it does lend itself more to an all-day adventure on old trails and roads than chasing the sharp end of a cyclocross race.
But at the same time, the stock bike does have some shortcomings for that. I think the gear range is too narrow. SRAM make a great 10-42 cassette, but it needs a hub type these wheels don't have, and a longer cage rear derailleur. So it's not an easy upgrade, or a cheap one. I would choose to just fit a smaller chain ring, and lose the top end speed. I really don't think this is the bike you would buy for fast rides on country roads.
I wasn't able to get a compatible set of wheels to test out a 700x45c in the Hook EXT. What I had on hand had wide range cassettes, which the derailleur wouldn't have been compatible with. But I think this would have vastly changed the ride of the bike for general use, and really would show if it was as versatile as Bombtrack claim.
Final thoughts
I was excited to test the Bombtrack Hook EXT. It aligned with what I thought I'd want for an adventure bike if I deemed it necessary to add one to my own shed. And let me be clear – this was a lot of fun to ride. But what stopped me short of asking how much it would be to not return it, was that to truly get the most out of this bike, you'd want to make sure you had the time to push it to the limits. I'd want a set of 700c wheels to use it for local cyclocross races.
I'd want to put a smaller chain ring on, plus luggage and fatter tyres for some long off-road adventures over a few days. I'd really want to spend most weekends out on it, with some days of leave too. But I don't quite have the time for that – I like mountain biking, racing with my club and road rides more at the moment. If I find myself in the position to get a bike that will be a ticket to adventure, true off-the-beaten-path adventure, then I know where I'll be looking. And if you're after something that is laugh-out-loud fun, strong, reliable and versatile – you should be considering the Hook EXT.
| | |
| --- | --- |
| Bombtrack Hook EXT |   |
| Weight | 11.28kg (as tested) |
| RRP | $3,499 |
| Available from | linksports.com.au |