Grand final day at the MCG. One of those days every footy fan grew up dreaming of; 100,000 people filled with hope. Blood, sweat and tears has gone into this day … and that's just the fans!
The players have put everything in and they all have a story. They've overcome adversity, or gotten lucky with a dream run in their first year. Some have dealt with hardships away from the field, some are eyeing redemption. Then there are the unlucky ones, the ones who have missed out through form or injury or were simply squeezed out. Every story matters more than even before.
And so does every moment. A deft tap, a massive bump, a courageous mark, a timely shepherd, a gut-busting chase. Every goal, every miss, matters.
I'll never forget 2013. The first and only time Freo made it through to a grand final. The ride through September was epic. I knew I cared, but I didn't know just how much I CARED!
The purple haze strutting across to the MCG made this Freo fan proud – ordinarily I felt like the sole Dockers supporter on the East Coast! I grew up in a house full of West Coast Eagles, but I switched to the Dockers. We were always the underdog in derbies, so I figured if I wanted Fremantle to win in those, then I guess I was a Freo supporter. To go from the perennial underdog to a grand final made me proud, if, somewhat a little uncomfortable. Dealing with expectation and nerves was something rather foreign.
Fox Sports was nice enough to give me the afternoon off. I got to sit next to my brother, who graciously traded in his Eagles allegiance to support the Dockers – he donned the purple with pride – but he is an actor for a living. As it were, we were inaccurate early and never quite recovered. Hawthorn won by 15 points, starting its famous run of three in a row.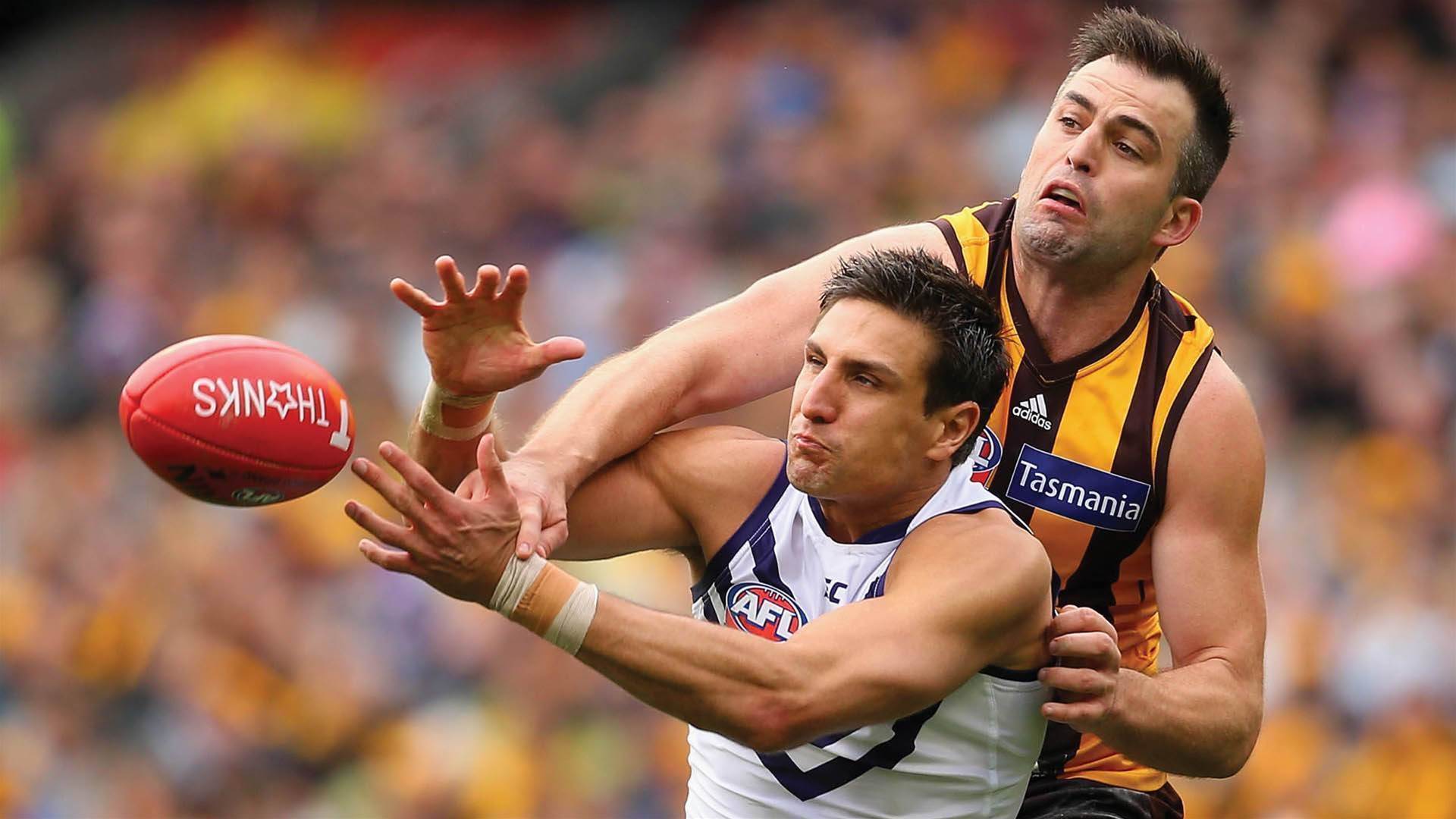 Brian Lake spoils a mark by Matthew Pavlich in the 2013 decider. (Photo by Getty Images)
Brisbane fans know that feeling all too well! I was lucky enough to watch their third premiership in a row live – it was an 18th birthday gift from my parents. My first trip to watch footy at the G! After the Lions' three-peat, they've languished at the bottom of the ladder. Led by Chris Fagan, they were a real chance to win it this year. Call me crazy, but I'd actually be happy to see former Docker Lachie Neale win a flag after witnessing him lose in 2013. But I won't cop the long-suffering Brisbane Lions line … they have won three more premierships than Freo this century!
I also have a soft spot for the GWS Giants, as I lived in Sydney when they first came into the competition. We all know the struggle it has been for them coming into such a tough market, but they've quickly built a strong culture and set about overcoming another year of injuries with a strong finish this September.
So many amazing stories - but I have a feeling it might be Richmond's year again. Bring on the ride!