War-bitten mentor changed player motivation forever.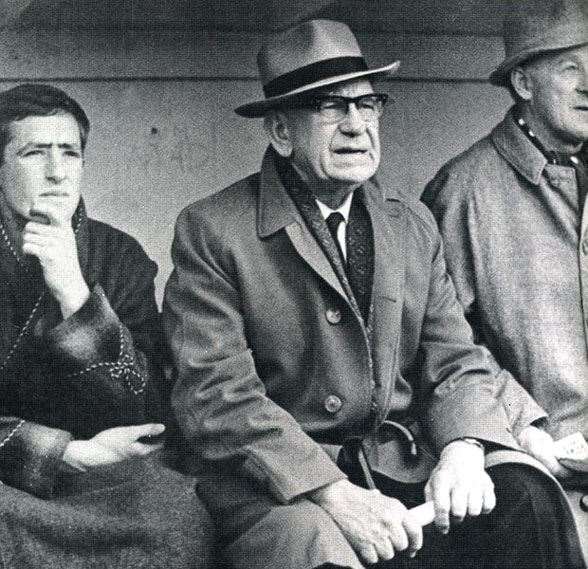 The breed of strong, articulate, charismatic leaders in Australian rules football began with one man: Frank "Checker" Hughes. It was carried on by selected specimens like Norm Smith, Jack Dyer and Ron Barassi. Hughes was the first coach to extend his influence well beyond the playing field as he achieved what many could not, even-handedly dealing out massive and immediate change as well as solid management and support. He was one of the few people in sport whose career was so intertwined with war, the experience pervaded his method and his outlook.
Hughes was personally involved in six premierships as a player and coach. That could've been seven; his Melbourne side was weeks away from a likely premiership in 1939 when, in September of that year, World War Two broke out. He played, and was enormously instrumental, in two Richmond premierships in 1920 and 1921, coached Richmond to one title in 1932, then moved to Melbourne Football Club, where he coached them to four premierships.
Twenty-four games into his playing career, Hughes was called to serve in the Australian army.
His unique methods of influencing men were, in their turn, influenced by his experience as a quartermaster sergeant in World War One. It's not so much that Hughes glorified war – far from it, in fact. He was awarded a meritorious service medal, but no one in his family ever saw it, or even recalled him receiving it. Hughes never marched in Anzac services, either. It was never a protest; he simply lamented the waste of human life and saw no reason to cast it in a good light. The one war story he did tell was one that said it all for him: he was out on the freezing, blood-soaked mud of the Somme when his mate, a Richmond team-mate, was blown up alongside him.
If there was one positive to come from that experience, he always said, it was to make him feel he was fortunate to be chosen by Fate to live.
Within a month of returning from the war, he was playing again for Richmond and featured in those three successive grand finals for the Tigers with his smart, quick transfers, pinpoint handball and rapid stab kick. Four years after retiring in 1923 he took over coaching the Tigers and got them into six grand finals, winning one.
After that grand final win, in 1932, Hughes took the short stroll across the park to the MCG to join the Melbourne Football Club, following his good friend, club secretary Percy Page.
He took them to the GF six times. Four of them were premierships, and added to that was the first-ever grand final draw, against Essendon.
Both clubs were stagnating when Hughes took over. The Tigers were no premiership threat in 1927, and hadn't been for some time. The once-formidable Melbourne had been out of finals contention for four years before he took over in 1933. His effect at both was as immediate as a flame. Checker's toughness, compassion and realism was just what they needed. When he arrived at the MCG, Melbourne were called, believe it or not, The Fuschias. Checker, being the man's man he was, wasn't fond of the floral moniker, and wanted to strike an immediate psychological blow at the club. It was he who dubbed them The Demons – something that represented the sort of fight he wanted them to demonstrate on the footy field.
Despite the empathy he'd developed for the men he'd fought alongside, Hughes also brought a hard new realism along with his knowledge of football and the requirements of success. In addition to changing the name, he sacked 13 players instantly whose presence only kept the club in the doldrums. Even back then, such a purge was a signal that the dreaded "rebuilding" was underway, and that supporters had a long wait for success. Yet his wartime experience also taught him to treat men as individuals, each with their own needs, and not as a herd.
When war broke out to end that 1939 season, many of Hughes' team members were drafted. Ten Melbourne footballers lost their lives, and Hughes was devastated at the loss. As was the case with anything to do with war, Hughes hid the often-heartbreaking letters he received from his players when they were at the front.
At Richmond, Hughes had used the strength of his own personality to pull the Tigers through. At Melbourne, with a powerful ally in Page, and an entirely new set of players, he was able to adopt a more attacking approach, as distinct from Richmond's tight, savage defence.
Checker was an articulate and incisive analyst of the game, and long after he retired he explained the pioneering system of attack he constructed around the man he considered "the complete forward engineer", Norm Smith. It was incredibly successful and began a dynasty at the club. Meanwhile, a stone's throw away at Punt Rd, they, too, considered Checker very much their own.
Hughes was the forefather of every tough, disciplined coach who understood motivation and could deliver a speech. Men like Smith, Barassi, Dyer, Jeans, Kennedy and many modern coaches – whether they know it or not – owe Checker an enormous debt.