The NRL needs to have club rugby league being played every weekend.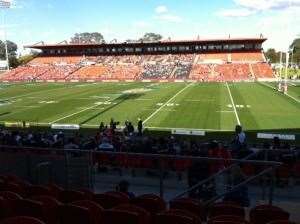 We'd known it was coming ever since the rugby league draw was announced in November last year, but last weekend's empty round of NRL fixtures still has us baffled, even a few days after it has come and gone. In an era of such intense competition for television gawkers, sponsorship opportunities and junior player numbers between the codes, for the NRL to persist with its weekend where no NRL matches are played is remarkable.
The point of the premiership pause is to make a true spectacle of the two major representative fixtures which are traditionally played about two-fifths into the premiership season. It works for the annual ANZAC Test, which, like State Of Origin, features the best players in the game doing their best for their respective countries, Australia and New Zealand. But for the only other top-flight rugby league clash on the menu to be made up of New South Wales players not considered good enough to be selected for Australia is a complete waste of the airtime available.
The City vs Country match is locked into the game's TV broadcast deal for another few years yet, so it's not going anywhere, but surely the lowly crowd of only 4635 which rocked up to Coffs Harbour's BCU International Stadium indicates that people aren't all that fussed about this concept, even when it's one of the only games played across the weekend, and in the first time in who-knows-how-long that top-level rugby league has come to Coffs Harbour.
The code did redeem itself somewhat over the hushed weekend when a decent crowd of 10,143 witnessed Tonga's 26-4 win over Samoa in the Pacific Test at Penrith on Saturday night, but this has to be worrying in itself – two minnows of the rugby league world attracting twice as many people as a game being held onto for tradition's sake.
The NRL's NRL-free weekend was well and truly taken advantage of by the A-League, too, which staged its biggest match of the year – its grand final – in Sydney during the timeslot most treasured by rugby league, Sunday afternoon.
Next year's NRL draw must have NRL matches being played every weekend. State Of Origin matches are played mid-week, why can't Tests, City vs Country and the new gem, the Pacific Test?