All the biggest and best snowboard films in one convenient place.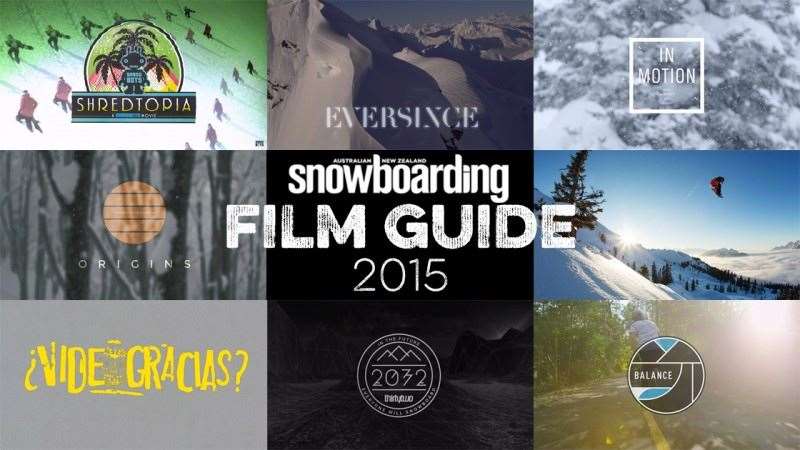 It's that time of year again! All the biggest and best in snowboarding are dropping their videos for us all to lap up, and this year particularly is looking the goods. We know sometimes it can be hard to make the decision of what to spend your hard earned money on, especially considering there's a good chance you'll need that for the northern season. So we thought we would make it a little easier for you and put together a list of some of the best snowboard flicks dropping this year.
SHREDTOPIA - Trailer
The latest and greatest from Shredbots featuring some of the Aussie boys Scotty James and Jye Kearney.
"SHREDTOPIA" is the new movie coming out from the Shredbots this year. The crew keeps building, with new additions continuing to build on the idea that anyone can be a Shredbot. Focusing on good times all over, the bots travel to new spots only to realise that when you're strapped in and having fun with the crew, you forget where you are anyways, its All "Shredtopia" to us. Enjoy!
Extended Trailer Coming Soon..
Starring: Torstein Horgmo, Andreas Wiig, Craig McMorris, Anto Chamberland, Brage Richenberg, Werni Stock, Darcy Sharpe, Mark McMorris
Cameos by:
Dylan Thompson, Jye Kearney, Jody Wachniak, Ulrik Badertscher, Craig Gouweloos, Scotty James, Marcus Kleveland & more!...
A Film By Tom Hannam & Mathieu Gibeault. Coming November 2015
IN MOTION - Trailer
Mark McMorris takes a brake from his normal comp routine to make what looks to be one of the movies of the year.
Follow Mark McMorris through the adventures of a season spent traveling the world, riding the highs and lows of a life at snowboarding's absolute highest level in his new movie, In Motion.
Often labeled as a 'contest kid', McMorris smashes the mold with the film In Motion, as he pushes his riding beyond the confines of the competitive arena and into the fresh powder and big lines of the backcountry. Between the contest podiums and champagne showers, he makes detours to explore the freedom of big mountain riding and learn first-hand from some the sport's best.
In Motion will be available through iTunes on October 27th 2015.
ORIGINS - Trailer
Five locations with some of the worlds best riders stomping on their home turf.
Five locations, five crews of riders—a window into how a place shapes style from the pioneers to the current personalities pushing snowboarding forward.
Featuring;
Japan: Kazu Kokubo, Kohei Kudo, Teddy Ko
France: Arthur Longo, Victor Daviet, Victor De Le Rue
Whistler: Rusty Ockenden, Matt Belzile, Chris Rasman
Quebec: Frank Bourgeois, Jason Dubois, Jeremy Cloutier
Mammoth: Kimmy Fasani, John Jackson, Eric Jackson
Feature film releasing September 2015.
EVERSINCE - Trailer
Always a well rounded snowboard flick from the Absinthe crew. Coving all aspects from big mountains to street there's no doubt this one will be a banger.
Can you remember your first time? ...the first moment you knew you were hooked ...the moment you knew you would find a way to make it happen again...no matter what. Absinthe Flms adventures are fueled by that unstoppable passion to find that unforgettable feeling.
Eversince that first time.
Available on iTunes in September.
2032 - Trailer
With this much creativity and skill in 2015. We wonder what snowboarding will be like in actual 2032.
The ThirtyTwo team celebrated its 20-year milestone by traveling all over the world and filming everywhere from snowy urban spots to the backcountry.
Featuring JP Walker, Jeremy Jones (Big Mtn), Scott Stevens, Chris Grenier, Joe Sexton, Chris Bradshaw, Frank April, Dylan Thompson, Brandon Hobush, Spencer Schubert, Toni Kerkela, Benny Urban, Dylan Alito, Johnny O Connor, Jordan Small, Kas Lemmens, Dylan Gamache and friends.
Available now on iTunes.
VIDEOGRACIAS - Trailer
Expect some Spicey heat from a great gang of hellions. VIDEOGRACIAS!
VIDEOGRACIAS TEASER from VIDEOGRASS on Vimeo.
While snowboarding content is becoming more instant and disposable, we are thankful/proud to deliver an annual release that stands apart from the daily feed and is made special by the support of the sponsors, riders, and filmers involved. VIDEOGRACIAS AMIGOS!
Featuring:
Alex Sherman, Danimals, Darrell Mathes, Derrek Lever, Gus Engle, Harrison Gordon, Jed Anderson, Justin Fronius, Layne Treeter, Mark Wilson, Nick Dirks, Sam Taxwood, Tommy Gesme, Zaz Marben
**Available this October on DVD/BLU RAY/50 Page Book Combo.
THE BALANCE MOVIE - Trailer
It's all about Balance.
DCP reflects on Snow, Skate and Surf culture, looking at what brings people happiness into people's lives. From Indonesia to Shanghai, from Whistler to Norway, the global hotspots of boarding culture are explored.
Featuring Snow: DCP, Temple Cummins, Benji Ritchie, Clint Allan, Terje Haakonsen, Nicolas Muller, Romain De Marchi, JP Solberg, JF Pelchat, Devun Walsh, and more.
Skate: Paul Hart, Rick McCrank, Mark Appleyard, Louie Barletta, Austen Sweetin, and more
Surf: Pete Devries, Noah Cohen, Raph Bruhwiler, Sepp Bruhwiler, Carlos Munoz, Noe Mar McGonagle, Leon Glatzer, and more
Coming soon.
A LONG RK1 EDIT - Trailer
Teaser for RK1 upcoming movie with Ståle Sandbech, Alek Østreng, Len Jorgensen, Torgeir Bergrem +
A long RK1 edit from RK1snowboarding on Vimeo.
We were lucky enough to go along to RK1 shoot at Thredbo this season and seeing how hard these boys work to get as many shots as possible is ridiculous. Looking forward to this one.
Coming soon.
THE EERO ETTALA DOCUMENTARY - ENDER - Trailer
The Eero Ettala Documentary tells the story of the snowboarding pioneer's decade of passion and self-sacrifice towards pushing the limits of what's possible on a snowboard.
Eero is one of the snowboarders who has had to re-create himself year after year for the past decade to keep up with the fast-paced developments in professional snowboarding. Ender offers a vantage point to see what has happened in snowboarding throughout the past decade and gives us a detailed look into Eero's career.
We'll see previously unseen footage of Eero filming his video part for the 2014/2015 season; the last video part of his career.
Eero's personal goal has always been to come out with a better video part than the previous year's. As it was for the last time, he really wanted to one-up himself with this video.
Featuring: Eero Ettala, Aaron Biittner, Toni Kerkelä, Antti Jussila, Marcus Kleveland, Heikki Sorsa, Knut Eliassen, Sam Taxwood, Marko Grilc and Terje Håkonsen
Commentary by: Eero's family, childhood friends, doctor, colleagues, photographers and pioneers of filmmaking such as Mike McEntire from Mack Dawg Productions and Mike Hatchett from Standard Films
Available through iTunes on November 2nd
BUCKET LIST - Tralier
Erik and Bjorn Leines worked with the Celtek team and friends that document their bucket lists.
Everyone's got a few things they've always meant to do—maybe getting a first descent, hitting your first real pow day, or taking a lap with Gigi Rüf. The problem is too many of us either never get around to it or never have the chance.
Headed by Bjorn Leines, Bucket List is a five-part series about leaving the excuses behind and checking those shred missions off the list.
DEGREES NORTH - Trailer
A two year project featuring Xavier De Le Rue so you know its going to be good.
2 Years in the making, from the colds of Svalbard at 79 Degrees North to the wilds of Alaska, skiers and snowboarders, Xavier de le Rue, Samuel Anthamatten and Ralph Backstrom embark on a journey to push their limits, using paramotors to explore and potentially access big mountain lines.
DEGREES NORTH will be free online on redbull.tv on October 22nd & 23rd
SNOWSURF - Trailer
A Japanese story of the Snow Surf culture.
Snowsurf Trailer from My House Pictures on Vimeo.
The Gentem Family presents Snowsurf, a movie about the snow surfing revolution in Japan, accented with the bottomless pow that often comes associated with the island of Hokkaido.
Featuring: Taro Tamai, Gerry Lopez, Hideki Takeda, Beau Young, Kenichi Miyashita, Alex Yoder, Hideiko Wajima, Forrest Shearer, Makoto Yamada, and more.
686 SECONDS - Trailer
Caution: Watching this may cause you to want to go snowboarding.
686 Seconds Teaser from 686 Technical Apparel on Vimeo.
686 presents 36 minutes of snowboarding through the collective third eye of the youth - an experimentation of moving imagery pushing progression, set to auditory reverberations. Filmed in the streets and mountains of the USA, Canada, France, Austria, Russia and Japan by the 686 team.
Available October 6 2015.
THE MIDDLE/PATH PROJECT - Trailer
An environmentally aware snowboard flick.
The MIDDLE/PATH Project Trailer - an EcoConscious Shred Flick from Sean Fithian on Vimeo.
You can't always get what you want- so the saying goes. Last winter we planned to spend the majority of our time in the PNW shredding powder and having a low impact on the environment. Changing climates and warm temperatures have become a fearful vision of the future. Last season that nightmare became reality. With winter being almost non existent and resorts shutting down by mid March, we had to search elsewhere. Through our travels, we hoped to acquire knowledge on the impacts of travel and consumption. Things such as how fossil fuels affect the world around us and what it really means to throw something away. The world is changing and the way we are living must change too. Through snowboarding we have a very deep connection to the planet and a desire for it to function properly. Each of us play a role and need to become more aware of the impacts we make. This was our journey along the Middle Path.
THE SEARCH - REVEL - Trailer
Rip Curl showing us how to revel in the backcountry. This is edit shows Nate JOhnstone and co on their trip through Lapland that we featured in Issue #61 of ANZ Snowboarding this year.
Whether it's from the top of an Alaskan mountain or the top of the chairlift at your local resort, we all take the time to gaze at our surroundings. That special moment allows us to imagine all the possible lines, to realize how lucky we are and fuel the stoke before dropping in. Going down a line once imagined is the celebration of a dream coming to life and we revel in that back country feeling.
Riders: Victor De Le Rue - Nils Arvidsson - Sam Favret - Nate Johnstone - Jessy Cornu - Emilien Badoux - Marion Haerty - Jayce Robinson - Dedi Gun - Olya Smershlivaya
The full movie will be released on December 28th.
ANZ Snowboarding