The legacy of the Sydney 2000 Olympics that often goes unheralded but forever immortalised.
Before Rio's Olympics not many people knew the name Mack Horton.
But after his stunning 400 metres freestyle gold medal win and his subsequent stance on drug cheats, the world is acclaiming the 20-year-old Australian Olympic champion.
Winning gold and reaching the pinnacle of Olympic achievement is one thing. Leaving a lasting legacy for future generations is something else.
Like Horton winning Gold in Rio, 16 years ago on home soil golden girl Cathy Freeman won the hearts of a nation while breaking down barriers on the world's biggest stage.
Cathy Freeman left her own legacy at the 2000 Olympics. (Photo by Getty Images)
Freeman became the first Indigenous Australian to win an individual gold medal. Yet her enduring legacy is that symbol of unity she fostered between Indigenous Australians and the rest of the nation.
While Horton and Freeman won global headlines, the thousands of volunteers, who are the true heartbeat of every Olympic Games leave a wider legacy that often goes unheralded.
Alain Siniska, who volunteered at the 2000 Sydney Olympics, created his own unique legacy.
Along with the 46,000 plus Sydney volunteers, Alain recalls a personal experience he will never forget.
"Sydney 2000 is still acclaimed as the best ever Olympics.
"To be so close to that atmosphere and the athletes was something that you can't really describe.
"To hold the Olympic torch and a gold medal - rewards I know I'll never forget," he said.
Over 46,000 volunteers helped make the Games the success that it was (Photo by Getty Images)
Mr Siniska had one of the more prestigious Sydney roles - official driver for then Tunisian Prime Minister Zine El Abidine Ben Ali.
"From 6am to 6pm, I had the the privilege of driving the Prime Ministerial couple wherever they needed or wanted to go, as well as being their interpreter."
Like Mr. Siniska, Sonia Banzato volunteered her time towards making Sydney its memorable success, an enduring sentiment echoed by the late International Olympic Committee President Juan Antonio Samaranch in his closing ceremony address.
Despite the early morning wake-ups and long working hours, Mrs. Banzato would again jump at the chance to volunteer should Australia host another Olympics.
"It was incredible to be part of a smooth-functioning team of total strangers coming together for something so special.
"It wasn't a chore to get up in the morning.
"You didn't care about getting public transport or what time you started or finished or how long you were working.
"You just wanted to be there all the time to be a small part of a vast team that pulled off the best Olympics," Mrs Banzato said.
Whilst athletes like Cathy Freeman take home the token of a gold medal, all Sydney Games volunteers have their names engraved outside Sydney Olympic Stadium which to both Mr. Siniska and Mrs. Banzato has the same value as a gold medal  that will forever be their everlasting legacy.
"We're sort of immortalised. All of us treasure forever that courtesy and reward which is unbelievable," Mr Siniska said.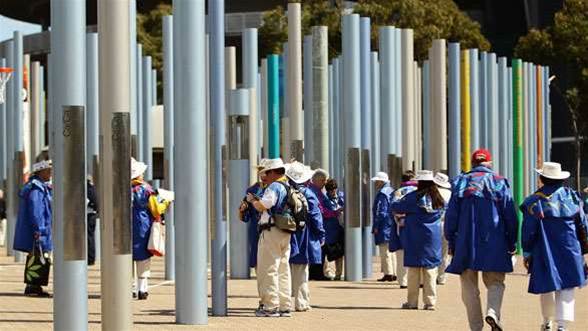 Outside Olympic Park, Sydney 2000 volunteers search for their name at the 10th anniversary of the Games ceremony. (Photo by Getty Images)