Japan is hosting the 2019 Rugby World Cup from next September – but what does the country have in store for visiting fans?
We've compiled a factfile on one of the host venues to give you the lowdown on what lies ahead for travelling Aussies.
What is Kyushu?
The island of Kyushu will host some important matches for Australian rugby fans. In addition to two quarterfinals matches, the region will host the Wallabies' third pool match against Uruguay on October 5, along with a handful of other games including the All Blacks v repechage winner on October 2. 
Japan-wide, Kyushu may be considered the country's unofficial rugby capital with schools regularly dominating national competitions and a more established rugby culture than in many other parts. Add to that a relatively warm climate, a rich culture, and natural landscape, and the unique charms of Kyushu make for an attractive RWC19 destination.
Where is Kyushu?
On the western edge of Japan, Kyushu island's landmass is about half the size of New South Wales. Despite that, the region manages to cram in plenty. Between matches, Kyushu offers both natural beauty and urban attractions. Hot springs, volcanoes, and historical landmarks complement its unique local food which itself is reason enough to visit this ancient land. 
One of the many intriguing reasons to visit to Japan is the country's region-specific food. What you might find in one prefecture, you may not find elsewhere. It's a great part of why making the effort to explore is so rewarding. The added bonus, where the seven prefectures of Kyushu are concerned, is the relatively low prices when compared to much of the rest of Japan. 
Luckily, it's pretty simple getting to Kyushu and its nearby regions, which means melding World Cup matches with cultural and culinary treats is easy and essential. Visitors can reach Kyushu on a flight in about two hours from Tokyo, Incheon, Shanghai and Hong Kong. It's also only about two hours on the bullet train from Osaka. 
World Cup Destinations and Their Surroundings
Oita Prefecture
As mentioned, two quarterfinals, the game against Uruguay and the All Blacks match are in Kyushu. All four will be held in Oita Prefecture. 
The striking sight of the 40,000-seat Oita Bank Dome was designed by famed architect, Kisho Kurokawa, featuring Japan's largest retractable roof and subsequently earning the nickname "The Big Eye". It means a comfortable spectator experience no matter what the weather throws up and holds further interest for those particularly into architecture and the Metabolist Movement.
Shuttle buses from Oita Station will be in operation during the World Cup and as it is served by the Kyudai, Hohi, and Nippo Main lines, it's easily reached and well positioned for travel throughout Kyushu. Buses also run from Oita Airport to Oita Station. 
When you mention Oita Prefecture to Japanese people they invariably think of hot springs. Natural hot springs, or onsen, are an indispensable part of Japanese culture and the relative Mecca is Beppu; famed for the largest number of hot spring sources in the country. 
Teams competing at Oita Bank Dome will hold their training camp against the backdrop of Beppu's rising steam, just 15 minutes down the train line from Oita City. While Beppu hosts a myriad of hot spring accommodations, it also has a few other unique sites up it its sleeve. 
Not all hot springs are for bathing. Some are simply too hot. The "Hells of Beppu" are several unique hot springs worth a visit jut to see them. Umi Jigoku ("Sea Hell") is renowned for its stunning blue and the surrounding heavenly garden contrast. Likewise, Chinoike Jigoku ("Blood Pond Hell") is famous for its deathly red glow.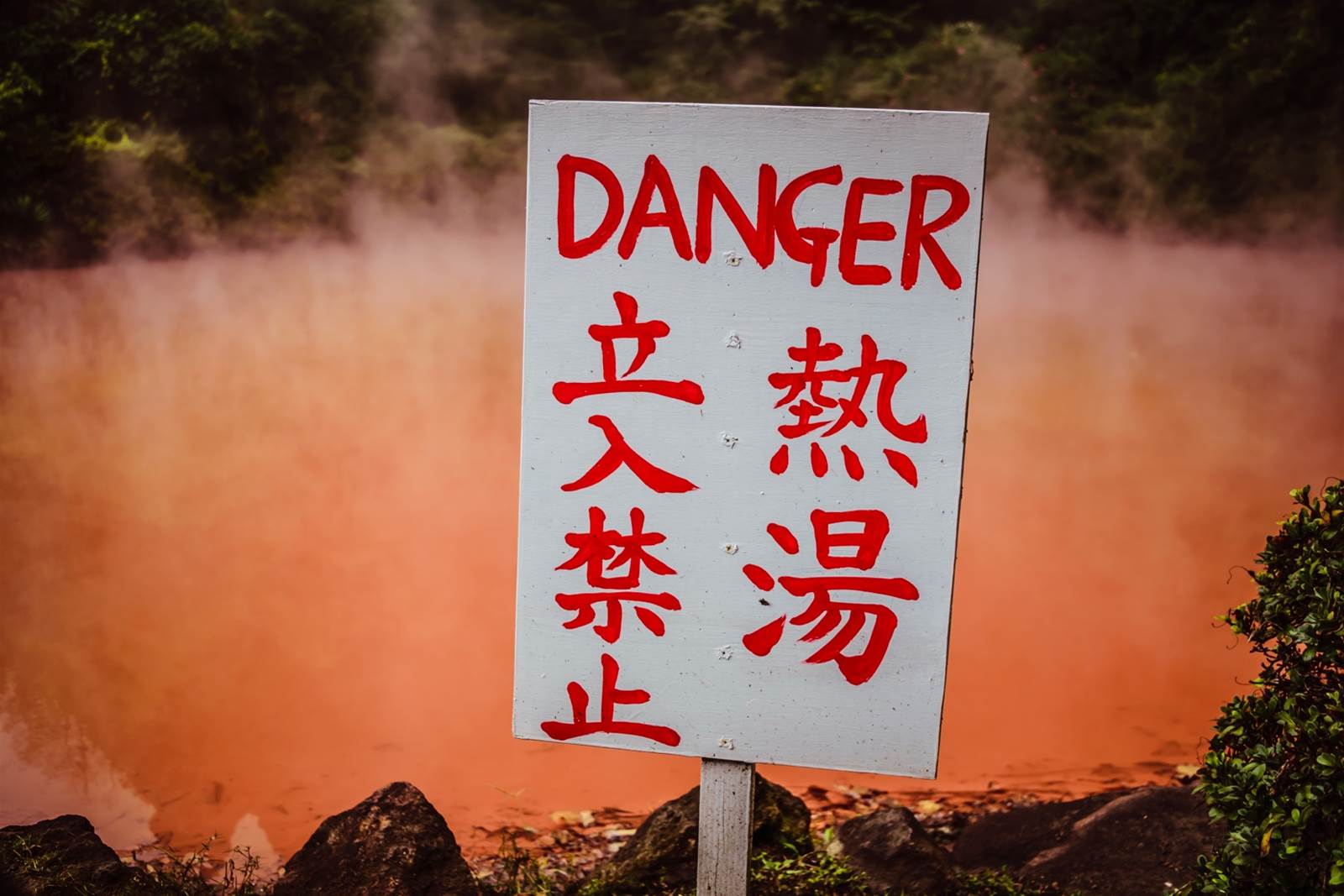 Beyond Beppu, you can enjoy a stroll through the market streets of Yufuin beneath the might of Mount Yufu or opt for a traditional ryokan stay along the quiet cobblestone sloped street of Yunohira Onsen. Yunohira's Shimizu Ryokan with its cave onsen and perfect location overlooking the river is just about the most peacefully transcendent Japanese experience one could hope to find.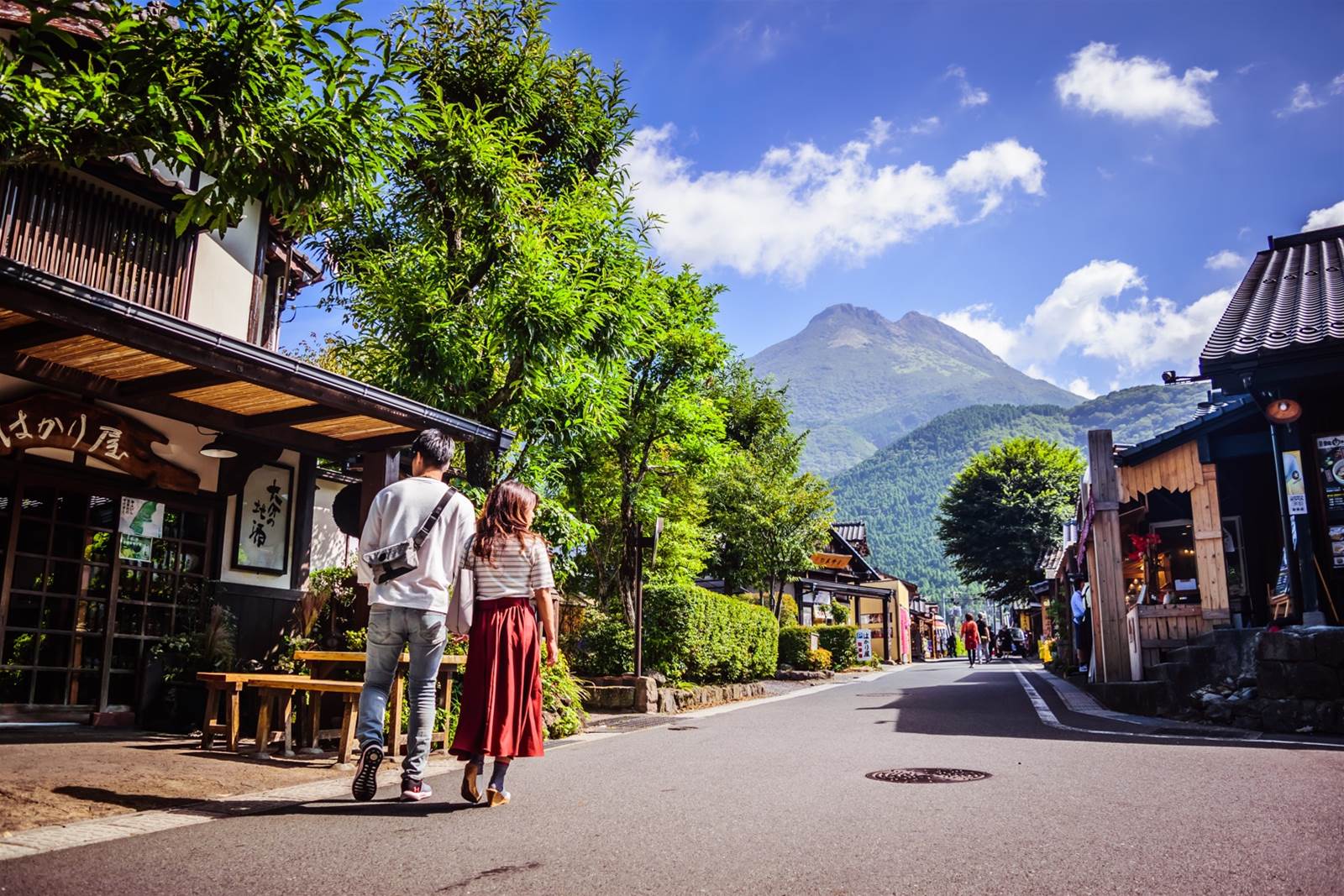 Oita Prefecture not only gives fans the chance to catch a few important games of rugby during the World Cup but also take in some serene nature and uniquely Japanese Buddhist culture.
Miyazaki Prefecture
The neighbouring Miyazaki Prefecture continues the natural splendour. The setting for many ancient Japanese legends, Miyazaki is blessed with beaches, gorges and other natural wonders, creating a mystical backdrop for its legendary heroes and villains. 
Must-sees in Miyazaki Prefecture include the tiny island of Aoshima and the stunning beauty of Takachiho Gorge. Aoshima ("Blue Island") sees white sand beaches surround a subtropical jungle which, in turn, surrounds a shrine said to bring luck to married couples or those in search of their soul mate. If you're lucky enough to have already found yours, you'll still enjoy the various colours; the vermillion of the shrine and torii gate, the rich green of the jungle and that ring of white sand running around the island. 
Next is the remarkable natural formation of Takachiho Gorge, just outside the small, traditional town of the same name. Just standing above and looking down into the gorge is worth the visit but you can also take a small boat and paddle your way between the ancient rock and past the waterfall. Either way, it's impossible to take a bad photo of the gorge and along the walking tracks which surround. 
Even after you've caught most of the sights you came to see in Miyazaki, don't leave without sampling the local tasty treats. Like all of Kyushu's prefectures, Miyazaki has its own unique delights. For mine, regional beer comes a close second to the sensation that is chicken namban. Kyushu is well-known within Japan for its chicken dishes, but in Miyazaki Prefecture, chicken nanban – a marinated fried chicken delicacy – is the must-try local specialty.
The best way to get to Miyazaki Prefecture from Oita Prefecture and back is by bus. A Sun Q pass is a fairly cost-effective and difficulty-free way to get around the whole of Kyushu.
But hiring a car is another option to take in the sights and tastes of Kyushu. As many of Japan's highways have tolls, hiring a car with an Expressway Pass (for about AU$240) will get you where you need to go without worrying about any extra costs.
Fukuoka Prefecture
If Kyushu can be considered the quieter, slightly more tropical alternative to Japan's main island of Honshu, then Fukuoka is Tokyo's equivalent. That said, it's a compact city with a population of just 1.5million by comparison, and yet has almost everything the nation's capital has to offer and then some. From downtown Fukuoka, you can be sitting on a white sand beach in less than half an hour. But you can also be at the city's airport in less than 10 minutes on a train – which also manes you won't see too many ugly tall skyscrapers in Fukuoka because the airport's so close to the city centre. 
Fukuoka Hakatanamori Stadium is ideally situated next to both the airport and the city. It's in Fukuoka, as the capital of Kyushu, where Japan's rugby culture is strongest. From professional teams through university and high school teams, these are some of the very strongest in the whole of Japan.
Among myriad cultural treasures in Fukuoka is the Dazaifu Tenmangu Shrine, famous throughout Japan and dedicated to the Shinto God of Learning. Fukuoka has long had a reputation as a city of learning, with many of the nation's top universities still in Fukuoka city. 
Bar hopping is a way of life in Fukuoka and its working class little brother to the north, Kitakyushu. Whether you visit a standup izakaya bar in Kitakyushu or a yatai food stall along the street in Fukuoka, the night scene is vibrant and offers chances aplenty to meet some locals, eat some authentic street food and enjoy a drink or three. 
But you'd be doing yourself a disservice if you didn't try Fukuoka's tonkotsu ramen (pork bone broth noodles). Japan's famous ICHIRAN ramen chain has its headquarters in Fukuoka and it's a unique and deliciously memorable dining experience.
Kumamoto Prefecture
Kumamoto Prefecture is home to many of Kyushu's main sightseeing spots including some of the best of Japan's famous castles like Kumamoto Castle, which is listed as one of the nation's Three Famous Castles.
Unfortunately, the castle suffered major damage in the earthquake of 2016 and while it is being restored, there are some fascinating interactive displays. Mini theatres, model replicas and all sorts of little games and displays show what the castle looked like during the Edo Period and pre-earthquake, exactly how it crumbled and also what it will soon look like when the castle regains its original glory once the repairs are completed. It's a true treasure to visit. The kicker; you can hire a yukata or kimono and stroll the grounds and shrines dressed in uniquely Japanese get-up. 
Also within the Prefecture is Mount Aso, offering stunning views and the chance to get up close to an active volcano with one of the world's largest caldera.
There are, of course, many other things to see within the bounds of Kumamoto Prefecture, but, it's also the perfect place for lovers of gourmet food. Kumamoto offers its own regionally unique flavours you will literally not find anywhere else in the world, from beef dishes (Kumamoto is one of a very small handful that can boast of having legitimate wagyu) to amazing seafood. 
Kagoshima Prefecture
A hire car might be the best option for a more up-close introduction to this area but sightseeing trains operate between Kumamoto and Kagoshima city and are a leisurely way to take in the sights of traditional Japanese housing, rice farms at harvest-time and the glory of Sakurajima – an active volcano towering above the city and surrounds. 
Beyond the might of Sakurajima and the area's own culinary magnets, Kagoshima, on the southern tip of Kyushu, is steeped in history and played a major role in Japan becoming the nation it is today. In between clan battles, forging alliances against the main island, and sending the "Satsuma Students" to UK for the technological know-how to take Japan into the future, the ancient provinces of Kagoshima Prefecture were once major players in bringing Kyushu and the rest of the nation into the modern world. No complete examination of Japanese history is possible without a visit to Kagoshima. 
In parts 2 and 3 to come, we'll look a little more closely at specific, unique Kyushu destinations, but from an Australian perspective and with an eye on where and when RWC19 matches are taking place.