Finals spots are on the line in Round 17 as well as our reputations as well pick the ever-unpredictable winners.
St Kilda Saints vs Essendon Bombers @Etihad Stadium
Friday, 7:50pm
In their last game St Kilda came out and absolutely smashed Richmond 138-71. As for Essendon they had a relatively easy victory as well as they beat Collingwood 117-80. A win for St Kilda would be massive for their Top Four dreams. As for Essendon they need a win to stay in touch with the Top Eight.
St Kilda have won six of their past eight clashes against Essendon. The last game between these two sides was a 17.7.109 St Kilda victory vs 14.14.98.
St Kilda's current injuries are David Armitage (Groin), Darren Minchington (Ankle), Hugh Goddard (Foot), Paddy McCartin (Concussion) and Nick Coughlan (Hamstring). While Essendon's current injuries are Mitch Brown (Ankle) and Patrick Ambrose (Quad).
Paddy McCartin
Why St Kilda Saints will win: Last week in their ravaging of Richmond St Kilda led every statistical category bar Centre in which they were beaten by one and Marks in 50 in which they were beaten by one also. If they play anything like how they played against Richmond then Essendon have no chance of winning this.
Our Tip: St Kilda by 14.
Port Adelaide Power vs North Melbourne Kangaroos @Adelaide Oval
Saturday, 1:40pm
Last time out Port Adelaide stormed back against West Coast to win 120-88 and beat a Top Eight team for the first time this season. North Melbourne in their game lost a tight affair to Fremantle going down 86-82. A win for Port Adelaide helps them keep their Top Four spot safe while a win for North Melbourne would give them some breathing room with Brisbane for who finishes last.
Port Adelaide have won three of their past five clashes against North Melbourne. The last one was a 16.9.105 to 10.17.77 Port Adelaide win.
Port Adelaide currently have no injuries to deal with. On the other-hand North Melbourne's injury list reads like this, Jarrad Waite (Calf), Jamie Macmillan (Finger), Ben Jacobs (Lower Leg), Marley Williams (Back), Kayne Turner (Knee), Paul Ahern (Knee), Ed Vickers-Willis (PCL), Oscar Junker (Broken Tibia).
Why Port Adelaide Power will win: These are two teams that are going in opposite directions this season. Port Adelaide are in the Top Four and have won four of their past six games. This while North Melbourne are struggling to avoid finishing last and have lost their past five games in a row.
Our Tip: Port Adelaide by 40.
Geelong Cats vs Hawthorn Hawks @Melbourne Cricket Ground
Saturday, 1:45pm
Geelong in their last game put on a training clinic as they pummelled Brisbane 163-78. Hawthorn in their game drew 97-97 with GWS. They needed to win it but a draw is better than no points at all. If Geelong win and other results go their way they could be sitting equal first by the end of the round. For Hawthorn they are currently eight points of a finals spot so anything less than win for them will be considered a disappointing result.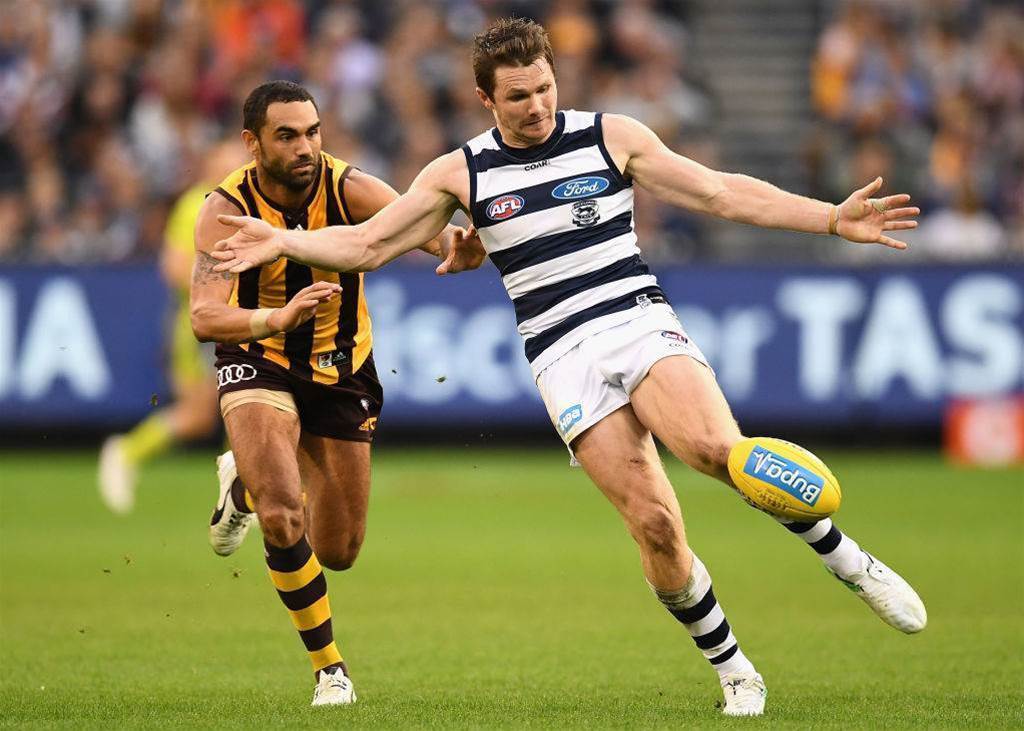 Patrick Dangerfield
The last six clashes between these two sides have been split with three wins a piece. The last game was in Round Four of this season, it was a Geelong 20.14.134 win vs 6.12.48. Hawthorn will be determined to change the result this time around.
For Geelong on their injured list is Scott Selwood (Hamstring), Josh Cowan (Achilles), Lincoln McCarthy (Groin), Darcy Lang (Shin), Cory Gregson (Foot), Tom Ruggles (Collarbone), Quinton Narkle (Knee) and Tom Stewart (Fractured Eye Socket). For Hawthorn it is Grant Birchall (Knee), Josh Gibson (Groin), James Frawley (Turf Toe), Paul Puopolo (Groin), Cryril Rioli (PCL), Ben Stratton (Knee), Jack Fitzpatrick (Concussion), Jonathon Ceglar (ACL), Jaeger O'Meara (Knee) and Johnathan O'Rourke (Hamstring).
Why Hawthorn will win: A loss for them could spell the end of their finals dreams and for arguably one of the best clubs of the past decade that would represent a massive fall from grace. They'll be wanting to do everything in their power to avoid this happening.
Our Tip: Hawthorn by six.
Gold Coast Suns vs Collingwood Magpies @Metricon Stadium
Saturday, 4:35pm
In their last game the Gold Coast were never really in it as they were smashed by Sydney 118-51. As for Collingwood they didn't put up much of a fight in their game either as they lost against Essendon, 117-80. These two sides sit two and three wins outside of eighth spot and in fourteenth and fifteenth place. Neither side has much hope of making the finals, this match is basically for either team to make their season a little easier and a little bit less hard to swallow.
Collingwood has a dominating history against the Gold Coast winning four of their past six games against them. The last game they played was back in 2016 and it was a 71 point Collingwood victory. With everything on the line for the Gold Coast that result will need to be changed for this game.
For the Gold Coast their injuries are Gary Ablett (Hamstring), Pearce Hanley (Hamstring), Brandon Matera (Foot), Sam Day (Hip), Michael Barlow (Leg), Aaron Hall (Hamstring). While for Collingwood they are Daniel Wells (Calf), Ben Sinclair (Hamstring), Adam Oxley (Groin), Darcy Moore (Hamstring), Tom Phillips (Illness) and Brayden Sier (Eye Socket).
Why Gold Coast Suns will win: Tom J. Lynch. He has 35.21 this year and is a major attacking threat. Given that both teams struggle to kick goals it will be players such as Lynch that will end up making the difference.
Our Tip: Gold Coast by 12.
Greater Western Sydney Giants vs Sydney Swans @Spotless Stadium
Saturday, 7:25pm
Last time out GWS escaped with a 97-97 draw against Hawthorn. As for Sydney they kept up their run of good results with a 67 point smashing of the Gold Coast. A win for GWS would give them top spot provided Adelaide lose their game. A win for Sydney would keep them inside the Top Eight for only the second time this season and depending on other results could see them rise as high as fifth on the ladder. It's a big game for both sides and one of the most important derbies to ever be played between the two clubs.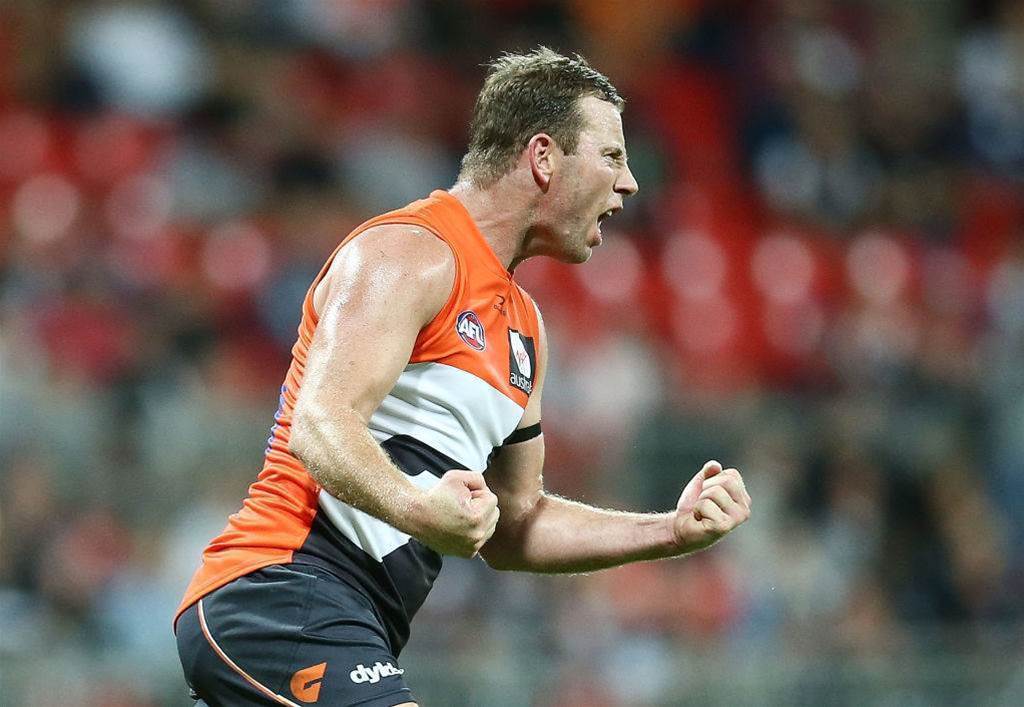 Steve Johnson
GWS have won four of their past six clashes against Sydney with the last game between the two sides resulting in a 15.15 to 9.9.63 Greater Western Sydney victory. If one things for sure it's that Sydney will be kicking a lot more goals this time around.
GWS currently have a massive fourteen players on their injured list headlined by the likes of Toby Greene (Ankle), Steve Johnson (Knee) and Zac Williams (Hamstring). Sydney's injuries currently are Kurt Tippett (Ankle), Harry Cunningham (Foot), Will Hayward (Foot) and Darcy Cameron (Shoulder).
Why Sydney Swans will win: They have won eight of their past nine games. To say they are on a hot streak would be an understatement as they have surged up the ladder. During this streak they have beaten plenty of Top Eight Sides, GWS are about to become another one.
Our Tip: Sydney by one.
Melbourne Demons vs Adelaide Crows @TIO Stadium
Saturday, 7:10pm
It's first plays fifth in what is surely going to be a banger of a game. In their last game Melbourne came away with a hard-fought 90-82 win over Carlton. Adelaide won their game easily beating the Western Bulldogs 104-45. A win for Melbourne puts them only a win behind Adelaide in first. A win for Adelaide however would keep them in first place regardless of other results.
The last game these two teams played was a 41 point win to Melbourne in Round Eight of this season. That was arguably Melbourne's best performance of the year. Another effort like that and Melbourne could be the new premiership favourites.
Melbourne currently have nine on their injury toll. These include Jack Viney (Foot) and Pat McKenna (Hamstring). For Adelaide it is Kyle Cheney (Hamstring), Curtly Hampton (Ankle), Cam Ellis-Yolmen (Knee) and Ben Davis (Foot).
Why Adelaide Crows will win: They are first for a reason nor do they have nearly the same amount injured as Melbourne do. Their attacking threats also include the likes of Eddie Betts (39.18) and Josh Jenkins (26.13) should all contribute to an Adelaide win.
Our Tip: Adelaide by 16.
Richmond Tigers vs Brisbane Lions @Etihad Stadium
Sunday, 1:10pm
The last time they played Richmond got taught a lesson or two by St Kilda on how to play proper Footy as they went down 138-71. As for Brisbane their efforts were just as poor as they went down 163-78 against Geelong. Brisbane need a win here to try and keep pace with North Melbourne and avoid finishing last. A win for Richmond could see them into the Top Four by the end of the round.
Richmond have a very strong recent history against Brisbane winning 10 of their past 10 clashes against them. With all due respect to Brisbane come the final siren on Sunday it will be 11 of the past 11 that Richmond have won against them.
Richmond need to respond
Richmond's injuries are Steven Morris (Hamstring), Shaun Hampson (Back), Ben Griffiths (Concussion), Reece Conca (Foot), Ben Lennon (Hamstring) and Nathan Drummond (Knee). While Brisbane's are Allen Christensen (Shoulder), Ryan Harwood (Foot), Mitch Robinson (Foot), Tom Bell (Ankle) and Darcy Gardiner (Elbow).
Why Richmond will win: There are so many reasons why but here are the two major ones. Richmond will really want to bounce back from their horrific last round performance and what better team to do that against than the ones who are dead last. They also have power all over the park and make Brisbane's squad look weak with the likes of Dustin Martin, Jack Riewoldt and David Astbury in tow.
Our Tip: Richmond by 50.
Carlton Blues vs Western Bulldogs @Melbourne Cricket Ground
Sunday, 3:20pm
Carlton were a little bit unlucky in their last start 90-82 loss to Melbourne as they could have probably won had they gone about things a little bit differently. The Western Bulldogs in their game seemed lifeless and had no backbone as they lost to Adelaide 104-45. The Western Bulldogs need a win to stay in touch with the Top Eight while at this point in their season Carlton are playing for pride, respect and not much else.
The Western Bulldogs have won five of their past seven against Carlton. The last game between these two sides resulted in a 13.7.85 to 7.7.49 Western Bulldogs win. Given the urgency of this game for the Western Bulldogs their trend against Carlton should continue.
Carlton currently has five injuries the worst of which is to Andrew Phillips who is out for the season with a Foot Injury. For the Western Bulldogs they have nine on the injured list. That is headed by Robert Murphy (Hamstring) and Tom Boyd (Mental Health).
Why Western Bulldogs will win: They were the Premiership winners last year and now this year they are in danger of missing the finals entirely. They will have looked at the ladder and realised how much this game could mean in the context of their season. The Western Bulldogs have no other ways to go about things other than getting an all-important win.
Our Tip: Western Bulldogs by eight.
Fremantle Dockers vs West Coast Eagles @Domain Stadium
Sunday, 2:40pm
In their last game Fremantle escaped with a tight 86-82 win over North Melbourne. As for West Coast they fell away late as they lost to Port Adelaide 120-88. A win for Fremantle keeps them within reach of making the finals while it's the same for West Coast, they need a win to stay within touching distance of the Top Eight.
Josh Kennedy
West Coast have won their past five clashes against Fremantle. The last one was 16.7.103 to 9.8.62 in favour of West Coast. Fremantle though given the way they've scraped and clawed to where they are could be changing the result for this encounter.
Combined the two squads have a sizeable fifteen players out through injuries. For Fremantle that's highlighted by Aaron Sandilands (Hamstring) and Harley Bennell (Calf). While for West Coast it's highlighted by Nic Naitanui (Knee) but Josh Kennedy is named to return from a calf problem.
Why Fremantle Dockers will win: It is a toss of a coin to decide the result for this game but Fremantle get the nod because of what they've achieved to date this season despite being rather youthful in some areas and suffering injuries quite constantly it has seemed. They've battled hard to be in a position to make the finals and on Sunday they'll win another battle in the pursuit of their dream.
Our Tip: Fremantle by three.