Finals spots are on the line in Round 17 as well as our reputations as well pick the ever-unpredictable winners.
Gold Coast Suns vs Collingwood Magpies @Metricon Stadium
Saturday, 4:35pm
In their last game the Gold Coast were never really in it as they were smashed by Sydney 118-51. As for Collingwood they didn't put up much of a fight in their game either as they lost against Essendon, 117-80. These two sides sit two and three wins outside of eighth spot and in fourteenth and fifteenth place. Neither side has much hope of making the finals, this match is basically for either team to make their season a little easier and a little bit less hard to swallow.
Collingwood has a dominating history against the Gold Coast winning four of their past six games against them. The last game they played was back in 2016 and it was a 71 point Collingwood victory. With everything on the line for the Gold Coast that result will need to be changed for this game.
For the Gold Coast their injuries are Gary Ablett (Hamstring), Pearce Hanley (Hamstring), Brandon Matera (Foot), Sam Day (Hip), Michael Barlow (Leg), Aaron Hall (Hamstring). While for Collingwood they are Daniel Wells (Calf), Ben Sinclair (Hamstring), Adam Oxley (Groin), Darcy Moore (Hamstring), Tom Phillips (Illness) and Brayden Sier (Eye Socket).
Why Gold Coast Suns will win: Tom J. Lynch. He has 35.21 this year and is a major attacking threat. Given that both teams struggle to kick goals it will be players such as Lynch that will end up making the difference.
Our Tip: Gold Coast by 12.
Greater Western Sydney Giants vs Sydney Swans @Spotless Stadium
Saturday, 7:25pm
Last time out GWS escaped with a 97-97 draw against Hawthorn. As for Sydney they kept up their run of good results with a 67 point smashing of the Gold Coast. A win for GWS would give them top spot provided Adelaide lose their game. A win for Sydney would keep them inside the Top Eight for only the second time this season and depending on other results could see them rise as high as fifth on the ladder. It's a big game for both sides and one of the most important derbies to ever be played between the two clubs.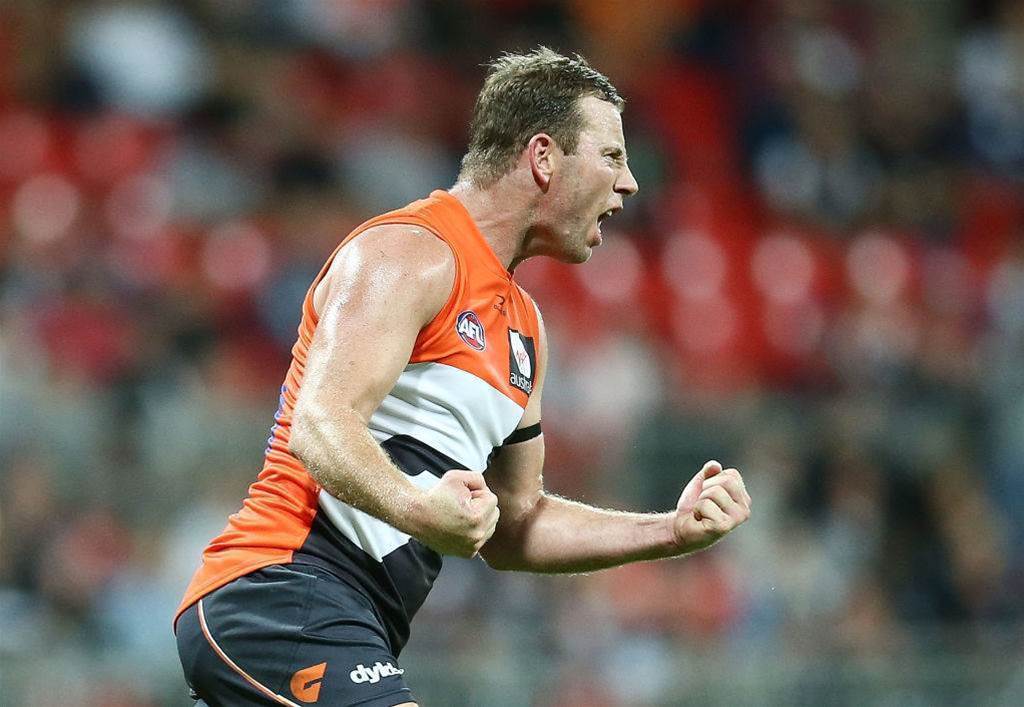 Steve Johnson
GWS have won four of their past six clashes against Sydney with the last game between the two sides resulting in a 15.15 to 9.9.63 Greater Western Sydney victory. If one things for sure it's that Sydney will be kicking a lot more goals this time around.
GWS currently have a massive fourteen players on their injured list headlined by the likes of Toby Greene (Ankle), Steve Johnson (Knee) and Zac Williams (Hamstring). Sydney's injuries currently are Kurt Tippett (Ankle), Harry Cunningham (Foot), Will Hayward (Foot) and Darcy Cameron (Shoulder).
Why Sydney Swans will win: They have won eight of their past nine games. To say they are on a hot streak would be an understatement as they have surged up the ladder. During this streak they have beaten plenty of Top Eight Sides, GWS are about to become another one.
Our Tip: Sydney by one.
Melbourne Demons vs Adelaide Crows @TIO Stadium
Saturday, 7:10pm
It's first plays fifth in what is surely going to be a banger of a game. In their last game Melbourne came away with a hard-fought 90-82 win over Carlton. Adelaide won their game easily beating the Western Bulldogs 104-45. A win for Melbourne puts them only a win behind Adelaide in first. A win for Adelaide however would keep them in first place regardless of other results.
The last game these two teams played was a 41 point win to Melbourne in Round Eight of this season. That was arguably Melbourne's best performance of the year. Another effort like that and Melbourne could be the new premiership favourites.
Melbourne currently have nine on their injury toll. These include Jack Viney (Foot) and Pat McKenna (Hamstring). For Adelaide it is Kyle Cheney (Hamstring), Curtly Hampton (Ankle), Cam Ellis-Yolmen (Knee) and Ben Davis (Foot).
Why Adelaide Crows will win: They are first for a reason nor do they have nearly the same amount injured as Melbourne do. Their attacking threats also include the likes of Eddie Betts (39.18) and Josh Jenkins (26.13) should all contribute to an Adelaide win.
Our Tip: Adelaide by 16.