All the latest team news and predictions for this weekend's big games in the AFL.
Geelong Cats vs Sydney Swans @Simonds Stadium, Friday 7:50pm
Stat Fact: Sydney have won four of their past five clashes against Geelong. The biggest one of those being a 110-point victory in 2014.
Big Talking Point: Earlier in the week Sydney player Zak Jones signed a two-year contract extension with the club. This was despite all of Melbourne, North Melbourne, Essendon and St Kilda among others having interest in him. Jones was the 15th pick in the 2013 AFL Draft and his re-signing is great news ahead of Sydney's run into the finals.
What Will Happen: A fiery, tight encounter. Geelong are fighting for first place while Sydney are fighting for a spot in the top four. Sydney knocked Geelong out of the finals last season so that should add even more spice and flavour into what will be an awesome game to watch.
What Won't Happen: Geelong play fine without Patrick Dangerfield. He's been suspended and unfortunately for him ruled out of the Brownlow Medal race in the process in another big talking point coming into this encounter. Geelong are such a good team that when they are missing one star they'll still play well, but there will be obvious cracks without their star player in tow.
Our Tip: Sydney by six.
Greater Western Sydney Giants vs Melbourne Demons @UNSW Canberra Oval, Saturday 1:45pm
Stat Fact: Jeremy Cameron is ranked 7th in this years goal-scoring charts with 42.24 for the season.
Big Talking Point: Brett Deledio will finally make his debut for GWS after being out for a large part of this season with an injury. The former Richmond man knows how to score a goal or two and will be a great veteran presence for the young GWS side. No matter who you go for you'd have to hope that after being out for so long that his debut for the club goes well.
What Will Happen: GWS started the year alight but recently it's been well-documented of their struggles to score points. All they could conjure up two weeks ago was 45 against Richmond. Against a Melbourne side that themselves aren't too shabby defensively this trend of a lack of points should continue for GWS.
What Won't Happen: Melbourne's Canberra curse continues. At UNSW Canberra Oval, Melbourne have won only two of the six games they've played there. Against a struggling GWS side they should finally get another win there.
Our Tip: Melbourne by 14.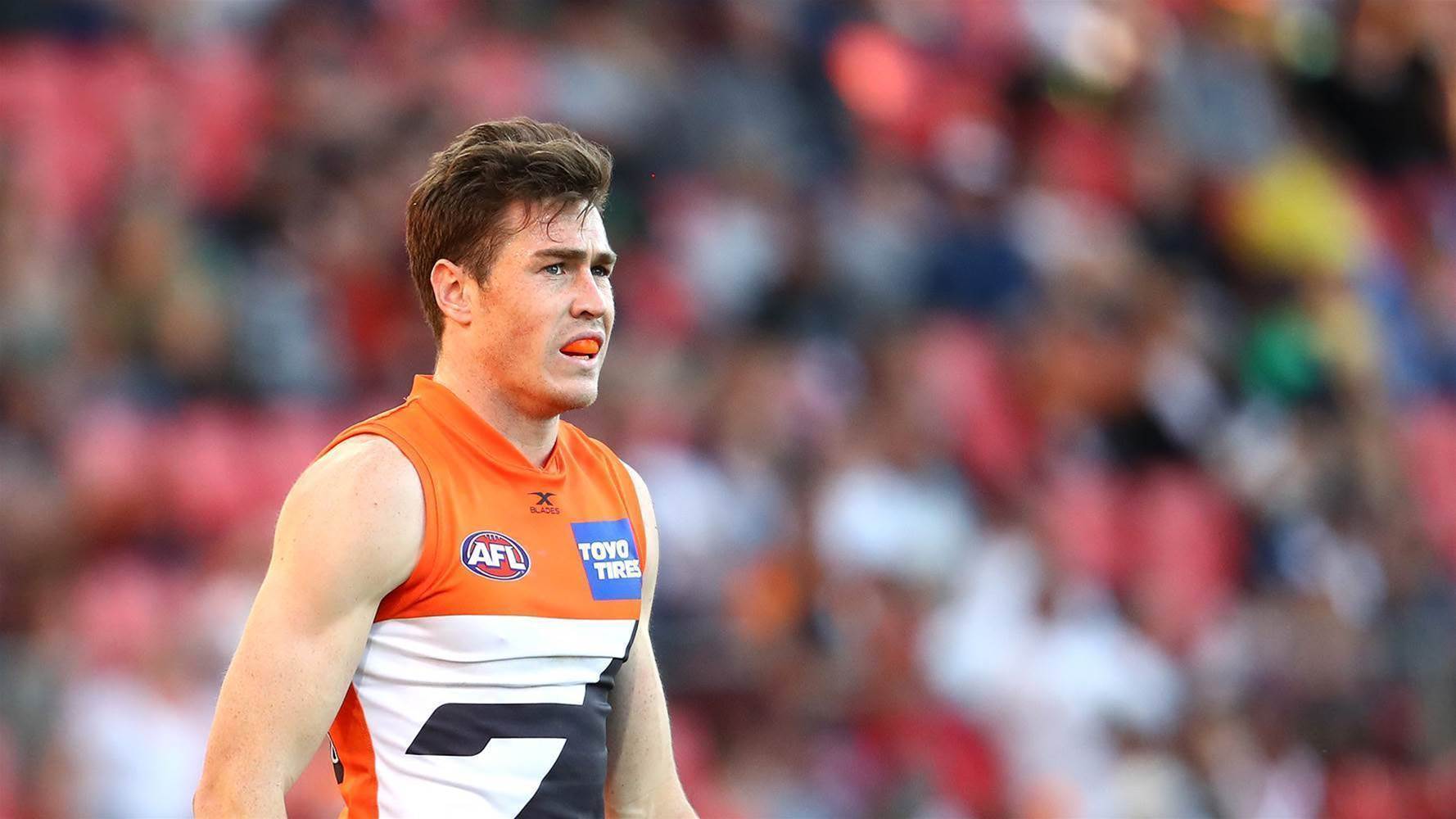 Essendon Bombers vs Carlton Blues @Melbourne Cricket Ground, Saturday 2:10pm
Stat Fact: Sam Docherty leads the league in marks this season with 169 (9.4 per game).
Big Talking Point: All the talk recently has been about Carlton's battle with Brisbane to avoid coming last. This season Carlton have only five wins from eighteen games and are only a win ahead of last place on the competition ladder. Given that in their run home after this clash they face West Coast, Hawthorn and Sydney, this game arguably represents their best chance for a win to finish the season and hopefully avoid the Wooden Spoon.
What Will Happen: A shocking result will give Carlton only their sixth win of the season against a finals-dreaming Essendon side. Lower ranked sides this season have proven that on their day they are not to be taken lightly and this game will be no different. Expect Carlton to come out firing in a desperate act to avoid getting what nobody wants to get.
What Won't Happen: Essendon making the finals. Essendon's finals drought will continue into this season as a loss to Carlton will effectively end their season. Unfortunately for their passionate fan base this will indeed be the case as Essendon is still in some-what of a rebuilding stage post the ASADA saga.
Our Tip: Carlton by 10.
Brisbane Lions vs Western Bulldogs @The Gabba, Saturday 4:35pm
Stat Fact: Brisbane have won only four games from eighteen attempts this season.
Big Talking Point: Dayne Beams was quoted as saying during the week that this was the most excited he's been about Brisbane's future since he arrived at the club and he was also confident that his team could finish the season well and avoid finishing last. The middle point is particularly interesting as after this game to finish of their season Brisbane face Gold Coast, Melbourne and North Melbourne. Two of those games are very winnable and they could very well end up shocking the AFL world and pass the last place mantle onto another team. For a non-finals bound side the end of Brisbane's season should be watched with some interest.
What Will Happen: Free kicks galore. It's a well-known stat this season that Brisbane have received the most free kicks in the competition with 378 while the Western Bulldogs this season have received 369. No matter which way the game goes at least there's an interesting stat that you can watch out for.
What Won't Happen: Any sort of an upset. Luke Beveridge's side have massively under-performed this season and the whole world knows it. Against a poor Brisbane side the Western Bulldogs have every incentive to finish this season on a high.
Our Tip: Western Bulldogs by 30.
North Melbourne Kangaroos vs Collingwood Magpies @Etihad Stadium, Saturday 7:25pm
Stat Fact: Collingwood average the most disposals per game with 405.9, this is also significantly ahead of North Melbourne's average.
Big Talking Point: How Collingwood continue to play well despite everything that's going on at the club. Nathan Buckley could be leaving at the end of the season, their CEO is gone, a season without finals. Everything that could be going wrong at their club is and yet they continue to play out on the field like its nothing. Regardless of how Collingwood finish their season off, massive respect to them is due for how they've handled it all so far.
What Will Happen: As they've done in recent weeks Collingwood will put aside their off-field distractions and put in another admirable result and against North Melbourne given where they are at in this point in time, things could get ugly.
What Won't Happen: An easy Collingwood win. North Melbourne coach Brad Scott has made it very clear and obvious that he would rather his team for each win until their season is over rather than tank for the NO.1 pick. This is a very admirable way to go about things especially considering that at the moment North Melbourne are in a prime position to secure a high pick.
Our Tip: Collingwood by 13.
Fremantle Dockers vs Gold Coast Suns @Domain Stadium, Saturday 5:40pm
Stat Fact: The Gold Coast have beaten Fremantle in their past two clashes and both by a 26 point margin.
Big Talking Point: Anthony Hudson was quoted as saying the McGovern brothers could soon team up at Fremantle and what a coup it would be for the side at that. Mitch is a very in demand player and rightfully so while Jeremy is a very good defender for West Coast. If this does happen the two brothers combined with others like Nat Fyfe could make Fremantle a force for years to come.
What Will Happen: It's well-known that both sides have under-achieved in their expectations for their respective seasons this year. Fremantle have been on a bit of a 'youth movement' while the Gold Coast have been cruelled by injuries. Within that though there have been times this season where both of them have played very well so it's a bit tough to say what will happen. A low scoring affair is a pretty good guarantee though as both teams have struggled in font of goal this year.
What Won't Happen: Anything exciting. These two teams don't exactly play thrilling brands of football and putting the two together could well result in a bit of a snooze-fest.
Our Tip: Fremantle by 16.
St Kilda Saints vs West Coast Eagles @Etihad Stadium, Sunday 1:10pm
Stat Fact: West Coast have won their past eight games against St Kilda by an average margin of 42 points.
Big Talking Point: West Coast are currently in 8th place while St Kilda 11th. It's looking likely that from Melbourne (7th) and onwards will be a safe bet to make the finals so it's down to these two clubs and a couple of others to see who will claim the final playoff spot. It would be considered a failed season if either clubs were to miss out on the finals making this arguably the biggest game of the season for both West Coast and St Kilda.
What Will Happen: A close, tightly contested game. History is thrown out the window heading into this type of a game and both clubs will be doing everything within their power to get an all-important win.
What Won't Happen: Josh Kennedy not getting a couple up on the board. He trails first place by only four goals and will be extra-motivated heading into this one to try and claim a third Coleman Medal in three years.
Our Tip: St Kilda by three.




Richmond Tigers vs Hawthorn Hawks @Melbourne Cricket Ground, Sunday 3:20pm
Stat Fact: Tom Mitchell is ranked 5th in the League in tackles with 122 (6.8 per game).
Big Talking Point: Hawthorn legend Sam Mitchell confirmed earlier in the week that he would retire at the end of this season. He has played two games for Australia, one for Victoria and between 2002-2016 he played 307 games for Hawthorn. He currently plays for West Coast and he will be sorely missed from the game.
What Will Happen: It's been well known of Richmond's aspirations this year and given that they currently sit inside the Top Four, expect them to really turn on the motors against Hawthorn and in the process rack up a sizeable amount of points. Richmond are aiming for big things this year and Sundays game should be an accurate reflection of that.
What Won't Happen: Hawthorn's season going any further. Despite their re-build many expected Hawthorn to still be playing finals footy this season. They are close but only because of their late season run. Richmond will end Hawthorns hopes once and for all.
Our Tip: Richmond by 25.
 
Adelaide Crows vs Port Adelaide Power @Adelaide Oval, Sunday 4:10pm
Stat Fact: Adelaide have beaten Port Adelaide in their past two clashes by 17 and 15 points respectively.
Big Talking Point: For the past 822 days Port Adelaide have been winless against Adelaide. But during the week Port captain Travis Boak said that the streak was about to end. A win would be massive in the context of Port's season while a loss could potentially be costly for first placed Adelaide.
What Will Happen: Sparks will fly and things will get heated during the game. As is the case with any major rivalry or derby things can always get a bit hot and this should be no different. There should be some hard hits and possibly a few scuffles. All great things about watching a derby.
What Won't Happen: The supposed jinx being ended. Everyone knows Adelaide is aiming for the Premiership this season and what better way to reflect that then by flexing your muscles on your long-time rivals. Although this will be a closely contested game.
Our Tip: Adelaide by two.