Sri Lankan hero thought outside the square with the men up inside the circle.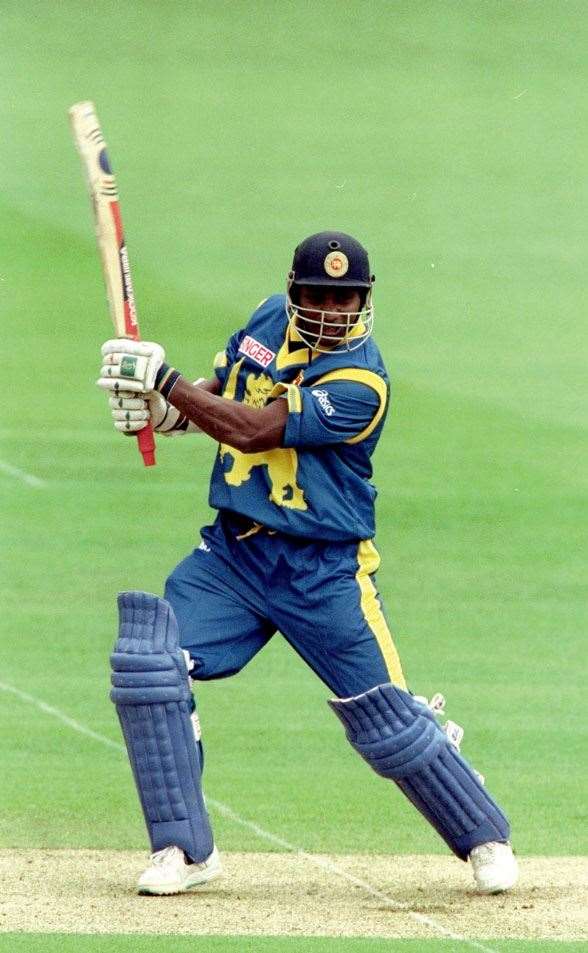 The changes Sanath Jayasuriya brought to the one-day game at the 1996 World Cup just by sheer force of batsmanship are probably some of the most far-reaching cricket has seen. Certainly, he affected the way ODIs have been played ever since. His methods were by all measures revolutionary: they seemed as obvious in retrospect as any truly great invention, and no one could ever go back to the old way of playing once they were introduced. It's almost fair to say that Jayasuriya's approach to one-day batting was as radically different as his countryman Muttiah Muralitharan's style of bowling off-spin, introduced to the international cricketing world a few years prior.
Jayasuriya's innovation came at the intersection of individual skill and rule changes that were ripe for exploitation by someone with the ability to implement. Coming into the 1996 World Cup, no one had seriously considered it. The style he employed was directly responsible for Sri Lanka's undefeated run and eventual win – that, and the fact that the West Indies and Australia forfeited matches in Colombo. The win, in turn, changed his country's standing in the cricket community and its very sense of self.
Fielding restrictions in one-day cricket were introduced in 1992, when only two fieldsmen were allowed outside the circle in the first 15 overs, then five for the remaining overs. These rules were tailor-made for aggressive openers unafraid of lofting the ball over the infield, but were not used to their full extent. There are many reasons for this, but part of it, ironically, had been Australia's growing success in ODIs, especially that of their opening combinations. By today's standards, the Aussies' scoring rate was treacle slow, but at the time their model of an opening combination intent on steadily setting a foundation for the dashers to follow was considered ideal.
Australia had an ominous taste of the new approach when Sri Lanka was out here for a Test series and tour matches in 1995-96, but nobody seemed to notice, as those tour matches were played in byways in front of few witnesses. Sri Lankan coach, Aussie Dav Whatmore, stated his team's objectives before the series: "The goal in our hearts is to be really competitive in the World Cup when the whole world has its eyes on us and on the whole tournament. The Australian tour is becoming a bit more important than the others because it represents final competition preparations for the World Cup, which is a very important event."
The Sri Lankans were soundly beaten in the Tests, and fared little better anywhere else, so no one took much notice of the new, edgy tactic, probably thinking it was low-percentage cricket ‒ a quaint idea now, when we look at national ODI teams full of extreme hitters. Of course, there was another powerful truth blinding everyone's thinking about the Sri Lankans: they'd never made it out of the preliminary rounds of a World Cup. Why would any tactic they employed be effective?
Come the World Cup, held mainly in India and Pakistan because of terrorist activity in beleaguered Colombo, the onslaught began when Sri Lanka beat India in the preliminary rounds. Sachin Tendulkar's 137 was meaningless in comparison with Jayasuriya's 79 off 76. The quarter-final against England was finished off when a barely comprehending England couldn't contain Jayasuriya, who scored 82 from 44. When he wasn't getting runs, he was taking wickets. In the semi against India, he took 3-12 off seven overs.
The approach he adopted took everyone by surprise. It was mischievous, destructive, and it won his team game after game.
Along with his opening partner, Romesh Kaluwitharana, Jayasuriya smashed opening bowlers all over the ground, mainly with "cheeky" lofted shots over the mandatory infielders. Suddenly, well-accepted tactics looked as stodgy as prison porridge. India and Australia had dimly apprehended the tactic, but didn't look as though they'd practised it.
Jayasuriya and his mates cut, played lofted cuts over point and drove over the heads of mids on and off with alarming regularity, until the tournament was Sri Lanka's. Sanath and his team-mate, all-rounder Aravinda de Silva, who followed suit with the bat and also starred with the ball, were instant national heroes. Jayasuriya wasn't among the leading run-scorers, but he was Man of the Tournament and went on to dominate every one-day bowling combination he faced.
It became known as the "pinch-hitting" cup. "Pinch-hitting" is now standard practice. It made possible the way for Twenty20 cricket. And now, its benefits are flowing back to Test cricket.
Glenn McGrath rated Jayasuriya among the toughest batsmen he ever bowled to, paying tribute with these words: "It is always a massive compliment to someone to say they changed the game, and his storming innings in the 1996 World Cup changed everyone's thinking about how to start innings."
The audacious and visionary Sanath Jayasuriya had belted cricket into the next century.
‒ Robert Drane