Michael Cheika has picked up the lingo.
By Jeff Centenera
Michael Cheika has come to talk. Talk, as the proverbs go, is cheap, the lesser counterpart to walking the walk. Except when it comes to being a coach - then talking becomes underrated. Fundamentally, coaching is communication, and no matter how they do it - gruff and syllabic, go-go motivational, literate and professorial, maybe just a lot of swears - accomplished coaches are all pretty much good talkers on some level.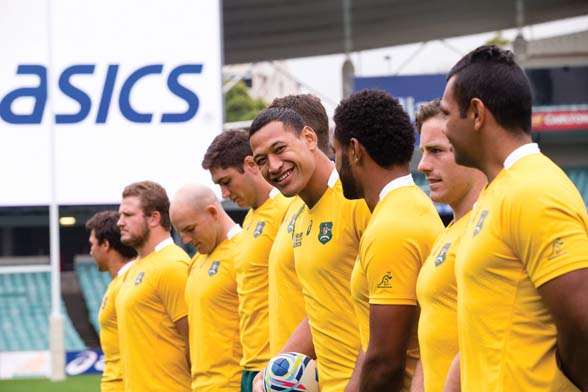 It's the launch of the Wallaby jersey for this World Cup year, and Cheika has been tasked with delivering an ersatz pre-game talk to the gold-clad media wannabes in the rooms at Allianz Stadium who make up his "team" today, before they head to the field to participate in mock drills with his real players. The coach instead opts for a Q-and-A session, explaining he would rather not play-act for the assembled group. If he were to deliver something like the genuine article, he explains, there would be a few colourful expressions thrown around, rest assured.
There's no doubt about Cheika's facility with words, profane, profound or otherwise. Whatever else, it comes across as authentic. Wallaby forward Rob Simmons says Cheika is not one of those coaches who has a tendency to speechify, and team meetings can often turn extemporaneous. "He just rides whatever comes to him sometimes," Simmons says. "He'll be, 'I'm sorry, boys, I don't know what I'm saying. It's coming to me and I feel as though I have to say it.' And the boys might have a bit of a laugh. And other times, he's fired up and he knows what he needs to say."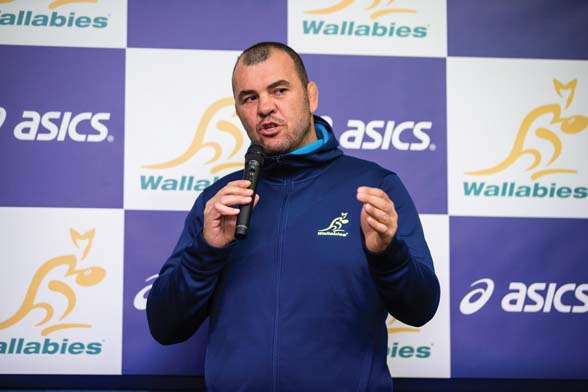 At least in part, Cheika's gift of gab is what set him on the path to the place he now occupies in the sport. He landed his first coaching job without any previous experience in, well, don't call it a profession, for reasons that will be later explained, but primarily because he could speak Italian. That item on the resume was enough for the Padova club, one of David Campese's old haunts, who gave a shot in 1999 to an adventurous Randwick back-rower wayfaring around continental Europe in the early part of the decade.
Cheika also learned French, having begun his European sojourn in Castres in the Midi-Pyrenees. He grew up with the Lebanese dialect of Arabic, imparted by his migrant parents in their home in the Sydney suburb of Coogee. He can speak that complex tongue passably, although can't read and write it, and it gave him an ear for languages. He admits to being something of a linguistic connoisseur, saying he would like to learn Spanish. "I also love the sound of Portuguese; that's a very cool language," he says.
"When I went to France to play, I really wanted to learn the language. Back then, there was only one foreigner per team, so if you weren't speaking French, you weren't getting any food, you know? I learned French after about six or so months of being there in the south of France, in a small town. And then I stayed for another few years, went up to Paris.
"And when I went to Italy, it really taught me about how our brains work. I was fluent in French, went to Italy and learned the language in four or five weeks. It's the same language, change the words. But I couldn't speak French anymore while I was learning Italian. I went back to Paris, and it was like someone had just taken it all out of my head. But then once I started speaking Italian fluently, the French came back straight away.
"It just shows how the brain can just block something out totally because It's focused on getting another job done. It was an interesting thing for me to see. It really freaked me out at the time."
From Padova and an interlude back at Randwick, Cheika went onto a breakout stint at Irish club Leinster, where you figure he might have picked up Gaelic if he had needed it. His next stop, at Stade Francais, had him brushing up on his French and figuring out how to coach in another language not his own. "There's always that time in the dressing room when you want to get into a player's head, and you donít have the words," Cheika recalls.
"Even though I spoke French fluently, that dressing-room motivational piece, you could see there was that little bit missing. You could see that blank space: 'I understand what you're saying, but it's not motivating me'... It's been interesting to coach now in three different languages, and how you've been able to get your point across in each one."
It would be safe to presume that it involved mastering a lot of curses. "Pretty fast," Cheika says, with emphasis, and a grin. "That's usually the first words you learn."
For the past ten months, Michael Cheika has been engaged in another experiment in how the brain works. Only this time, it wasn't bonjour crowding out buongiorno. Rather, it has been balancing the spinning plates of his national-level responsibilities with those of the NSW Waratahs. Serving two masters is rarely viewed as a plan for success in sports these days. And yet, each role has implied the other - the very reason why Cheika was handed the keys to the Wallabies was the monumental task he pulled off at the Waratahs, finally reversing the historic Super Rugby underperformance of Australia's biggest province. In turn, with time short and the World Cup bearing down, one of the best few things that could happen for Australian rugby would be a spirited title defence from the first-time Super premiers.
"I don't know what he's been doing the last six months, because he's managing two programs," says Nick Phipps, Cheika's scrum-half on both teams. "And he's on top of everything; there hasn't been one single moment where you're like, 'Aw, he didn't scrub us up on that,' or 'We're a bit behind there.'"
When Cheika meets with Inside Sport for our interview, it's on Wallaby ground. This is always among the most convenient of interactions, as ARU headquarters is only a couple of blocks away from the magazine's offices. Cheika buys the coffee, and apologises for tucking into a fruit salad while we begin our chat. He looks like a guy who is trying to use every bit of time he has to maximum effect.
"I refuse to mix the two," he explained of the dual role, which had actually just been resolved long-term, assistant Daryl Gibson being confirmed as his Waratahs successor. Cheika, however, had conducted himself like a public servant running for political office; always at pains to keep spheres separate. "If someone calls me on Wallabies' business and I'm in the office of the Waratahs, I won't take it. And then I make the time after work, or I block times out - two hours in the day when I can do Wallabies' stuff. I go somewhere else and do it. I'll go out of Moore Park, either to my house which is not too far away, or somewhere else.
"I have to make sure I don't cloud the two, because they're two very different things. So far, it's been quite good for me. When I've been in one mode or the other, I'm a lot more productive, because I understand my time is limited, so I want to make sure I get the most out of it."
This headlong pace has kept Cheika from dwelling too much on the surprising set of circumstances that delivered him to the Wallaby helm. It was only two years ago that he had just completed his first season at the Waratahs, having come in from the relative cold of European rugby. Meanwhile, the Wallabies were spying a new era as the five-year tenure of Robbie Deans came to an unsatisfying end, which as the nation's rah-rah followers were to later find out in Deans' book, had at least something to do with the fact that the coach was a New Zealander. The new regime would be led by Ewen McKenzie, who was seemingly made for the job: World Cup-winning Wallaby prop, Super Rugby champion coach with the Reds, a stalwart of Australian team staffs over the decade, another Randwick man considered a deep thinker of the game. His bona fides were undeniable, and the ouster of such a figure would require a really unusual turn of events. Which is exactly what happened 15 months later - in retrospect, the McKenzie-Kurtley Beale-Di Patston-text message episode stands out as one of the stranger ways for a coach to exit.
Cheika never expected the job to be vacant. While not a surprise candidate for the position, coming fresh off the Waratahs' Super victory, the notion of leading the Wallabies to the 2015 World Cup would have seemed fanciful to him not too long ago. But this feeling of surprise extends deeper - Cheika can envision a scenario in which the entire sideline gig seems fanciful. As alluded to above, it's not a profession because he doesn't consider it one. "Coaching rugby is not a job. One day I'm going to have to grow up and get a proper job.
"We're so fortunate. Yes, you have to work, but it's a pleasure. If you start to think about it as a career, you compromise yourself because you start to compromise your decisions. You say, 'Maybe I want to keep my job.' I don't care, I just want to try and do the best I can. If that's not good enough, that's not good enough. Doesn't mean Iím a worse person for it."
Cheika has often stressed that he's not a career coach. Interestingly, the man that every modern Wallaby coach is trying to emulate, Rod Macqueen, spoke of himself in the same way. Even more interesting is that Cheika has held a real job, and has plenty to fall back on should sporting fortunes turn against him, or he indeed grows up. It's an irresistible part of the Cheika bio - plenty of union's old boys have succeeded in business, but not too many of them in fashion. He worked for famed Australian designer Collette Dinnigan, who remarked upon the contrasting strands of his character for a newspaper profile: "He is like a gentle giant." With a business partner from one of the companies he worked for, Cheika eventually went out and set up a clothing distributor, Live Fashion. Among the labels he brought to Australia was Paper Denim & Cloth, which had a cult following in the fashion world as one of the first jeans brands with price tags that ran into the hundreds. The company did well - part of the reason he can coach with abandon is he's not dependent on it.
As Phipps describes it, the fashion mogul thing is good for a chortle. "It's no surprise to me he was killing it in fashion - [although] to be honest, you should see his kit when he walks around; he's not a fashionable guy - but he was able to do that because he knows people so well and knows what success is."
The thought of Cheika writing one of those sport-to-business leadership-lesson books inspires more chuckles ("Cheika's Balances: The Management Secrets of a Wallaby Winner"). But he has the material. Either jerseys or jeans, it's a people enterprise."I was dealing with designers all the time, particularly the one who employed me," Cheika says. "You've got to be able to facilitate the things that they want to create into becoming real. And out in the business world, in the retail or wholesale market, you're dealing with a whole lot of different people, from the guys who drive the van, who cut fabric, to the designers and buyers from the big department stores."
Was dealing with neurotic creatives similar to handling gifted athletes? "I don't think there are parallels. Not even all designers are the same in that way. It's about understanding the individual and being able to put them together.
"So in the team environment in rugby, okay, here's all these players, who are the best players? But who are the best fit of players and characters together? I like the teams where you've got the lover, the fighter, the joker, that whole combination of characters, the quiet guy, the bookworm. That's what makes good teams, and people are interested in their team-mates' differences, that's how you build camaraderie."
And lest his fiery image be kept intact, there's definitely room in there for the crazy guy as well. More than one, even. "There's a certain part of it, a crazy streak, that's attractive in people. That fearlessness, I don't' know, it's almost a freedom that people like. I've always been attracted to that kind of person.
"It's all about balance. You can have two, or three, but you might have three or four strong, tough leaders, and it's how those players and staff are interconnected from a respect point of view. You don't all have to be the same, or all have to be best mates. You just need to respect each other. And what happens in the environment is, once you build that, you eventually become good mates."
The problem with having multiple crazies on a team, as the sportswriter Bill Simmons puts it, is when they choose to hang out together. The Wallabies and their supporters have had plenty of first-hand experience of this phenomenon in recent years. It's been psycho-analysed, maligned, slapped with a wholesale indictment of an entire age: the dreaded gen-Y problem.
Cheika doesn't buy it. Footballers born after 1980 don't strike him as particularly different to those that came before. "They just got fancier phones."
A team full of gen-Ys, like any other team, needs to be properly led. "It's no different to the way it was when we were playing in the amateur days. Maybe we didn't have as many distractions, but that's evolution. I've said it a few times now: no one was putting unleaded petrol in their cars at the time either, and everyone was smoking cigarettes in restaurants, or whatever it was back in the day. And all that's changed because we said, 'This is on now.' That doesn't mean people are different when they're given the task of being a part of this team."
Cheika's generation of players was the last before rugby pledged itself fully to professionalism. And while his coaching evolution has occurred climbing pro football's rungs, the dominant theme of his tenure so far has been to bring back that old-time amateur passion. Macqueen, as well as successor Eddie Jones, famously tried to run the Wallabies like a small business, as this magazine put it in 2001, using the model of the then-new Brumbies to break the old NSW-Queensland axis and inculcating the culture of player power, for good and ill. Cheika, by contrast, faces the challenge of pulling together established, always-on pros who play for five different provincial sides half the year, and have an eye to lucrative offers in France or Japan that would have formerly disqualified them from national selection.
To get that buy-in, he's trying a little traditional pride in the jumper. He gave another reason why he wouldn't do the faux team-talk at the Wallaby launch event: he honestly believes in the sanctity of the dressing room, a safe space for the raising of team spirit. "That was probably the first thing I noticed about him," Phipps says. "In modern-day sport, everything is about technology, having the edge, all that stuff. People have been getting away from what it is to play sport, and Cheiks has brought that back to us. As he said in there, you'd be playing footy on Saturday even if it wasn't a professional game. You just love the game.
"We feed off that, knowing how passionate he is. And people misconstrue that - people see it as anger, like the coach's box door-smashing in Canberra or when he told that cameraman to get out of his face in South Africa. That's because he's trying to pass on a message, and he just got so into it. He wants the boys to be the best of their ability, his passions are evident for everyone to see. But no one really sees that behind-closed-doors, speaking to you quietly and asking you things."
There's something of an analogy with Darren Lehmann here. We've observed Australian national teams and their recent unhappy experiences chasing world's best practice, particularly if it's meant bringing in foreign expertise. For whatever reason, the voice from the sideline has to have the right accent. The role of Aussie coach has become that of translator, able to speak back and forth between the technical jargon of the backroom and the vernacular of the dressing room. The reams of data are only good if they can be reframed in the familiar tenets. Cheika likes the new knowledge, is comfortable with it in the way that somebody with a balance sheet-driven, business background usually is. "I just believe in balance," he says. "Yes, I look at every bit of GPS data, the weights program data we collect, all the scientific and medical data. And mainly looking in that for changes in habits, as opposed to, 'Oh, he ran 50km, how fantastic.' You want to see changes in habits, either in the positive or negative, so you can act on them. But they're never picking a side for you, never deciding how you're going to play the game."
That, too, goes back to core principles. Cheika is a devotee of open, attacking rugby- he's a Randwick guy, after all - and his Waratahs have distinguished themselves with their aggressive, risk-taking approach. His tinkering with formations has been innovative, particularly in trying to get the most out of Israel Folau, and the way he's banked on Kurtley Beale's talent has been its own kind of bet. Bernard Foley, the Waratah and Wallaby fly-half who has emerged under Cheikaís watch, says that the coach encourages his players to express themselves. "In that regard, some coaches that I've had in the past, when you lose or things aren't going well, they try to shrink the game plan or go back to the basics. But the way Cheika approaches it, he's more encouraging to take the shackles off and play more footy ... He goes the other way; in the tough moments, it's the ability to express yourself, to go out and play more rather than get restrictive and tighten up. His philosophy is go out there and do more with it."
That philosophy will be tested with a World Cup in Britain later this year, where a tighter brand of rugby tends to impose itself. Expectations management is all over the map - the Aussies ended last year slumping to three losses on the spring tour, but had also shown previously that they were closing the gap on the standard-setting All Blacks. History shows that the Wallabies have performed well in the British World Cups, and in a neat irony, their expansive-minded coach happens to be steeped in the northern hemisphere style - Cheika notes he's spent more time coaching there than in the southern hemisphere, after all, and will even admit to appreciating how their crowds warm to driving mauls and penalty-kick shoot-outs. "And that's fine, because that's what they like. That's what your endgame is: to make sure those people are enjoying the game."
It's all of a piece. If he's coaching for fun, then players should be playing for fun, and then the crowds will be watching for fun. "We have the privilege of being able to play in front of lots of people, like, how often do you get 50-60,000 people in one place together without it being a riot or protest? Everyone's happy, and you have the power to put a smile on people's faces and getting them together; it's very powerful. We can engage the crowd by the way we play. And if they say, 'This is my team, this is how they play the game, I like that,' then you're already a winner." That should be enough to motivate anybody, even if they can't understand the coach's language.