It's just the type of news bound to excite future Matildas...
Dunbar Rovers FC have announced another Australian football first - a FEE FREE program for talented girls. The initiative follows on the boot heels of a similar program launched by the club for NPL Youth 2.
The Sydney Eastern Suburbs outfit has gained entry to the NSW Girls Conference League and will enter teams in the U14s, 15s and 17s with scholarships going to all players.
A spokesperson for the Rovers said: "We launched the program with current Matildas Captain Lisa De Vanna through a video that has generated more than 12,000 views."
De Vanna said it was a huge change to the days when she was struggling to make her name in the game.
"This is a free opportunity for young girls to grow and play for their club," the Sydney FC striker said.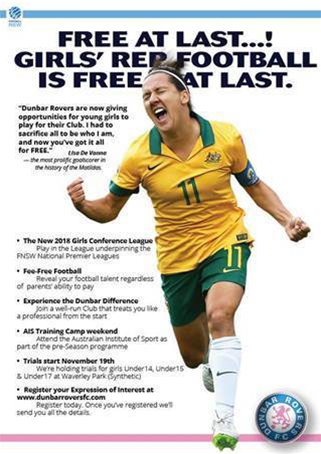 "Me, personally, I had to sacrifice and make all these commitments to be the football star that I am and now you've got it all in your backyard for free."
The program comes at an exciting time for the club which has just welcomed a new Head of Women's Football, Greg Werner. 
Werner, who has a background in sports administration, first learned about Rovers at a charity football event in Durban during the 2010 World Cup.
Meanwhile, Dunbar Rovers is seeking interest from businesses keen to sponsor the program. 
MAIN PHOTO: Rovers 2018  signing, Valentina Alvarez.
Click HERE if your interested in trialling for Dunbar Rovers FC.