WATCH: Wingsuit athlete John "Chuck" Berry drops in on Pink Lake in WA.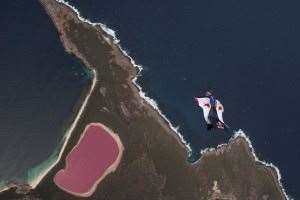 Chuck Berry has marked a milestone becoming the first athlete to fly over the stunning scenery of a rare pink lake in Western Australia.
The amazing scenes have been captured as Red Bull's aerial athlete made the dramatic flight. Free-falling in a wingsuit from a helicopter hovering above, he soared across the beautiful bubblegum-pink Lake Hillier, located on the remote Middle Island of the Recherche Archipelago.
Following the flight, John 'Chuck' Berry, 38, from New Zealand commented: "As a professional skydiver I have been fortunate enough to travel the world, but this flight is by far the most beautiful. The lake is unique and absolutely mesmerizing – I feel incredibly privileged to have been blessed with this once-in-a-lifetime opportunity. Check out some amazing footage of Chuck HERE