We are almost through the first round of the NBA's inaugural Bubble Playoffs (are you betting against something similar not happening next year?). So far, we've witnessed some entertaining basketball including game winners, upsets, controversies and coming out parties.   What's caught my eye – or ear in one case – through the playoffs so far? Let's take a look.
The Bubble levelling the playing field 
The NBA's Orlando 'Campus' was met with cautious optimism before the restart. There was an acute understanding that one seemingly small misstep could bring the whole house of cards tumbling down. To the eternal credit of all involved the Bubble has thus far (touching all the wood) proven safe.
From a basketball perspective, Disneyworld has given us as fans the random joy of the virtual fan walls, some interesting new camera angles and from a competitive standpoint it's levelled the playing field, providing a much purer version of the sport, without the 'influence' a raucous home crowd can have on a game.  
The neutrality of the arena, the alien sightlines and unfamiliar baskets amongst other things have meant that every team comes into a game knowing they're on as level a playing field as possible. It's lead to some surprising results, including the first occurrence of both #1 seeds dropping their opening playoff games since 2003.  
It's also led to this wonderful (yet sadly all too common for him) piece of confusion from Chris Webber:  
"Welcome back to Denver" - Chris Webber about a Utah home game, that's being played in a bubble, in Orlando Florida...

— hydroxychloroQuinn (Say Her Name) (@Snyder_SZN) August 24, 2020
Houston's Defense 
Houston's offensive abilities are well documented. Their defensive performances – in particular those of talisman James Harden – are equally well covered, although not nearly as positively. Harden's individual defense moved beyond meme status years ago, and as much as General Manager Daryl Morey's science experiment of a roster suits Harden's unique offensive gifts, it quietly suits his defensive strengths, as well.  
The Rockets switchy, twitchy rotation is filled with line-backer types that are quick enough to hang with guards and stout enough to hold ground against giants. Harden, PJ Tucker, Danuel House, the revitalised Eric Gordon and Russell Westbrook are all strong enough to slow a big man, allowing help defender extraordinaire Robert Covington to swoop in and throw out any weak finish.  
Houston are currently 5th in the league in playoff defensive rating, well ahead of more celebrated defenses in Miami, Philadelphia and the Clippers.  
Of course, their opponents in Oklahoma City are uniquely suited to Houston's defensive makeup. Outside of Steven Adams, who is not skilled enough offensively to punish the Rockets, OKC play perimeter players exclusively. The challenge for Houston's defense will come in later rounds, where they could come up against the likes of Anthony Davis or Nikola Jokic, or perhaps an elite roll man in Rudy Gobert or Montrezl Harrell.  
Nonetheless, it's an encouraging start.  
Donovan Mitchell growing up 
Full disclosure – I'm a Utah fan. Have been since the mid 80's. I've witnessed the highs of Stockton and Malone to the lows of Carlos Arroyo and Matt Harpring moonlighting as 'stars', and drafting Curtis Borchardt as our next star big man.  
I was very bullish about the Jazz heading into this season, but with one nagging issue: did the Jazz have 4 guys who should be 2nd options on a contender, but no true #1? Conley is ageing, Bogdanovic is reliant on others to create his shots (though he's been pleasantly surprising in that regard), Gobert even more so. The variable was Donovan Mitchell. Could he turn into a legitimate #1 option, or was he destined to settle into excellent 2nd banana territory.  
The regular season didn't provide any definitive answers, as Mitchell put up his now standard 24 points with 4 rebounds, 4 assists and over a steal a game with slightly inefficient 44/36/82 shooting splits. Very good numbers, but not enough to put him amongst the very cream of the crop.
In the first round against Denver, we've witnessed a maturation both in Spiders game and his resulting statistical output. In 4 games, Mitchell has averaged 39.5 points on outrageous 56/51/95 splits. It's a small sample size, and he's of course white hot, but the positives go beyond the pure stats. It's the patience in his game that has stood out. Rather than taking ill advised pull-up jumpers or driving headlong into traffic and hoping his athleticism can bail him out, Mitchell has used so much more Conley-esque sleight of hand to manipulate the space immediately around him.  
Look at what he does once he gets into the mid-range in that package. Previously, he'd be more likely to drive at the body of the big or pull up from 20 feet with a defender on his hip. Now, he's pulling back for just a half second, assessing his options and causing hesitation amongst the defence. If the defense comes to him, he's looking for the roll man or the kick out. If they lay back, he's more than prepared to take a shot from the mid-range.  
Lil' Donny's growing up before our very eyes.  
(You'll have to excuse me….I'm a little emotional) 
Jimmy Butler stretching the defense
Jimmy Butler's belief in his abilities has never been in question. Last season, he absorbed the responsibility of #1 option on a team with Joel Embiid and Ben Simmons, for better or worse.  
This season, he's been the offensive hub in Miami, despite shooting a ghastly 24.4% from deep. In the playoffs, he's giving the Heat 24.3 points, 6 rebounds, 4.7 assists, 3 steals and – importantly – shooting 4 from 7 from beyond the arc.  
That shooting is vitally important. Teams were able to lay off Butler through the regular season and as such make his playmaking tougher than it needed to be. Butler, to his credit, was good enough to still score as well as create for his phalanx of shooters. (A quick aside – Duncan Robinson is just wonderful to watch. His shot is pure uncut smack for a hoops head, and his intelligent movement away from the ball is wonderful) 
Shooting around 50% is clearly unsustainable but opponents will have to start respecting Butler's jump shot if he hit's the trey at even 35%. That will in turn open up lanes for Butler's bullocking drives and powerful finishing in the paint, or forcing help off the like of Duncan Robinson, Goran Dragic or Jae Crowder – a proper Sophie's Choice for the defense.  
Luka Doncic and the Dallas Mavericks 
A little shout out to a man that clearly knows the game: Rashad Phillips.  
Bask in the glory of this tweet for a moment. (To be fair, Phillips has admitted his error)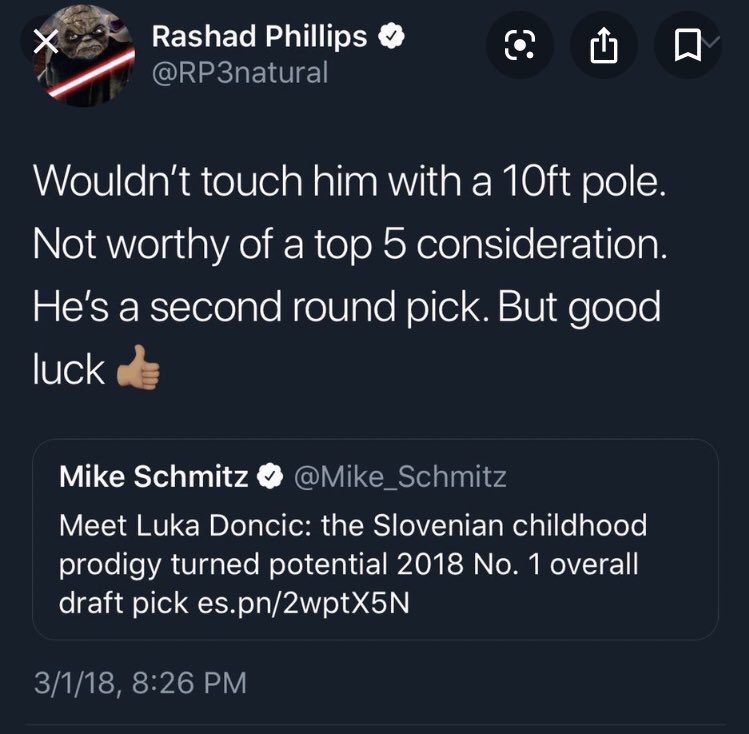 That '2nd round pick' just did this to the championship favourites. Without his wingman in Kristaps Porzingis. On one leg: 
(For what it's worth, Kawhi Leonard had to work a lot harder than he did to get over that screen….but I digress) 
Doncic and his Mavericks are tied 2-2 with the Clippers and are conceivably only a turned ankle and one very dubious ejection from turning those two losses into wins and a 4-0 series sweep.  
Luka has been immense, of course, pouring in 31.5 points, 10.5 boards and 9.8 assists, using his strength and craftiness to get to the free throw line at will (10.5 attempts per game).  
But it's not all Luka making this Dallas side tick. Tim Hardaway Jr has put up 19.5 points and Porzingis has supplied 23.7 points and 8.7 boards with the pair making over 6 three pointers a game between them, providing the spacing in which Luka thrives.  
Coach Rick Carlisle has been reinvigorated in his team's first playoff appearance in 5 years, showing an intensity on the sidelines that had disappeared in recent years. Make no mistake, Carlisle is a genius who can out manoeuvre the best X's and O's tactician. He's the secret weapon in this 1st round match up.  
Stan Van Gundy 
In direct contrast to the aforementioned Chris Webber's laundry list of gaffes and general inanity, Stan Van Gundy has followed big brother Jeff from the sidelines to the booth and we're all the better for it. The man who brought 'FORM A F*CKING WALL!' into basketball vernacular has been a breath of fresh air in his commentary role. Van Gundy is enthusiastic, witty (with juuust enough sarcasm thrown in), informative, educational and – unlike a certain former #1 pick – appears to be actually watching the action that he's calling. He speaks like he knows exactly what he wants to say, rather than simply waffling to fill dead air. His chemistry with Ian Eagle is delightful.  
Van Gundy is clearly helped by his recent proximity to the game in the same way that Tony Romo is when calling NFL games, but don't let that take away from what has been an excellent start to this new phase of his career.