The latest record-smashing instalment of The Clubbies proved a wellspring of inspiring stories from Australia's grassroots sport. Now it's time to announce the winners!
The Winners
Combining the views of an expert panel and an online poll, which attracted thousands of votes, we ended up with a group that typifies The Clubbies spirit of dedication and commitment.
Sportscover Australia Chief Executive Simon Allatson was thrilled with the response: "The Clubbies Awards are important to us because we understand and recognise the importance of clubs in making sport available to all Australians.
"Most of our people have been, or are, members of clubs. Sponsoring the awards enables us to say 'thank you' to all the hard-working Australians who contribute to this country's great network of sports clubs."
Queensland's Coomera Cutters named Best Club
BEST CLUB
Coomera Cutters Junior Rugby League Club (QLD)
Just five years after they started, the Cutters have grown to become the second biggest junior rugby league club on the Gold Coast. With a focus on kids, footy and fun, our 2018 Best Club winners could hardly go wrong. Participant numbers have swelled to about 700 and over half the players come from the Pacific region. To celebrate the diversity of its membership the Cutters hold special events such as Whanau Ora (Family) Day. A commitment to low registration fees has also had a valuable impact by steering youngsters away from trouble and keeping them positively engaged in footy. And to help with that growth spurt $5000 worth of INTERSPORT vouchers are heading their way.
Honourable mentions: Bayside Hockey Club (VIC),  Trigg Island Surf Life Saving Club (WA)
Up in the wee hours of the morning, inspirational coach Hayley Stevenson
BEST COACH
Hayley Stevenson, Wilston Grange Triathlon Club (QLD)
Hayley Stevenson is the driving force behind this club.The seven-day-a-week dynamo inspires through example showing it's possible to have a demanding full time job, a young family and still commit to a gruelling sport. The mother of two is up at 3.30am to get her own training done before motivating others to swim, bike, run and have fun. Stevenson established the club seven years ago so she'd "have a friend to train with" and now as president-coach marshals close to 80 members, most in their 40s.  Says the accredited coach: "I love seeing people realise what they can do."
Honourable mentions: Stephen Bown, Malvern Lacrosse Club (VIC), Nathan Davis, Braves Baseball Club (WA)
Club volunteer Jeffrey Waldron is "one in a million"
BEST CLUB STALWART
Jeffrey Waldron, Coleraine Football Netball Club (VIC)
Is there anything this tireless club volunteer doesn't do? Jeffrey Waldron, who is deaf, drives, packs, sorts and unloads the equipment trailer, cleans up the club rooms, works the main gate on match day, supervises the Thursday night meal takings, creates and donates cabinetry items, and is a timekeeper. He's one in a million says club president Ashley Lambert: "Jeffrey's there before the committee, before the players, he's buzzing around with ideas, he's looking for things to do. He's just a livewire."
Honourable mention:  Elva Wright, Robertson Tennis Club (NSW)
The international standard facilities of the UGSHA
BEST SPORTS ASSOCIATION
Upper Great Southern Hockey Association (WA)
With its own club rooms and international standard synthetic turf the Narrogin-based sports association has attracted two international series in the past three years.  But it's the innovative approach to building the game at the grassroots that caught the eye. UGSHA oversees about 46 teams each week – around 700 players across all grades – and has increased the number of qualified umpires by 30 through its Green Shirt Umpiring program. UGSHA is a proactive advocate of sport for everyone and this year introduced "walking hockey" for seniors and players with disabilities.
Honourable mention: Croydon & Districts Table Tennis Association (VIC)
Age is just a number for Ken Baird
BEST MASTERS PERFORMANCE
Ken Baird, Australian Myths & Legends Basketball (VIC)
Age is just a number, but what a number. Ken Baird turns 90 this month and is still basking in basketball gold from the 2018 Australian Masters Games in Tasmania, where he took on the whippersnappers in the over 75s. A regular at the Australian and Pan Pacific Masters – 26 tournaments in all – he also holds a rowing record and until recently played tennis and rode a motorcycle! No wonder Australian Myths and Legends president, Ian Farr, describes him as "an inspiration to his teammates".
Honourable mention: Grant Simpson, West Beach Surf Life Saving Club (SA)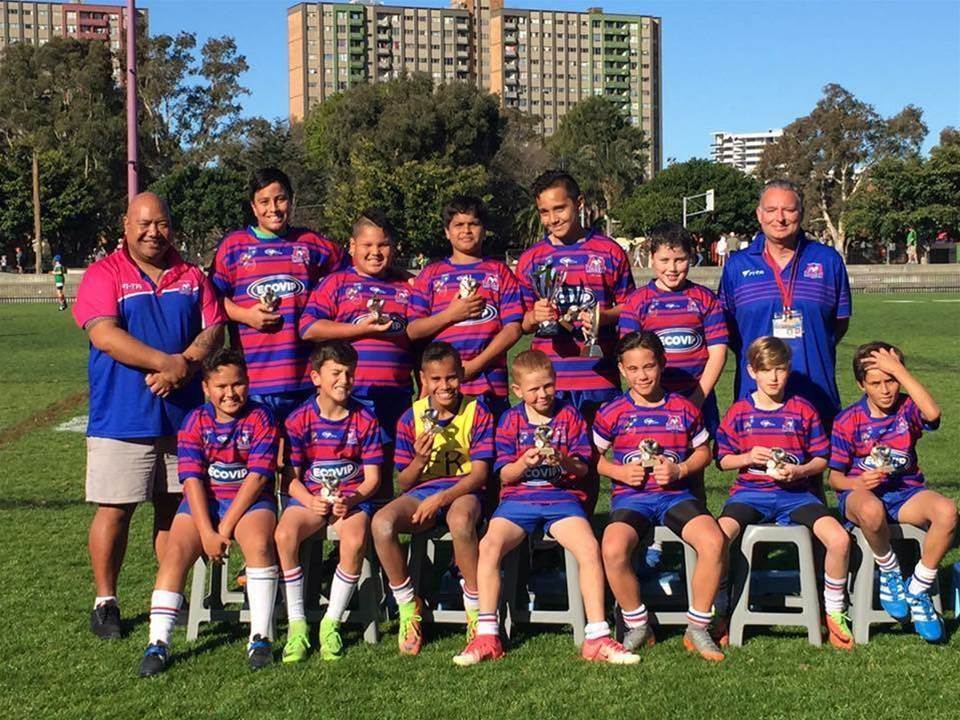 Keeping the dream alive: Perry Johnstone (back row, right) with last year's U11 Rovers
BEST ADMINISTRATOR
Perry Johnstone, Alexandria Rovers Rugby League Football Club/ Sydney Indigenous Rugby League (NSW)
He's the heart and soul of Alexandria Rovers in the inner city suburb of Sydney. Johnstone has been the club secretary for his old juniors club for 12 years. Whether it's buying boots for youngsters, transporting them to and from games, or dishing up a feed on match day this unsung hero always goes the extra mile. The Rovers turn 70 this year and count international and NRL players among their alumni. But that's only half the story.  Johnstone says: "Someone said to me once 'how many people have you coached that's gone on to play first grade or gone on to play for Australia?' And I said, 'I've got a different number. How many boys were kept out of jail?'"
Honourable mentions: Kirsten Royley, Albany Creek Excelsior FC (QLD), Brenton Westell, Unley Football Club (SA)
Eastside Activity Centre
BEST FACILITY
Eastside Activity Centre (TAS)
It started as a trampoline club and expanded into gymnastics, with four major extensions over the past six years. This $3m facility, developed without any government assistance, is a deeply personal mission for owner and mother of five, Felicity Harvey, whose own daughter's health problems sparked the dream of a centre that encouraged balance and coordination through fun. Since then it's been full steam ahead for Harvey and her husband. "We've just been adding more and more programs, trying to get all the kids motivated into sports," she said.
Honourable mention:  Flyaway Gymnastics (NSW)