FEATURE STORY: Australian cricket's Gen Next is here. Now. Playing T20 like wild men.
Call it The Gilchrist Legacy. While most of us were gasping at the supersonic, all-thrashing deeds of the deadly, steel-wristed left-hander, watching at home were our nation's impressionable youth. And they liked what they saw. How could they not? Adam Gilchrist was a Howitzer, a scattergun, a Kookaburra-killing machine. How we bayed for him.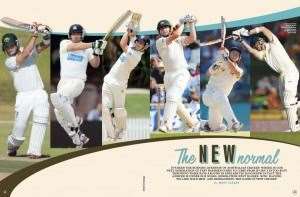 Yet for talented boys with big dreams and belief, Gilchrist's batting wasn't just entertaining, but emulative. They didn't see the Gilly Way as cavalier or crazy. They just saw it as "batting". And it looked tremendous fun.
And it wasn't only Gilchrist fermenting the minds of our jung. How we thrilled to the mighty bazooka of Matt Hayden. How we roared as Andrew Symonds cracked a Test ton with a six at The G. How we laughed – ha-ha, how we laughed – as Virender Sehwag plundered 293 in a day; as Chris Gayle hit the first ball of a Test out of the ground.
And as those worthies flogged bowlers like medieval horse thieves, Australian cricket's next-in-line, our Gilchrist Legacy babies, if you will (Glenn Maxwell, Dave Warner, Steve Smith, Aaron Finch, Nic Maddinson, Ashton Agar, James Faulkner) were watching on the telly, sucking it in like Vicks VapoRub applied liberally on their tum-tums.
Batting for these kids was how Gilly did it. It meant "back yourself", trust your eye and go hard at that juicy red rock. And then just as these boys became men, an interesting thing happened: Twenty20.
It was a perfect storm. Not only was there a mandate to Attack Like Gilly, but you were allowed to do it from the first ball. Hell, you were meant to. And when you went, you went big. You went massive. Big? Billion rupees, baby ...
Granted, for our Test team, it's been a bit Rocky Elsom since. Australia's batting order in the Ashes series in England was, a couple of innings aside, Grandma's osteoarthritis-frail. Stroke-players Shane Watson, Phil Hughes, Usman Khawaja, and even "traditional" types like Chris Rogers and Ed Cowan, were winkled out chasing, tempted by the sweet fruits. Top-level quicks and finger-men worked them over and out. Often they'd seen two coming top of off-stump and had gone after the one going away. Sucker punched. Seeya.
But then another interesting thing happened: the boys didn't stop being boys. Hughes, 25 (we can forget that), is back plundering the Shield. Smith's last 18 months with the willow have been a revelation. And Warner, as ever, has gone harder than Hookesy in a hurry. After a period in the wilderness, Dave remembered to be Dave. "The Bull." And the runs have come, at speed, as they do.
And this writer and others have had to re-evaluate pleas to shore up the top with a Barnacle Bailey – Rogers, Cowan, Michael Klinger. For here's the thing: if our other New Men of Australian Cricket (Warner, Smith, "Big Show" Maxwell, Aaron Finch) can be themselves and combine their natural, T20-honed skills of attack with none-shall-pass defence and long-form concentration, then they could create the latest paradigm – the New Normal – of Test cricket. They could bring the future to now, bring a T20 mind to Tests, and win games for Australia, quickly.
The future? Four hundred runs a day. Bog standard.
*****
Right. Let's get this straight from the get-go. I love Test cricket. Test cricket is cricket. I eat Test cricket like a rib-eye steak. Test cricket is slow food, soul food eaten atop a mountain. T20 is Macca's in the car park. Test cricket is The Godfather, Scarface and Pulp Fiction. T20 is Dude, Where's My Car? Test cricket doesn't suck.
Well, T20 doesn't suck. A lot of it is pretty cool. Brendon McCullum "ramping" Shaun Tait for six? Twice? Ha! That is cool. Warner flogging Tait's thunderbolts out of Adelaide? Tait himself? All that: Top Entertainment.
But for many of we, shall we say, Old People, lots of T20 is ordinary, stupid, throwaway cricket: windy woofs and Whack-A-Mole. Scatterbrained and quickly over, and more forgettable than a dud Joe Root.
But we are wrong. Because T20 is producing cricketers. Long-form cricketers. Test men. Granted, our Legacy Babies are a way from being incumbent in our national Test XI. But the old one about batsmen maturing at 28, it still stands. Michael Hussey would tell you that; George Bailey, too. Warner is the oldest of our boys at 27. None has yet reached his prime. But they are being encouraged to be themselves. That's critical. More on it later.
Anyway, nothing can extinguish the disco inferno. And Test cricket needn't wither as T20 rises. As hideous as it may sound, but the bubble-gum can improve the rib-eye fillet, just as one-day cricket – the once-derided "pyjama game" – hurried and improved the Test cricket tortoise. New paradigms are created all the time, over time.
So cop it sweet: T20 is here, Lord's has a space ship for a press box, and wild men open the batting.
*****
My favourite batter as a kid was David Hookes: an original, Aussie, slog-n-tonk man. He belted Tony Greig for five straight fours in the '77 Centenary Test. He played 23 Tests but only made one Test ton, 143 in Sri Lanka's first Test. As Gideon Haigh wrote in Wisden: he was a first-class destroyer of second-rate bowling. He could never nail No. 5, couldn't reproduce blazing Shield form in Tests – in one-dayers he sprayed Bob Willis' guts all over the 'Gabba. But in Test cricket his mind wasn't free. He couldn't be himself. He couldn't just play.
He played for South Australia, though. Captaining his state in a Sheffield Shield match in '82/83, Hookesy was so upset with Victorian captain Graham Yallop – who, wary of Hookes' ability, had set the Sackas 272 in 30 overs – that Hookes promoted himself top of the order and tried to get them.
My, how he tried. He reached his hundred in 34 balls. His opening partner, Rick Darling, had scored seven. Rod McCurdy went for 88 runs in 12 overs. Peter King was hauled out of the attack after two overs and 38 runs. When Hookes was out for 107 (17 fours, three sixes), the game ended "normally" – a draw. But Hookes had made his point. And they're still talking about it in Adelaide today. How about Hookesy …
Yet because the innings was considered such an outlier event and so singular to the man, no one (perhaps outside of India's Krishnamachari Srikkanth) looked at such hyper-aggression and thought: why not bat like that all the time? It remained abnormal. Unlike Gilchrist's, Hookesy's Legacy didn't spread much beyond Boof Lehmann.
Even after Packer's World Series Cricket, Australian Test batsmen in the '80s, for the most part, felt runs should be ground out. Scores after a day's play were routinely around 200, including those by the mighty West Indies. Even in one-day cricket, 50 runs after 15 overs and 235 all-up was considered quite good.
But Test run-rates have steadily risen. Look at a "Manhattan" of Australia's first innings runs-per-over (RPO) figures since the first ever Test match on 15th March, 1877. Of the 96 first innings Australia scored at 3.75 runs per over or more, 74 have occurred since 1977 (WSC) and 43 since 2003 (advent of T20).
To score 400 runs in a 90-over day of Test cricket, you need to score at 4.44 per over. Australia has scored at that rate (in first innings) 16 times – 13 times since 2001. Extrapolate all the numbers and it's clear: one day a "normal" first innings run-rate across three sessions and 90 overs will be 4.5. People: 400 as par is in the post.
*****
It took two Sri Lankans to re-invent opening batting. In the '96 World Cup Sanath Jayasuriya and Romesh Kaluwitharana went bat-shit from the get-go, using Kerry Packer's fielding circles the way the big money-man intended – as mini boundaries to clear. It wasn't normal. Sri Lanka won the World Cup. Now it is.
Similarly, a one-day score over 400 wasn't normal – or even considered possible – until Australia did it at The Wanderers in '05/06 and South Africa proved themselves very fast learners and believers in possibilities.
For our talented tykes, big things can not only be imagined, but believed. They've seen Gilchrist. They've been brought up on different paradigms of what's possible. T20 has made this so. Two-hundred in 20 overs? Do-able. Four hundred in 90 overs? Do the maths: 66 runs an hour, 133 a session for three sessions; 4.5 runs an over for 90 overs? Gettable. Coasting.
Yet gather any group of former players, commentators and back-bar "experts" – and as my local knows, I've been one of 'em – to lament Australia's top-order troubles and the number-one thing they'll agree on is that T20 cricket is ruining batsmen's techniques and their ability to bat for long periods in Test cricket.
But for Queensland Bulls coach Stuart Law, it's largely tosh. "I've been lucky enough to work with Mahela Jayawardene," says Law. "He knows how to play all three forms of cricket. And the number-one thing he'll tell you is you need great technique. It'll get you through difficult periods; you use technique to get yourself in. And then you use your power game. You can't say cricketers should focus on one form of the game. If they do they're not fair dinkum."
Trent Woodhill – assistant coach of Melbourne Stars and a long-time mentor of Smith and Warner – agrees, to an extent. "The best batsman in the world – Test and ODI – is AB De Villiers. Hashim Amla is second and third [respectively]. AB is the first bloke you'd pick in a T20 team, Amla is the second. Why is that they can succeed across all three forms?"
Smith is one who was previously derided as a short-form show-pony. Yet he's been playing first-class cricket for seven years and knows what he's capable of. "Starting out he was quite flamboyant, and any sort of width he'd throw his hands at it," says Cricket Australia consultant Matthew Mott. "He's a lot more selective now and he waits for the ball to put away."
Woodhill's known Smith since he was 15 and says he's always been an extreme competitor. "The hunger's always been there. He was this kid with no fear who wanted to be in competition. So we just allowed him to compete. We'd talk about technique, but we established what he wanted to do and how he wanted to bat. How he hit the ball."
Woodhill reckons Smith's success as a short-form batter – as it was with Warner, as it is with Maxwell and Finch – is because in T20 and one-day cricket they're free from coaches getting in their head. "In the short-form game there hasn't been the focus on technique," says Woodhill. "There's been too many elite academies, too many coaches telling him how he should play four-day cricket. They were trying to shape his technique to them rather than the } other way around. Steve stopped listening to people who wanted to change him. He's focused on himself and become his own best coach. Now he can bat for long periods because he's not worried about technique."
It's a common theme in conversation with Woodhill. His theory is not "fixing" weaknesses, rather improving strengths. He points to Warner's resurgence: "Over the last 18 months, coaches tried to 'clean' his technique and focus on his defence. And Dave would say over the phone, 'Long as I get my defence right I'll be alright – if my defence is okay my attack will look after itself.' And I had a major disagreement with that. I felt that David is the opposite of that. By looking to attack, his defence becomes pure and tight after that."
I throw a Test line-up at Woodhill: DA Warner, AJ Finch, NJ Maddinson, SPD Smith (c), GJ Maxwell, MS Wade (wk), JP Faulkner, AC Agar, MA Starc, PJ Cummins, JL Pattinson.
Sure, not right now. Not all of them at once, anyway. But in the 2019 Ashes series? You bet. You could sprinkle these guys into the team over the years. Indeed it's happening. And Woodhill loves it.
"I'd argue Maddinson would be opening with Warner. Finch at three. But mate, how aggressive is that? Even your nine, ten and 11, they're explosive batters. And it's because of T20. Players are only going to get more dynamic. We've seen it in golf, baseball, rugby league, AFL. They're better athletes, there's more money and it's more professional. It's going to mean more results. There'll be more four-day Tests, less draws."
Yes, yes, yes – cool your jets, nay-sayers. Obviously our fantasy future doesn't take into account pitches, opposition, conditions, and the manifold factors that make up a day of Test cricket. And there's of host of reasons 4.5 runs-per-over is not sustainable, nor these tykes the batters to attain it. A middle-order of Maxwell, Wade, Faulkner, Agar doesn't sound like India Cement.
But none of these lads has yet seen their 26th birthday. In five years they will be prime. Smith's batting has improved in the last 18 months – he's only 24. Consider Warner. Like all batters, Warner is better when unfettered of thought. When free. Unthinking Dave is Good Dave. Unthinking Dave is Virender Sehwag. When he's unchained and swinging – see ball, hit ball – Warner can render bowlers effete, even fearful.
"It's about him having a clear mind and showing intent to the bowler," says Woodhill. "Each ball, if David can score off it, that's what he's looking to do. Rather than: 'I can't get out' or 'I have to defend', he's thinking how he can score. It puts him in a really aggressive position so that if he has to defend or let it go, he can, later and easier."
Warner's opening partner in our Brave New Order is Finch, who should be given one mandate: don't just blunt the new ball, knock the fucking thing into the street! Scuff it on the bitumen! With three slips and two gullies there's space in many places, particularly in the sky.
Agreed – smashing 156 off 63 balls in a T20 against England doesn't mean you're a Test batter. Indeed, I'm only coming around to it because Sehwag did it and Warner's doing it. But why not Finch? Believe, people. As the kid in Terminator II said: "The future's not set. There's no fate but what we make for ourselves." Finch is talented. He's got a keen eye. Getting him to Test level is about desire and instinct, according to Melbourne Renegades coach Simon Helmot: "Finchy's had great success in white-ball cricket. He has to trust those skills in the red-ball game. Yes, there are more challenging facets – wickets have more in them, different field placements. But he had a positive match at the MCG, made 97 in 240-odd balls. He's going in the right direction."
If Woodhill were mentoring Finch, he'd ask Finch how he'd like to play four-day cricket "and then I'd see if that matches how he bats in one-day and T20 cricket. From the outside it looks like he's changing between them. It looks like he's thinking defence and feels like he has to play straight rather than his natural game, which is to play shots. He's defending balls he'd hit with a cross bat."
At No. 3 is probably the best young batsman in Australia, Nic Maddinson, 21. Woodhill says Maddinson is "one of the best ball-strikers I've worked with and if coaches allow him to improve, he'll cross all three forms without problem, and he'll destroy attacks."
Glenn Maxwell? The Big Show? Batting No. 5? Really? They gave him a go in a Test match, largely as an off-spinner, though he opened the batting in the second innings of the fourth Test last year in India. Scored eight. India chased down 158 to win. But Maxwell can turn the corner, can become a force in Test cricket, according to Woodhill.
"With Maxwell, like Finch, you'd find out how he wants to play rather than telling him. Maxwell's first class average is pretty good [36]. He's a natural ball-striker. So you should make sure he's aware where his runs come from and not try to change that.
"Coaches need to allow these guys to be the best Glenn Maxwell, the best Steven Smith they can be rather than turning them into the best Ricky Ponting. They can't be Ricky Ponting. They have to be the best version of themselves."
Who's the No. 6? The 'keeper? Matt Wade, 26 on Boxing Day. Test hundred. And when big bad Brad Hadds calls it quits, this ornery Tasmanian, you'd wager, is the glove man. And we don't swap 'keepers often.
James Faulkner is at 7, potentially our Freddie Flintoff (quiet, fool, it's the future). There follow the bowlers: Ashton Agar (highest Test score 98), Mitchell Starc (HS 99, average 30), Pat Cummins (grade cricket centurion) and James Pattinson (HS 42, avg 30). All five can fling the bat in a Don't Make Mitchell Johnson Mad kind of way.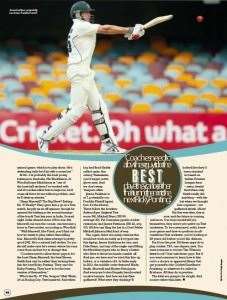 Yes, again, there are many reasons this would not work as easily as it's typed into this laptop. James Anderson for one, and Dale Steyn, and any of the eagle-eyed Ming the Merciless types who so fancy a batter who likes to throw his hands outside off. And yes, we have sort've tried this line-up before, or a variation of it. In India early in 2013, the middle-order featured Wade, Smith, Maxwell and Moises Henriques. And everyone looked largely bamboozled on slow turners. And how we bar-flies guffawed! What were they thinking? It looked like they'd been chucked in based on Indian Premier League form – swim, freaks! And when only Smith really did anything – with the bat when we thought him a spinner – we guffawed afresh. Idiots! But that was then, this is now, and the future is coming, and soon. Our boys would tell you themselves, they aren't yet rusted-on Test cricketers. To be a seasoned, solid, know-your-game-and-how-to-perform-in-all-conditions Test cricketer, you're looking at 28 years old before you're fair dinkum.
But it's in the post. All these guys do is play cricket. T20, one-dayers, nets. You want someone to review Tim Winton's latest book? Don't ask these guys. But if you want someone to learn how to late cut to a doosra or uppercut Shaun Tait, get yourself to the Cricket Excellence Academy, or whatever it's called in Brisbane. All they do is practise. The kids are going to be alright. And sooner rather than later.