November is a massive month for Australia's cricket veterans.
The Over-50s Cricket World Cup kicked off on Tuesday, hot on the heels of the Over 60s National Championships which wound up last Thursday.
In fact if you're a cricketing tragic sitting on half a century or above (age-wise) and still playing competitively the future looks pretty wicket.
Smack bang in the middle of all the action is Simon Lyon – an opening batsman who has his fingers in both pies.
Victoria 3 v ACT Galaxies 3 - Photo by Quarrie Sports Photography
Lyon, a co-organiser of the Championships, racked up a couple of 50s (when you have to retire) to help NSW First Division side to the final where they fell to Victoria now back-to-back winners.
The British ex-pat is also hosting Australia v England on Sunday at Manly Oval in the Over 50s WC version of the Ashes.
While over 60s can't play in the current World Cup there are no such constraints on Veterans Cricket at a domestic level.
"It's expanding at a dramatic rate," the 64-year-old said of veterans cricket. "I play 40s on Sundays, alternate weeks, for my local club, the next weekend I play 50s, and then I play this stuff which is 60s."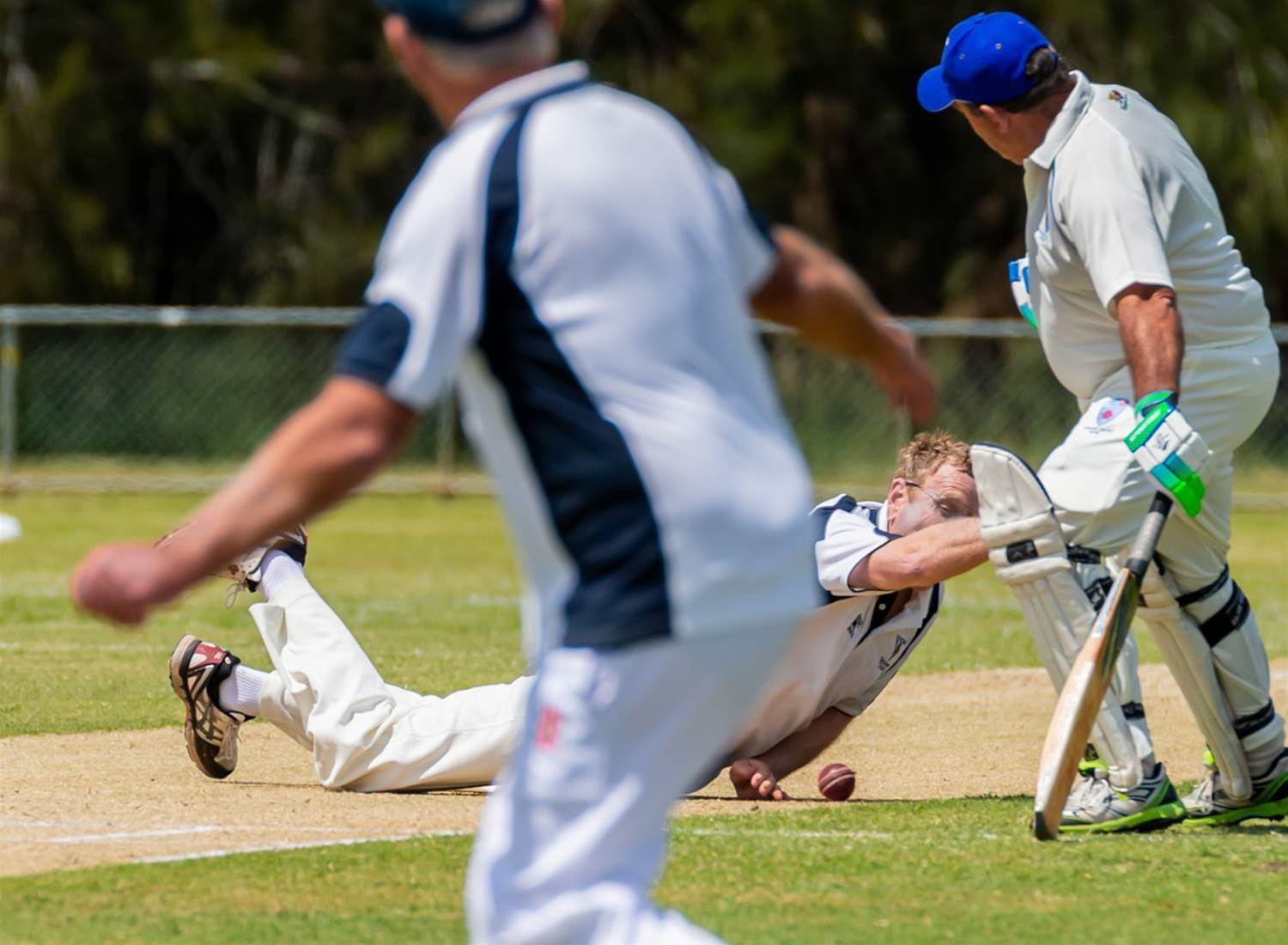 Victoria 4 v NSW Boomers - Photo by Quarrie Sports Photography
And there's no letting up on the pace. The championship round robin tournament saw four divisions compete over five days in Sydney's west.
"We had 32 teams from around the country, which was brilliant. We were lucky with the weather in the end and we had terrific fun. So it was really good.
"(NSW first) played at Howell Oval No. 1 ground at Penrith and we narrowly lost.
"Opened the batting for the NSW first team and had a pretty good week with the bat. You have to retire at 50 and I had a couple of those…
"We were looking in quite good shape for a while then a couple of unfortunate things happened and things turned against us. But there you go – it's the first time we've played in a final for a long time."
And there's been a steady improvement in the play.
"What normally happens is most states have their own interstate tournament beforehand so they can work out how to pick the teams (for the championship).
"They pick the top dogs for this tournament.
"New Zealand brought two sides over and the former test opening bowler in Ewan Chatfield, Queensland have an ex opening batsman for the Shield side."
"We anticipate that this is growing so fast that more ex first class players will join when they see the standard is getting up all the time."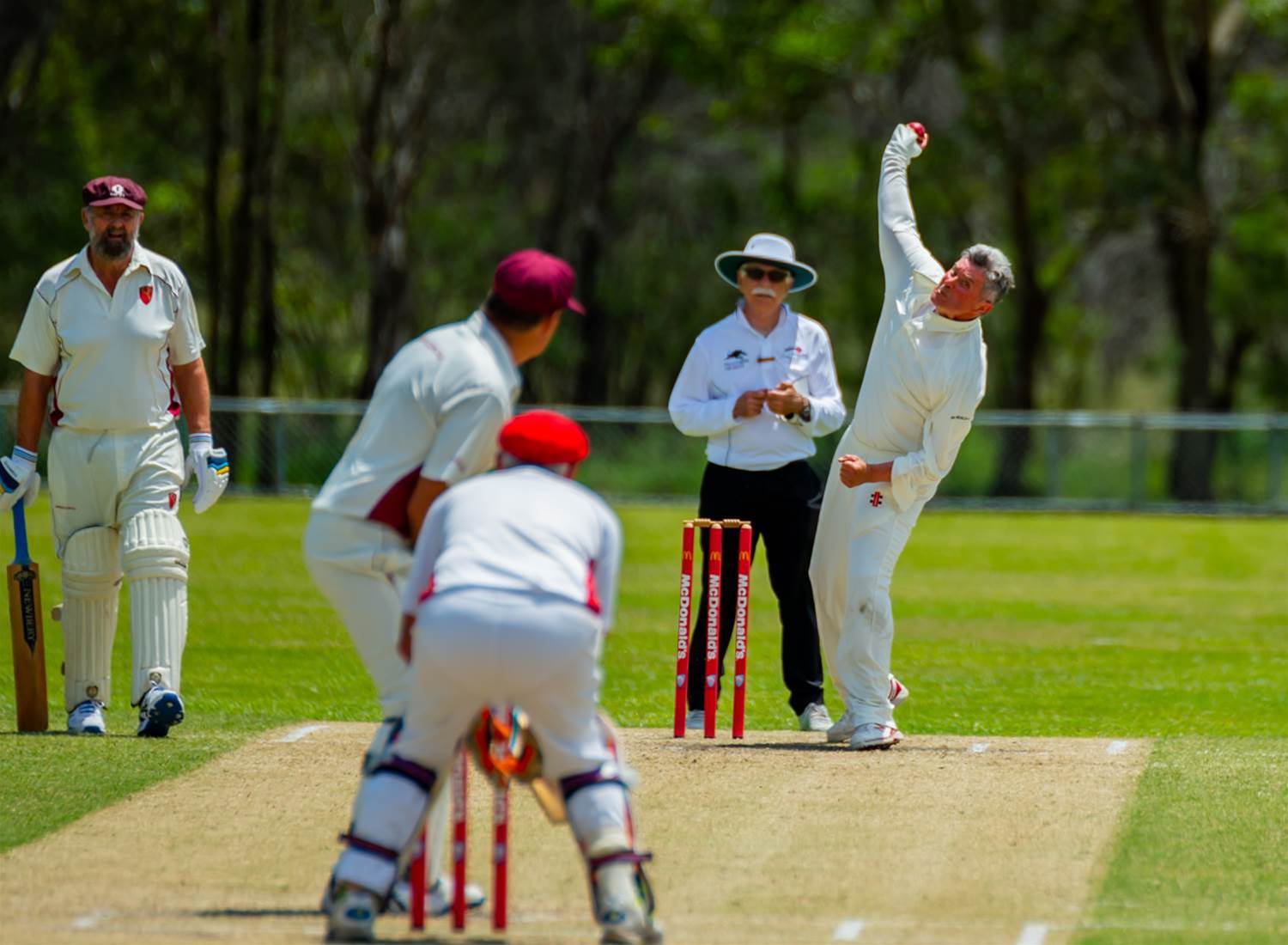 Queensland 3 v South Australia 3 - Photo by Quarrie Sports Photography
Among the players in the Over 60s World Cup are probably some future teammates of Lyon's.  As well as Australia and England, teams from South Africa, Sri Lanka, Pakistan, New Zealand, Wales and Canada will play in the 34-match, 18-day tournament in Sydney.
Sydney's top cricket grounds will showcase many of the best over-50 cricketers in the world, including Test, ODI, first-class and club players.
If 2018 is ending on a high, next year begins with a bang. The Aussie Over 60s will tour New Zealand in February before setting off for the UK.
Lyon added: "The last (UK) tour party that left these shores in 2017 won all the County games over there plus beat Scotland twice but narrowly lost the three One Day Internationals to England.
"We travel again to do better."
UK touring party 2017: Simon Lyon, front row, sixth from the left