As revealed in the last two articles on Inside Sport, Kyushu has plenty to enjoy between the rugby matches its hosting during the 2019 Rugby World Cup.
We've looked at when and where a few important games worth catching (including the Wallabies' Pool D hit-out against Uruguay and two quarterfinals) will play out.
And we've looked and drooled while imagining the tastes on offer when visiting this fertile and seagirt land.
But we've saved the best for last with an in-depth look at the spectacular natural treasures which are a drawcard in their own right and also a crucial part of producing the culinary delights which help make Kyushu famous among the Japanese.
A gloriously rich, volcanic land holds as much for the tourist as it does for those working the soil and sea – and it won't be long before this island's secrets are far more widely shared.
Takachiho Gorge
A quick Google image search for "Kyushu nature" will reveal a heap of pictures of the walls and waters of Takachiho Gorge from all angles.
The Gokase River cuts a narrow chasm through volcanic basalt chasms – creating an effect like the scales of an ancient dragon – leading up to the focal point 17-metre high Manainotaki Waterfall.
Locals love to row up the river with its calm waters which don't appear to move much faster than the rock formations towering above. But you can also just walk along the track winding its way alongside the river. Both offers ample opportunity to take it all in and get a few photos without too much interference from the others.
Despite its hue natural beauty and popularity, it manages never to feel too touristy, with a perfect balance of green, pristine nature and comfortable facilities.
A kilometre or so further down the trail, you'll reach the Takachiho Shrine, a gorgeous traditional building designed to blend in with the tall cedars which surround it. At night, the hall next to the shrine hosts re-enactments of the Takachiho Yokagura, an important Shinto cultural experience featuring masked dancers and traditional Japanese instruments.
Aoshima Island
Aoshima is a tiny island and yet manages to hold its place as one of Kyushu's most iconic sites of nature and culture (and not to be confused with another Aoshima in Shikoku which is famous for its cat population!)
Surrounded by a beautiful white sandy beach, the Kyushu island is joined to the mainland by a single bridge. Within the 1.5km white ring created by the beach is a stunning and cool subtropical forest which, in turn, envelops a magnificently coloured shrine.
The shrine is said to bring good luck to those looking for love every year and attracts hordes of young Japanese people in the hope that the Aoshima Shrine might help them find their soul mate. With any luck you've already found your own but Aoshima is still worth your time.
Depending on the tide, a phenomenon known as Oni no Sentakuita, or devil's washboard can be found either just below the surface or protruding just above. The perfect lines of these peculiar basalt formations look manmade but are all the handiwork of mother nature.
Ainoshima Island
You don't need to head to Shikoku Island and the other Aoshima to make some furry little friends. Kyushu's own Ainoshima (note the subtle difference in spelling making) in Fukuoka Prefecture is feline famous enough to have appeared in a CNN article "Five places where cats outshine tourist attractions".
It is a cat paradise – but despite that, it also popular among birdwatchers… and for all the contradictions the two populations seem to get along just fine!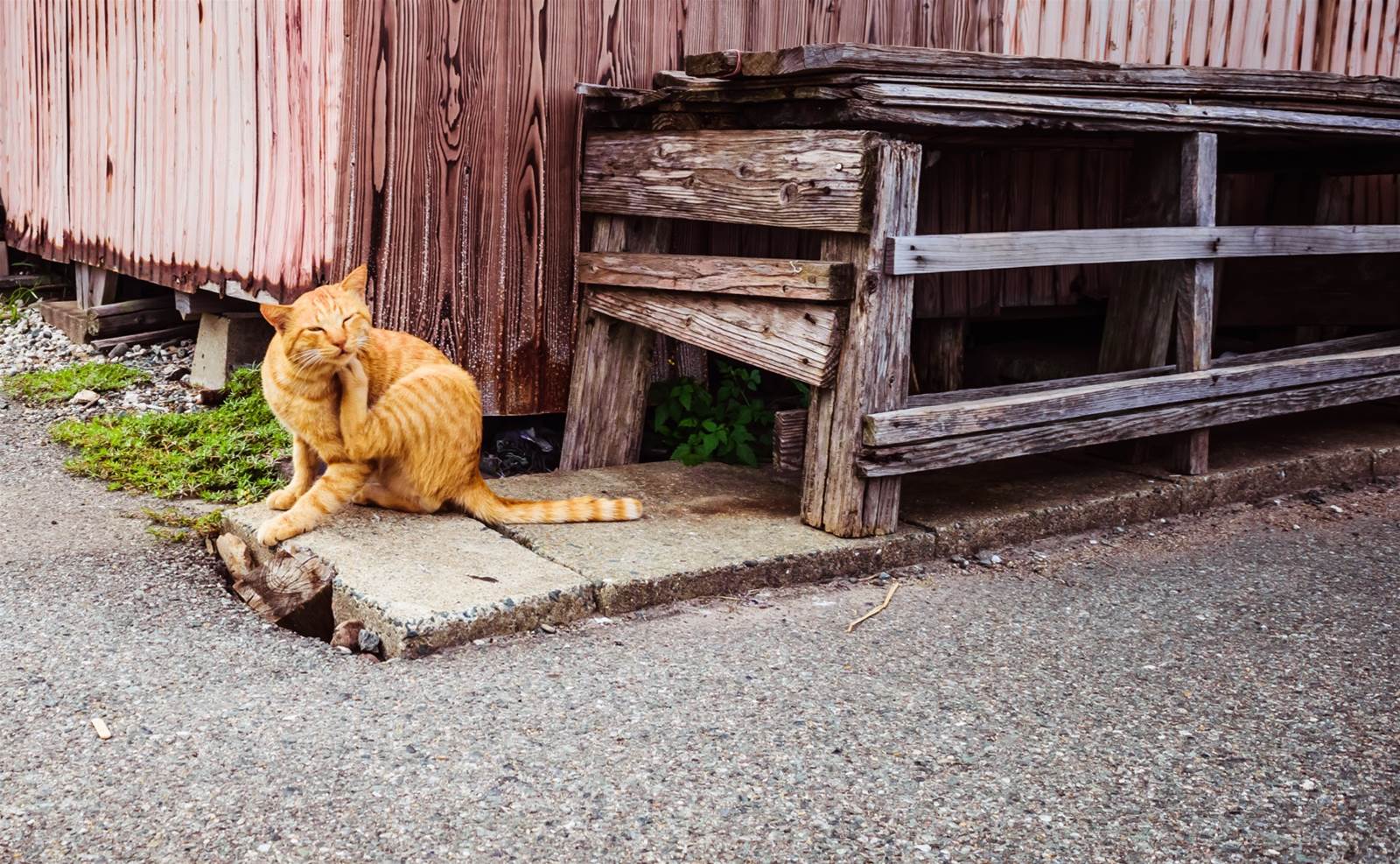 Cats roam freely around the quiet fishing village which is just a small part of the island which is worth hiking or cycling around (bike rentals are available) if you have time. A ferry will have you at the island in under 20 minutes from the mainland's Shingu Fishing Port.
Sakurajima
Japan's landscape is famous for its volatility – and nothing represents that better than Sakurajima, a visibly active volcano, towering over Kagoshima and smoking like Snoop Dogg!
Ash collecting in the cracks of footpaths around the city reveal its constant minor eruptions, often multiple times in the same day.
More than 1000m high, and 50km around the base, Sakurajima was its own island until 1914, when a major eruption spewed lava and created a natural land bridge to the Osumi Peninsula in the east.
From Kagoshima city, however, the most common way to access this true natural wonder is by the short ferry from Kagoshima Port to the Sakurajima Ferry Terminal.
It's illegal to get within 2km of the volcano's three main peaks but there are safe lookout points 3km away, close to the main roads. And if you're still keen to see more you can again hire bikes and ride around the former island, or take your rental hire car on the ferry.
And afterwards, you can relax at the onsen (hot spring baths), and foot baths. Or alternatively - just skip the hiking and head straight for the onsen!
Kyushu's largest "Matsuri in Kyushu" in Kumamoto
The "Matsuri in Kyushu" festival is a great opportunity to enjoy the many special festival in the region of Kyushu and Yamaguchi. Also, you can buy various special products of Kyushu at the place.
Date September 28 (Sat), 29 (Sun), 2019
Access: Kumamoto city center.
Conclusion
The sightseeing spot that we have been presenting three times so far is a wonderful place worth going to. We wish your RWC2019 will be a wonderful journey!
Check out Part One and Part Two in this series of articles.