Because we all know your passion for cycling doesn't stop just because you're not riding.
WORDS: Imogen Smith
Whether it's inspiration, information, or entertainment you're after, there are a bunch of cycling titles out there to keep you company through lonely nights, long-haul flights, and lazy weekends. Here are our top picks for great reads about life on two wheels.
Higher Calling by Max Leonard
Max Leonard, author of quiet marvels like Lantern Rouge and Bunker Research, is a man obsessed with the stories that make cycling wonderful, taking time to look ever-deeper into the landscapes and the culture that make life on two wheels so endlessly fascinating. When the rest of us might just ride on past, he jumps off his bike to wander the countryside, ask questions, and take photographs. 
Higher Calling asks why we have 'this obsession with cycling up mountains', and takes readers on a personal journey through the strange and intoxicating world of the ascent, the aura that surrounds the world's climbing legends, and the madness that infects amateurs to try to trace their routes. 
This is a funny, insightful, and well-researched book about the myths and the magic of cycling in some of the world's most inhospitable and challenging terrain. Leonard is an incredible tour guide, writing with honesty, wit, and a generous helping of research. A great read for those who love to follow cycling folklore, and dream of Alpine passes.
RRP: $39.95
The Rider by Tim Krabbe
"Meyrueis, Lozere, June 26, 1977. Hot and overcast. I take my gear out of the car and put my bike together. Tourists and locals are watching from sidewalk cafes. Non-racers. The emptiness of those lives shocks me."
More than any other book, or film for that matter, The Rider captures what it is to be a racing cyclist. Renowned for its poetic descriptions of the art of suffering and the joy of the bike, The Rider is a slim volume, a novella really, and on the surface, it's simple: A blow-by-blow account of an amateur race taking place in the south of France in 1977. Given the fame it's achieved in the last 30 years, it's incredible to think the book was only translated into English in 2002.
But of course, it's more than that. It's so much more than that - it's everything. It's Confucianist wisdom on two wheels. It's lessons about the bike we should never forget, such as: "Nothing hisses quite so sweetly as a rival's puncture." It's substantial. It's poetry. 
The perfect book for the poet in your life, the dreamer, and the racer.
RRP from $15
Mastering Mountain Bike Skills by Brian Lopes & Lee McCormack
"Mountain biking is awesome!" We agree, and we especially agree with Lopes and McCormack's suggestion that to make mountain biking even more awesome, any and every rider, no matter what standard, is going to benefit from skills training. The better your skills, the more fun you'll have.
Now in its third edition, Mastering Mountain Bike Skills is the go-to bible for dirt shredders, from beginner to advanced - so much so that it's given to every participant in Mountain Biking Australia's coach education programs. The third edition has been thoroughly revised to include new technological developments in wheel sizes and frame geometries (although the photos could use a bit of an update as well). 
McCormack and Lopes have different, but equally impressive, pedigrees when it comes to their qualifications: Brian Lopes is a legend of the sport, with a career spanning 20 years and across many disciplines, and he's been World Champion a few times in Downhill. McCormack is a professional skills coach with a way with words. Together, the two make a formidable educational team.
The book covers everything a mountain biker could need to know, from bike types, to bike setup, to tyre choices, to suspension tuning. But it's in the skills department that the book really shines, with clear, easy-to-follow instructions, logical progression to even the most advanced techniques, and a lot of good humour. This is the perfect book for the off-road fanatic in your life, especially those starting out, curious, and looking for confidence and guidance.
RRP: $35.95
Cycling Science by Stephen Cheung & Mikel Zabala
More than ever, cycling performance depends on technology and research. And that's not just at the pointy end of the sport. Today power meters, social ride-sharing platforms, and ultra-accessible analytics mean that numbers and percentages and split seconds and wattages are the language of many post-ride conversations and coffee-shop banter.
The internet provides endless answers, but for those seeking academic accuracy, Cycling Science compiles much of the most recent thinking on cycling and performance. The book is a collection of chapters - scholarly research articles - on topics ranging from hydration science to injuries, to biomechanics, to aerodynamics, and covering all kinds of training and racing in all disciplines. 
With their scholarly pedigree, these essays can be quite complex for the lay reader. That said, many of them present or compile new research gathered over the past 10 years - fascinating reading for those willing to take the time to understand some intricate figures and concepts. Some of these chapters come from big names in coaching and research, such as Hunter Allen, one of the pioneers of cycling's powerhouse software analysis platform, WKO+, and co-author Dr Stephen Cheung, of the PezCycling News website.
RRP: $42.95. E-Book: $42.80
Feedzone Portables  by Dr Allen Lim and Biju Thomas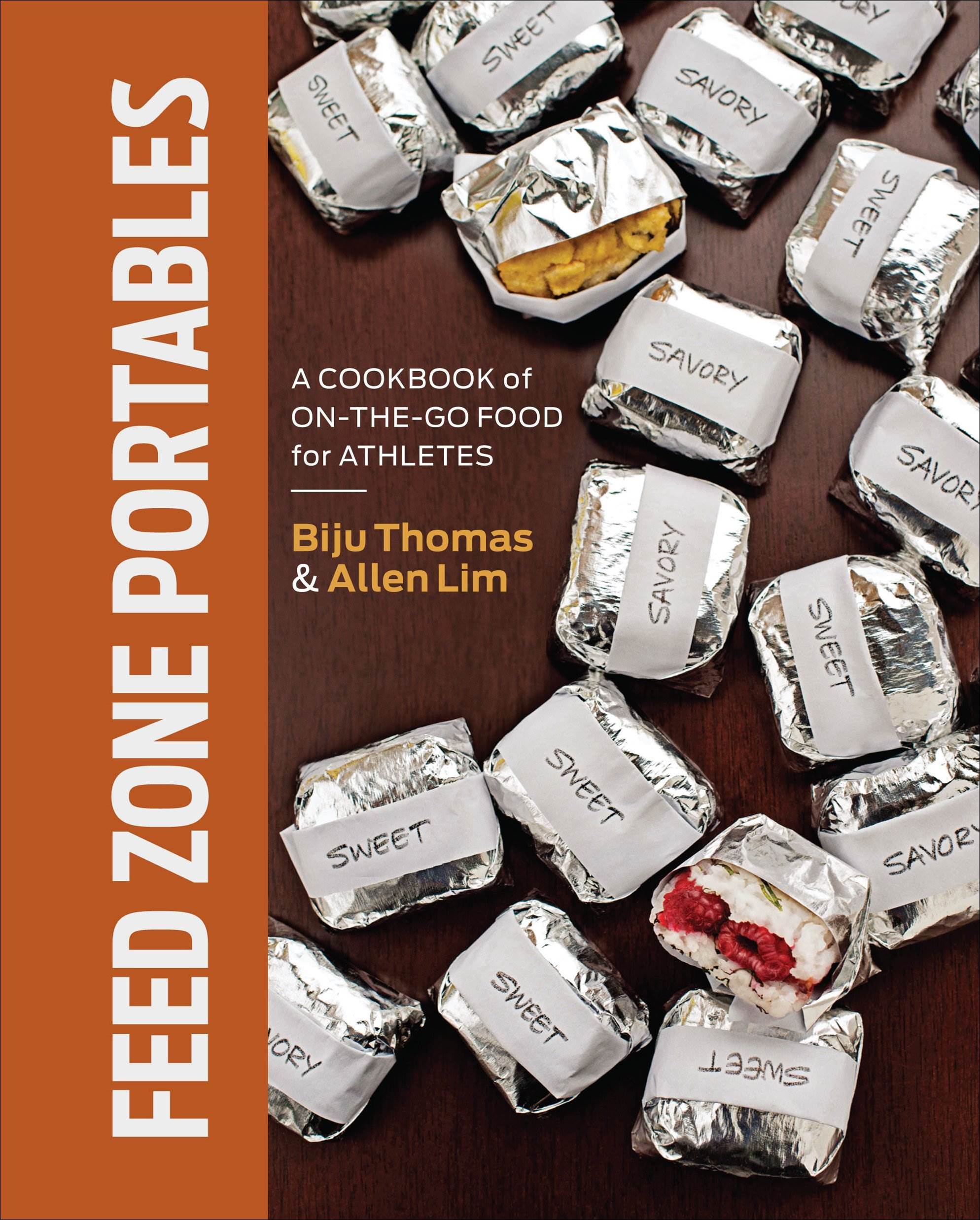 Dr Allen Lim and Biju Thomas are the fathers of rice cakes - for several years the pro peloton's favourite training snack. Dissatisfied with the usual gels and bars that athletes had to choose from, and working with big pro teams, Lim and Thomas came up with a bunch of recipes for natural, nutritious training foods and published The Feed Zone Cookbook, which changed the way a lot of us think about cycling nutrition and brought rice cakes into the homes of many an amateur rider.
The duo has now backed up their first book with Feed Zone Portables, full of recipes for delicious snacks just for eating on the bike. Recipes include a range of sweet and savoury rice cakes, two-bite pies, and baked eggs, all of which stow in your jersey pocket and provide just the right fuel for your ride.
Among the book's 75 recipes are a lot of both vegetarian and gluten free options, as well as details on how to wrap your bars and cakes, and an excellent introductory essay on the importance of sodium in both hydration and nutrition during exercise. The perfect read for your bike-loving foodie, or food-loving biker.
RRP: US$24.95
The Secret Race by Tyler Hamilton and Daniel Coyle
About five years ago, the biggest sporting scandal in history broke. Tyler Hamilton, Lance Armstrong's US Postal teammate, had admitted to doping before Armstrong did, and told all to America's 60 Minutes program. A book deal followed. The Secret Race, a tell-all confessional co-written with Daniel Coyle, captured our morbid fascination with cycling's fallen angels, and made it all the way to the New York Times Best Sellers List.
The Secret Race is an exposé of the kind of practices that made US Postal the best team in the world, and Lance Armstrong the most formidable cyclist in history, both on and off the bike. It's a story of corruption and greed, of fresh-faced boys barely out of their teens compromising their health and their morals for a shot at the pro life.
It's a story about the hot-blooded pursuit of glory, the intoxication of victory, and a paean to pain. Hamilton is the book's flawed protagonist. He describes how easily he slipped from taking the odd 'red egg' - testosterone pill - to a comprehensive doping program which, as controls tightened, descended into deeper and murkier practices. As riveting as it is disturbing, this is a must-read for fans of the pro peloton, and those intrigued by the dark side of our sport.
RRP: from $19.95