How are our 2013 Pigskin Preview predictions panning out?
Loyal readers would be well aware that we like to stick our neck out each year by predicting who will be our AFL and NRL premiers. We choose our March edition to do this, which is sent to the printers mid-February, which means we're usually finalising each six-page "Pigskin Preview" feature article by January, and starting work on them as early as December – a whopping ten months before the first tackle and handball in that season's grand finals. So, with those feeble excuses out of the way, how are we doing with this year's crystal ball-gazing by roughly the half-way mark of each of the Aussie rules and rugby league campaigns?
In our 2013 AFL Pigskin, we had Hawthorn exacting revenge over the Swans for last year's defeat in the Big Dance, followed by Collingwood and West Coast. We're on track there, the league-leading Hawks dropping just one game to date, the Sydney-siders looking healthy in fourth, the 'Pies in sixth and the Eagles in ninth at the half-way mark.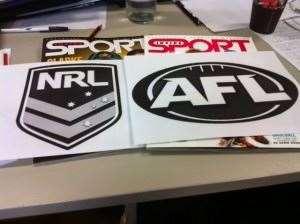 Over in rugby league land, our season intro had the Bulldogs defeating the Manly Sea-Eagles in an all-Sydney title-decider, with premiers the Melbourne Storm just missing out on reaching the GF, with the Sharks just behind them. We're looking a bit dodgy here, with the Bulldogs, after suffering the first-half-season from hell, sitting way down in seventh, but who knows? They're won four in a row, so maybe they'll race home to prove us right? How's Manly going – not too bad, fourth with two Origin rounds to fight through. The Storm is in second and the Sharks sixth. How are your early-season predictions panning out?