Today he's the Australian Swimmers' Association chief.
Daniel Kowalski's polite and downright philosophical take on the unfortunate timing of his swimming heyday is admirable. "I consider myself very lucky to have had people like Glen Housman and Kieren Perkins to chase," he told IS for this interview, impressing us immensely. "When I started swimming was when Housman burst onto the scene and unofficially broke the world record, and then Kieren closely followed."
What a guy, hey? But this magazine has been around long enough to know it couldn't have been all fun for him. Heck, why couldn't those blokes have waited another decade to time their arrivals? Ah, finally; there it is, the athlete's voice we wanted: "I feel very lucky to have been a part of that. But you know, I couldn't even go to the Queensland state titles and win a gold medal, because I was always behind Kieren or Grant. For me, it just became part of the norm. A good problem to have, really. But at the time it kinda sucked!"
Despite that rotten career timing of his, Kowalski is still considered among the greats of Australian swimming. Gold in the 4×200m freestyle relay at the Sydney Olympics, a silver and two bronze at Atlanta. At the 1996 event he became the first man in 92 years to win medals in each of the 200m, 400m and 1500m freestyle at a single Games. Beat that, Hackett and Thorpie!
Twenty years after his heyday, Kowalski is still a team player, heading up the Australian Swimmers' Association as the organisation's general manager. He recently donated a few spare minutes to IS to talk PocJox, potential Olympic champions and performing in front of millions of people.
So tell us what these things called PocJox are all about and how you got steered into them?
PocJox are a thing called "active underwear". Their tagline is "hands-free". You see so many people holding their phones while they're out on their run; with these, you can slide the phone into the actual underwear. They're made of breathable, sweat-resistant materials. My involvement has been more on a consultancy basis, trying to engage their creator Matt Chapman with athletes from various sports as part of the testing and feedback process. I've just been helping out where I can. I'm the type of person who can't exercise without music, so it was a no-brainer for me to get involved. It is personal, too; Matt is my brother-in-law.
We like tossing around different theories in our office. One we're studying for this issue is athletes and shaving. Did you ever buy into the whole shaving-down-makes-you-faster theory?
Oh yeah! I remember the first time I ever tried it properly; I felt like I was floating on water. An amazing feeling. One thing I will say is, there's only been one time I shaved downstairs and under my armpits. We had the world short-course championships in '95. They had built a pool on Copacabana Beach in Rio. At the time we all thought it was a wonderful tactic, but by the time we got home, under your arms and "down there" was just ... not a good thing in the heat. So, I'm all for the shaving of your legs and arms, and your back, which is a good one. Shaving doesn't just remove your hair, it also removes a layer of skin, which makes you feel closer to the water. I don't do it anymore ...
You still keep pretty active these days though?
Yeah, I do. Can't you tell? I like to do something five, maybe six times per week. I have to be pretty measured and controlled with what I do though; my body is just a mess from swimming. I had four shoulder reconstructions, two back surgeries and I ruptured my Achilles. A couple of those surgeries were while I was swimming. And I had a few towards the end, which was basically the end. There are days when I think, "Man, if I had my time over again I would've just done more work on dry land and done more preventative-type work. I do have mornings where I feel like I've been hit by a truck ... But yeah, I do like to stay fit.
What are some of the fun and games you get up to as general manager of the Australian Swimmers' Association?
It has been well-documented that it's been a pretty bumpy ride since London. We have all had to wear that. There has been a lot of work behind the scenes trying to solidify the team again, improving the culture and ensuring the swimmers are getting what they need in terms of their daily training environment. We are doing everything we can to help them gain the respect and admiration of the public again. It is also about creating opportunities for them to have a healthy, balanced life away from the pool. There has been a lot of focus in the last 18 months, as far as my role is concerned, in developing programs and networks to ensure we're creating these opportunities, or at least giving them the skillset to look at life away from the pool. I think there's been some pretty well-documented cases of late where some swimmers have been a bit lost and have needed some guidance and direction, so we've listened to that call and are actively trying to change that.
You seemed like a pretty hands-on GM throughout the Stilnox affair; you were heavily involved in setting up a code of conduct when that controversy erupted, weren't you?
The code of conduct was developed by the leadership group of the swimming team, in conjunction with some consultants who work in that space, and with the Swimming Australia board. The swimmers felt they needed to take responsibility and ownership of their conduct. They recognised that when one person, or five, six, however many people are out of line, even if it is only one, it reflects on everyone. They wanted to develop something along the lines of team values and mission statements, which may all sound fluffy, but it's very important for these swimmers. You have to realise, a lot of them ... they're still young. So it's important they take ownership. And it was great to see them take that responsibility and run with it and know the consequences if they do fall out of line.
Do you think the swimmers involved in the Stilnox controversy were treated as fairly as they could have been? Were you satisfied with how they were processed through it all as far as their punishment was concerned?
My view on the whole Stilnox incident is that it's in the past; I don't like to dwell on it at all. I think what they went through, publicly, was enough. It was a very steep learning curve for everyone involved. Everyone likes to look at it in the rearview mirror. Consciously we all don't like to talk about it because a lot of good has happened since then. It's a tough one, but it happened; we can't deny it happened. It was a pretty tough environment for six teenagers and a couple of people in their early 20s to sit in front of a press conference like that with lots of eyes glaring on them. I mean, there were hundreds of people in that room. To sit there and have to go through that ... you wouldn't wish that on your worst enemy. I did feel for those guys a lot. You do the crime and you do the time, but we've all tried to remove ourselves from any talk of Stilnox because, like I said, so much good has happened.
What was it about swimming that drew you in as a young-un?
I was actually born in Singapore and grew up in Southeast Asia. My dad got transferred to Australia when I was five. My sister, who is two and a half years older than me, was a very good swimmer technically. After a school swimming carnival the local club said you should come and try out. My parents, because we were new to the country and didn't know anyone, thought it would be a good social outlet, so we just went along and started out that way. Apparently I had always loved the water; I never had any formal lessons or anything, just taught myself with a bit of help from my dad and the rest is history. I tried other sports, but typical swimmer ... my ability on land was ... ordinary ... ordinary. I don't run because it's embarrassing. I tried Aussie rules, but I couldn't run onto the ball to kick it; I had to run, stop, then kick. I couldn't dunk the basketball, and I loved basketball. I thought, if I can't dunk it, then I got no hope. So I always came back to swimming.
What advice stuck in your head and helped you keep going during your swimming career?
There are a couple of pieces. The first one is to ensure you have a life away from the pool. Because it can become quite suffocating. There were moments when I listened to that and moments when I didn't. Ironically, the moments when I didn't were probably my most unhappy times in the sport. The second is very corny and cliched, but it's that your family and friends will love you regardless of the result. I say that because there were a lot of moments in my career where I thought, "If I don't do well, then people won't like me." It sounds so unhealthy thinking back on it now, but that's the competitive nature of who I am. Stupid now that I think back, but they're probably the two biggest things that really stuck with me. I didn't necessarily listen to them all the time, though.
Cases of depression seem more prominent in swimming compared to other sports. Is there something about that highly competitive realm which brings it out in swimmers especially?
I think that's always a tricky one. As someone who is still medicated for depression these days, for me, I sometimes do worry that the word depression is thrown around too easily and too lightly. I think that's important to note. But having said that, I don't think it's only common in the sport of swimming. Sadly it's commonplace in a lot of industries. Whether it's because the swimmer is high-profile or is more willing to talk about it, which I think is a great thing as well ... But there is a lot to be said about literally following that black line up and down and facing a lot of the challenges. When you get up behind the blocks by yourself, it's a team effort to get there, all the people who help you get there, but you obviously need to have some form of internal drive. And then to get on those blocks and dive in and start swimming ... So in many ways, I can only speak for myself, but I felt that I had to deal with all that myself. It can become all-consuming and unhealthy, but I think it's a double-edge sword. You need elements of that to be successful, but it doesn't need to be that extreme, either.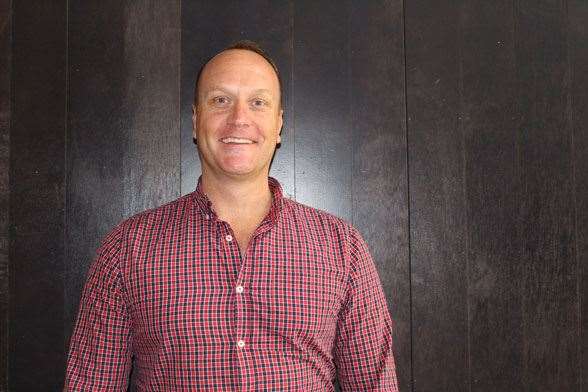 What the hell is it like standing on the blocks at an Olympics?
Listen, I'm probably not the best person to ask that, because I did not cope well with that at all. When I got to a point in my career – particularly at the '96 Olympics – when it was all about winning a gold medal, I had this thing were I'd stand up on the block and shake my arms and my legs and tell myself have fun and concentrate on the little things. That was my get-into-the-zone thing ... But I was so petrified at the Olympics for the 1500m final. I never revealed it though. I just did not want to be there. Ever since I was nine, that was what I had wanted to do, and then when the moment came I just wanted to be that nine-year-old kid in my lounge room again. I was so scared. A lot of eyes on you. It's an honour and a privilege to represent your country, but there's also an expectation and I often think, "If I was an opening batsman, I would be terrible."
What lesser-known names have you been following over the last little while which the rest of us will be hearing about come Rio?
There are so many great swimmers out there with great stories. Jessica Ashwood is a distance freestyler. She got a bronze in the 400m at the Worlds and a fourth in the 800m free. Just a hardworking, down-to-earth girl who keeps chipping away in what is a really difficult event; the American girl, Katie Ledecky, is so far ahead of the rest of the world. We've been strong in breaststroke but with Christian Sprenger's injuries and stuff it has been a slow kind've period, but there's a young guy from the Sunshine Coast called Jake Packard who got fifth in the 100m breaststroke at the Worlds. Our medley relay needs a strong breaststroker, so to have Jake coming through is fantastic. The two McKeon siblings, Emma and David, they have a lot of potential. They are still very young and very raw ... Mack Horton out of Victoria, a middle distance guy who, again, has a lot of potential. And probably the one for me who has an amazing story is a guy from the Gold Coast, Daniel Smith. Going on nearly two years ago he was in rehab for very strong drug dependency and was in trouble with the law numerous, numerous times. He was a champion age-group swimmer who was breaking a lot of Thorpie's records. He lost his way ... and then swimming became a part of his rehab and his therapy. He qualified for the world champs this year.
Will there ever be a day when the average swimmer's wage gets anywhere near an NRL or AFL player or a cricketer?
No! But you know what? Our sport is very lucky because we get amazing support from Mrs Rinehart through the Georgina Hope Foundation. In terms of the Olympic sports, we are very lucky and the swimmers are extremely appreciative of that. If anyone ever talks to me along the lines of dollars and tells me they're driven by that, my response is "you're doin' the wrong sport". Those professional sports, the sporting codes who take a piece of the television revenue, a lot of them don't get the opportunity to wear the green and gold at an Olympics or Commonwealth Games. That should be the driver and if you happen to make some money from it to help pay the bills and make ends meet, that's fantastic ... I do look on in amazement at what soccer players in Europe earn and the NBA players and NFL players and so forth ... The statistics you see, the amount of them who are declaring bankruptcy not long after they retire ... They can have their millions and all the hassle that goes with it.
Would you ever coach?
Noooooooo ... You think swimmers are weird ... Coaches are a breed themselves, and I say that with all due respect and admiration because of the commitment and time they put in; attention to detail. They don't get the accolades, but none of them chase the accolades. That's the type of people they are. The swimmer stands up there with the medal and 99.9 percent of them would love for their coach to be able to stand up on the dais with them because they've been if not the biggest, then close to the biggest reason they're there.