There were tears, there were cheers and there were legends everywhere you looked. The 2019 Sportscover Clubbies Award reached their climax at a glittering awards ceremony in Sydney's Tattersalls Club yesterday.
From all across Australia, local heroes were recognised and rewarded for being the backbone of sport in this country, with a VIP guest list of sports leaders to present their awards.
And the winners were...
BEST CLUB
Blackall Magpies Senior Rugby League Club
In the midst of the drought-ravaged interior of western Queensland, the mighty Blackall Magpies have emerged as a miracle tonic for the day to day hardship – an oasis of hope, passion and inspiration for the declining populations 960kms west of Brisbane.
Exhibiting the heart and soul of grassroots footy the senior rugby league club has more than survived without a clubhouse, pokies or major sponsors. Last year they broke their own drought, winning the central west grand final, for the first time in 30 years.
Despite it being tough-going, the community-focused club has taken part in anti-ice campaigns and raised funds for breast cancer awareness and suicide prevention. There's no doubt that Blackall loves its Magpies and so does Clubbies.
President Phil "Flop" Rooney said: "Footy has been a life saver out here. After spending the week on the farm having to shoot our own stock and wild animals continually, it is good to come into town on the weekend and catch up with my mates at the footy and forget the week."
Honourable Mentions: Beyond Grappling, judo (ACT); Ned Flanders XI, cricket (QLD)
BEST USE OF MEDIA
Allstars Calisthenics Academy
Allstars Calisthenics Academy has taken a predominantly Victorian sport and transplanted it in Queensland with stunning results.
An innovative, high-energy social media campaign has lifted the sport's profile in the north and increased the academy's participation numbers.
Head coach Tarryn Short and volunteer communications manager, Bo Adams – both social media novices when they started – provide the sweat and inspiration behind the scenes.
In three years they've spun an Allstars buzz with a creative and engaging website, vlogs, photo quotes and a team app. With the emphasis on fun, family and positive body image, the duo is producing a lasting record of the academy's progress. 
Tarryn added: "It's amazing to look back and see some of these young girls who are now young adults and have a record of how far they've come in three years."
Honourable Mentions: Badminton Victoria; Michael Carruthers (NSW)
BEST ADMINISTRATOR
Dawn Butler
Dawn Butler began her association with Woy Woy FC in 1980 and is an outstanding ambassador for the NSW outfit.
In fact, the local football club has become an all-consuming passion for the Butler family. Dawn, her husband Phillip and all three kids play for the club.
Before they put on the boots, though, they set up the home ground and the canteen on weekends. Dawn has served on the committee for 20 years and was instrumental in lobbying the local council for a club house.
When she's not wearing her club secretary hat, the talented all-age women's player can be found kicking the ball around.  It's not unknown for the livewire to play three games in one day – arriving at 7am to set up, and still being there at 6pm to pack it all away.
Dawn says her motivation is "...I just want everyone to enjoy the sport like I do."
Honourable Mentions: Kelsey Singh, Disability Sports Australia; Bronwyn Beames, Southern City BMX (TAS)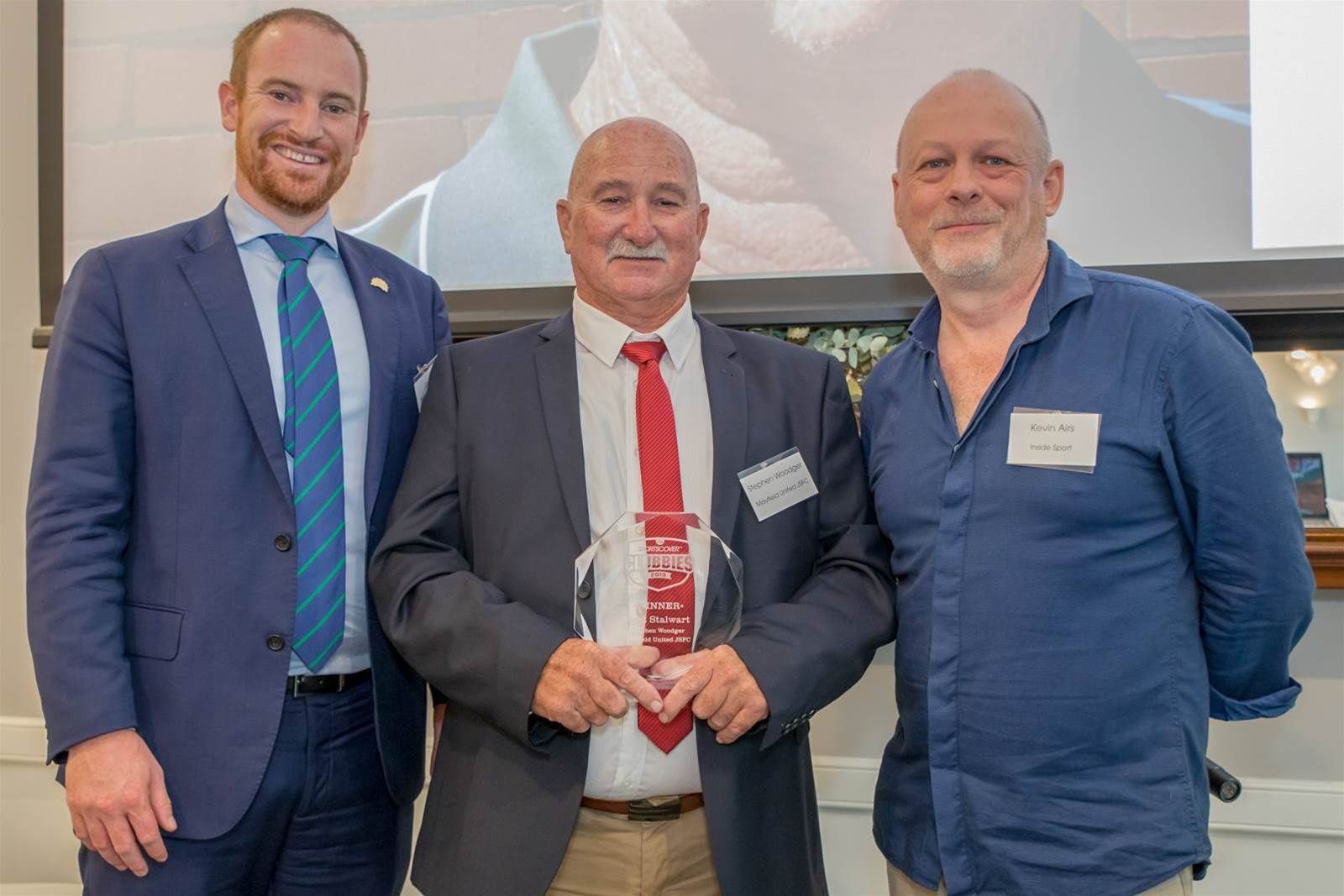 BEST STALWART
Stephen Woodger
Stephen is the very definition of stalwart after dedicating 30-plus years to Mayfield Junior Soccer FC.
Spurred on by the idea that things could "be better" the father of three – whose kids all played for the club – is one of the first to pitch in when a job needs doing…whether it's improving the club's financial outlook, designing new kits or upgrading facilities.
Last season he took on the thankless task of groundskeeper of the club's four fields. No easy task at a council-owned ground with shared facilities.
Stephen tells us it's all about "aeration, fertilizing, watering, mowing, marking"…and the small matter of walking 15-20ks a day.
You'll see him back on the mower for the upcoming season. And with registrations jumping from 509 to 650 it might take a few more ks to keep those grounds tip top.
Stephen on why he's stuck with the club: "More of a family atmosphere, and persistence maybe, you like to see it right through."
Honourable Mentions: Tony Smales, Surf Coast Trail Group (VIC)
BEST COACH
Mark Evans
In 2005, Mark Evans established the Impact Boxing Academy in a shed at the rear of his property with the dream of making a positive impact on kids' lives.
In 13 years the gym has done just that – achieving over 200 State, National and International titles. As part of his boxing program, Mark dedicates time to troubled kids and children with special needs, teaching respect, confidence and self-worth in the ring. The last 12 months has been a ripper.
The Academy was awarded Sunshine Coast Sports Federation coach of the year which comes off the back of 12 Qld State Titles, & 6 Australian Titles, Gold at the Youth Commonwealth Games (Bahamas)… and the list goes on.
Mark has been appointed Boxing Australia's Queensland Futures Coach with the responsibility of identifying up and coming talent.
Mark added: "If you want to be a good coach you need to understand your athlete. You can't line them up and treat them like robots."
Honourable Mentions: Lynton Joseph, tennis (VIC)
BEST ASSOCIATION
Palmerston and Regional Basketball Association
Palmerston and Regional Basketball Association is breaking down barriers on all fronts.
The first Northern Territory nominee to win a Clubbie, the Association eschews the traditional fixed facility model in favour of bringing basketball to the kids.
Their popular Streetball goes into the suburbs where they set up courts, turn up the music and dish up some nosh. Free transport is provided. No uniforms or registrations required.
Volunteer Rachel Fosdick added: "We provide easily-accessible basketball opportunities including 3x3 programs, short seasons and programs where players of all ages and abilities can join at any time. We pride ourselves on removing the barriers to people playing sport."
Honourable Mentions: Australasian Academy of Tennis Coaches (VIC); Kurri Kurri Netball Association (NSW)
BEST FACILITY
Fitzroy Victoria Bowling and Sports Club
Success is no stranger to the Fitzroy Victoria Bowling and Sports Club. For the past three years they've picked up, or been in the running, for major gongs.
Situated in the beautiful Edinburgh Gardens in North Fitzroy, which it shares with its cricket, football and tennis neighbours, the club is regularly profiled by Bowls Victoria and Bowls Australia.
The club is on a main road in Melbourne served by trams and attracts 50,000 visitors a year. It has two bowling greens, a 300-capacity clubroom and a 50-seat seminar room. Outside, there are 10 function areas.
Club president Dobe Newton added: "Bowls has become very popular particularly for family groups and work functions – we've embraced that whole heartedly. Outside you have trams and cars full of people saying: 'My God, that looks like a bit of fun'."
Honourable Mention: Bendick Murrell Sportsground(NSW)
BEST MASTERS
Girlfriendz Masters Softball
It's been an emotional rollercoaster for the NSW-based Girlfriendz Masters Softball team: growing success on the pitch, heartbreak off it – and deep bonds of friendship that have seen them through the highs and lows of five Pan Pacs.
Each time they enter the field they remember two fallen teammates – one lost in a car accident and the other to cancer.
The players range in age from 38 to 62 and the core group has been together for more than 20 years.
Their Girlfriendz 'warm-up' two years ago was a minor Youtube sensation. Silver medallists at the last Pan Pacs in November, and bronze twice before that – only gold eludes them. Bring on 2020!
Kristen Garsheen explained what makes Girlfriendz so special: "It's the bond we have with each other no matter what life throws at us. 
Honourable Mention: Sunshine Coast Rayners, AFL (QLD)
And that's a wrap for this year...but we'll be back later this year when we re-open nominations for 2020 - so get your clubs ready!
Thank you to everyone who entered and voted – but thanks most of all to our nominees and winners for making sport in this country what it is. We salute you all!