Plenty to sink your teeth into in our August 2013 issue.
Two months ago, in our June issue, Richard Hinds penned a piece about the difficulties of being both a fan and a sportswriter. If you missed it, the gist was this: Richard had always adhered to the seminal sportswriting rule: no cheering in the commentary box. Problem was, he'd been so smitten by Adam Scott's friendliness and palpable lack of ego, he couldn't help howling like a one-eyed ultra as Scott holed his final putt to win the US Masters.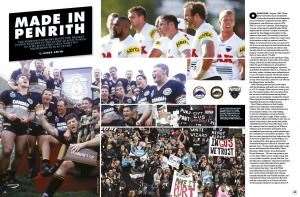 But what happens when fandom and sportswriting intersect in the opposite direction? What happens when a lifelong fan of a footy club becomes a sportswriter?
This is the conundrum that faced Inside Sport staffer James Smith this month. He's been a rabid Penrith Panthers fan since he was knee-high to a grasshopper. He was nine years old when he first saw them play live: it was 1986, Panthers vs the Eels at Parramatta Stadium. He can still remember the score too: the Panthers lost 16-10.
James has been on editor Graem Sims' back to write a yarn about the Panthers for years. He had always resisted. After all, it's not easy to write about your team; balancing warm affection and cold impartiality; tipping just enough of yourself into the yarn without drenching the subject …
Finally Graem succumbed. James has produced a cracking yarn. His take on the club's decade-long wait for a third premiership is both personal and polemic, colourful and considered. Hope you enjoy it.
Plenty more in this issue. Bob Drane examines the phenomenon that is Geelong power-forward Tom Hawkins, Jeff Centenera runs the rule over Rory McIlroy's follow-up blues, and – with an IAAF World Champs this month – Travis Cranley ponders whether Usain Bolt has become too big for athletics. Fine writers musing on intriguing questions …