How long will we love big clubs coming here to play friendlies and exhibition matches?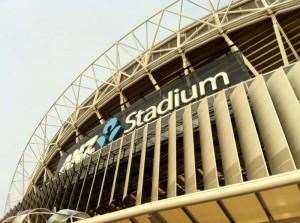 Today's line visits the first-world problem of superstar athletes and teams rolling into Australia's various capital cities and playing friendly matches, before wondering off back home or to somewhere else in Asia where they'll be appreciated just as much, if not more, than our relatively quiet and content sports fans.
Our Monday mornings here - probably just like a lot of other work places, really - are usually spent analysing how bad and how good the sport was over the weekend, who the big winners were, what "epic fails" we saw, and why certain teams crumbled and why others didn't.
Alas, a few mornings ago, we found ourselves yarning about Manchester United's friendly match against the A-League All-Stars played at ANZ Stadium on Saturday night. Turns out that two of our staffers (actually, one was from a neighbouring snowboarding magazine) got the call-up from colleagues looking for seats to be filled. After reading hundreds of Tweets on Saturday night about what an "awesome" atmosphere it was at ANZ during the sea of red, and what a fantastic spectacle everyone was witnessing, I was surprised to hear from my two mates about the "flat" vibe and "settled" audience. One comment was, "I've never heard 80,000 people be as quiet as I heard the other night."
It got us thinking: how long will Australia's enthusiasm for superstar visiting outfits playing exhibition games last? We've been visited by the biggest sports stars on the planet over the years, from Tiger Woods to the Denver Broncos and now Liverpool FC as they take on the Victory in Victoria in coming days. Will we always be enthralled by these friendlies? Or are they kept at the right number of years apart for us to stay interested (Man U visits us about every decade or so, and the British and Irish Lions every 12 years – the latter a proper concept with proper traditions).
Next year's official opening matches to the Major League Baseball season featuring the famous LA Dodgers and the non-so-well-known (to us) Arizona Diamondbacks will be an interesting case study in how an actual full-blown, big-league match will be accepted by our audiences, with two matches slated for the SCG.
As we said, a first-world problem of the highest order …