With eight weeks already in the books, it's time to have a look over each team and grade their performances throughout the first half of the NFL season.
Arizona Cardinals
Record: 3-4-1 
Halfway through the 2019 NFL season and the Arizona Cardinals already have the same amount of wins as they had, at the completion of last season, where they finished with an abysmal 3-13 record. The Cardinals have certainly showed improvement under new head coach, Kliff Kingsbury and the number 1 overall pick in this years draft, quarterback, Kyler Murray.
However, their defence has struggled so far this season, allowing 27.9 points per game, the 4th worst in the NFL. With the much needed return of Patrick Peterson, the defence should be able to keep the Cardinals in most games, giving the opportunity for Murray and co. to demonstrate some of that 'air raid' offense that Cardinals fans were been promised at the start of this season.
Grade: C+
Atlanta Falcons 
Record: 1-7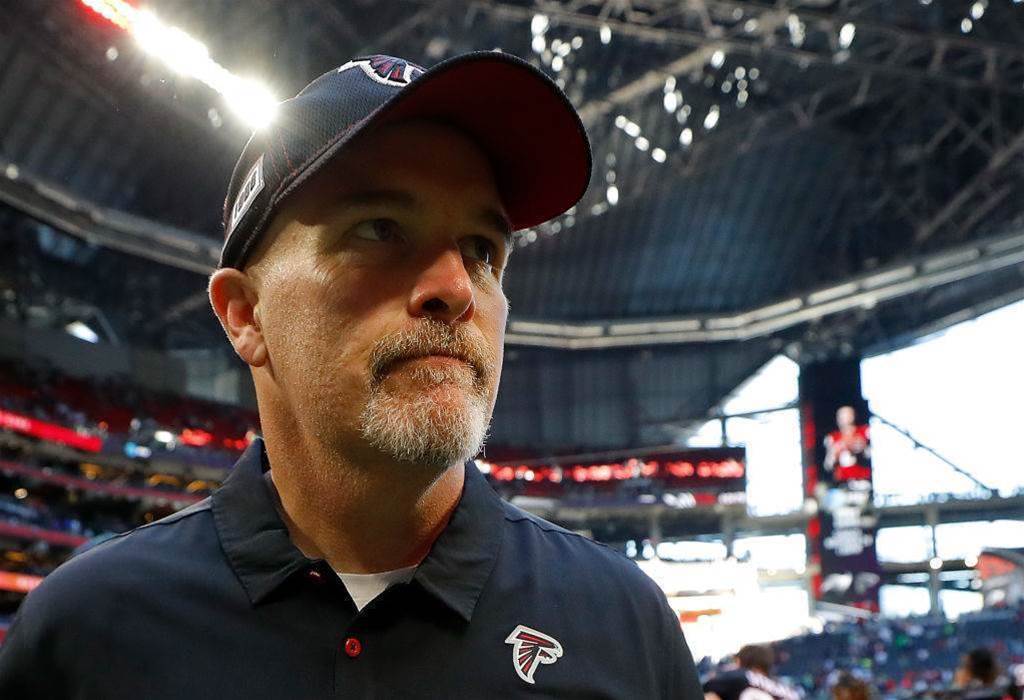 Arguably the most disappointing of all 32 teams so far this season. The Atlanta Falcons have been disastrous on defence, allowing a substantial 31.2 points per game, second last, only to the apathetic Miami Dolphins. Not only this, but the underwhelming performance of an offense that consists of highly talented names such as, Julio Jones, Calving Ridley, Matt Ryan and Devonta Freeman. Yet, somehow, can only manage a measly 20.6 points per game, it shows that this team is in serious need of a change at head coach. It has only been three years since Dan Quinn took this team to a Super Bowl, however, with the lacklustre performances from so many in this team, it is clear that he has now lost the locker room. 
Grade: F
Baltimore Ravens
Record: 5-2
Sitting atop the AFC North, the Baltimore Ravens have been quite clinical so far this season. With consistent performances from a vastly improved Lamar Jackson, the offense has been humming, scoring an impressive 30.6 points per game, ranking them second overall.
After losing considerable talent on defence in the pre-season, the acquisition of Earl Thomas III has been one that Ravens fans would be very thankful for. With a mouth-watering matchup against the 7-0 New England Patriots in week 9, it will be a true test to see just how good this Ravens team is. 
Grade: B+
Buffalo Bills 
Record: 5-2 
The strong point for the Bills so far this season has been their defence, they rank an impressive 5th in opponent points per game, and while last weeks loss against a subpar Eagles team would be rather concerning for them, if you were to ask Bills fans at the start of the season if they would have taken a 5-2 record at the halfway mark, they would have given a resounding, Yes! Still, they have beaten some pretty ordinary teams and with no real threat in the next few coming weeks, it may be quite some time before we see if the Bills are capable of a deep playoff run. 
Grade: B-
Carolina Panthers 
Record: 4-3
It has been a tale of two halves in the first half of the season for the Carolina Panthers. They started the season 0-2 before former MVP, quarterback Cam Newton succumbed to a foot injury. Already beginning so poorly it seemed the Panthers' season was finished before it really began. Yet, back up quarterback Kyle Allen, alongside MVP candidate Christian McCaffrey looked to have been doing a great job steading the ship, winning the next 4 in a row, before last weeks belting by the 7-0 San Fransisco 49ers, losing 51-13. The Panthers will be hoping Cam Newton will soon be fully fit and able to improve upon the hard work done by Kyle Allen that has kept the panthers season alive. 
Grade: B
Chicago Bears 
Record: 3-4 
Uh Oh, there are issues in Chicago. Mainly the offense. The Bears rank 29th in passing yards per game, averaging only 198.3 per game. Third year quarterback Mitchell Trubisky can not move the ball down the field, how much of the blame is on him? and how much of it is on head coach and play caller Matt Nagy? I'm not sure, but maybe they need to listen to Billy Flynn and learn to 'razzle dazzle' em. Otherwise Chicago fans will soon lose complete patience, if they haven't already...  
Grade: C
Cincinnati Bengals 
Record: 0-8
The Bengals are awful, awful on just about every side of the ball, offensively they cannot seem to gather any sort of consistency, quarterback Andy Dalton appears to be on his last legs as a Bengal, (at least Bengals fans can hope). Defensively they rank in the bottom 5 in just about every important category. Is it a surprise though? No, it's not. The Bengals have been a franchise lathered in mediocrity and incompetence for many years. Even when they were 'decent' they still couldn't win a playoff game. New head coach Zac Taylor has taken on a complete dumpster fire, and a concern for Bengals fans, he isn't showing much of a plan to turn it around any time soon. Perhaps his plan is to tank for Tua? Ok, Zac, good luck 'beating' the Dolphins for that. 
Grade: F
Cleveland Browns
Record: 2-5
Congratulations to the Cleveland Browns for winning the 2019/20 Super Bowl!... Hang on, was that a little premature? Well, not to Browns fans, who back in March of this year were already booking flights to Miami for the Super Bowl. After two years of utter embarrassment and near irrelevance, the Cleveland Browns managed to find their quarterback last year in Baker Mayfield. Then, followed up by a pre season trade earlier this year, for star wide receiver Odell Beckham Jr the Cleveland natives were over the moon. It wasn't only Browns fans who were predicting great things for this team, many experts were also predicting the same thing. So where's it gone wrong for the Browns ? A spluttering offense directed by head coach Freddie Kitchens, ill-discipline and some key injuries on both the offense and defense has stalled the much hyped Browns potential. Their season isn't over yet, but it'll be a tall order to get a spot in the playoff's this season. I hope it's not too late to get refunds on your Super Bowl tickets, Browns fans.
Grade: D
Dallas Cowboys 
Record: 4-3
Consistency has been the achilles heel for the Dallas Cowboys in the first half of the season. They began the season 3-0 before then losing the next 3 on the trot. With one of those losses against the miserable New York Jets. Cowboys quarterback Dak Prescott has been an MVP candidate throughout the first 8 weeks, leading the Cowboys to a very respectable 27.1 points per game. Currently leading the NFC East, the Cowboys sit in the box seat to win the division, especially after their convincing win over divisional rival, the Philadelphia Eagles. There is still a lot of improvement left in the Cowboys and that should strike fear in the rest of the teams in the league. 
Grade: B
Denver Broncos 
Record: 2-6 
The boys from Denver have numerous issues that need addressing, firstly, quarterback, Joe Flacco has been underwhelming, the offensive line is well below par and the usually stout defence has been, at times, ordinary. Vic Fangio has finally gotten an opportunity at head coach and so far this season he has not delivered. The main concern being the decline in the defence, normally Fangio's strength. A positive for the Broncos is the arrival of Courtland Sutton, the wide receiver should be a mainstay in the Broncos offense for years to come. Get Sutton a decent quarterback, John Elway, oh, and an offensive line to protect him while you're at it. 
Grade: C-
Detroit Lions 
Record: 3-3-1 
Not entirely sure what to make of the Detroit Lions, the highs are high and the lows are low. At times, they look fantastic and other times they look ordinary. They have been very competitive in loses against some very good teams, particularly against the Packers and the Chiefs. They've lost running back Kerryon Johnson for, most likely, the rest of the season. Defensively, the Lions are struggling, conceding 26.6 points per game. Can quarterback Matthew Stafford carry this team on his back and get them to the playoffs? Perhaps? But if he does, he'll be right in the mix for MVP claims. 
Grade: C+
Green Bay Packers
Record: 7-1 
Has Aaron Rodgers finally found the ideal head coach? So far, it appears to be the case under new head coach Matt LeFluer. Rodgers has looked to have re-found his magical spark, that some pundits were saying was beyond him. Albeit, Rodgers and co have been well supported by a stout Packers pass defence, currently ranked 8th in opponent completions per game. Rodgers and LeFluer have managed the offense well by also incorporating an effective run game, led by Aaron Jones. Packers fans would be happy to see a run game that they can finally rely on. The Packers lead the NFC North for now, however there are a few very important matchups looming on the back-end of their schedule. 
Grade: A
Houston Texans 
Record: 5-3 
Quarterback Deshaun Watson is a special talent. For as long as he stands upright, the Texans are a good chance to make a deep playoff run. However Watson is being hit far too often for the Texans liking, while the addition of tackle Laremy Tunsil has helped ease concerns for now, the Texans are still ranked 24th in quarterback sacks allowed. Defensively, the Texans have lost veteran rusher JJ Watt for the reminder of the season, it is a big loss in an area that the Texans are already struggling in. That being said, there is enough fire power in the offense with Watson and DeAndre Hopkins, to cover some defensive concerns. Look for the Texans to cause a stir in the AFC (assuming Watson stays fit). 
Grade: B+
Indianapolis Colts 
Record: 5-2 
After the shock retirement of quarterback Andrew Luck in the preseason, the Colts were expected to take a backwards step this season, even with a vey well-rounded team. Fill in quarterback Jacoby Brissett has done a fantastic job taking over the role from Luck. The Colts haven't been without injury concerns, key players on both sides of the ball have been injured at some point through the first 8 weeks, most notably, last seasons defensive rookie of the year, Darius Leonard and star wide receiver TY Hilton. Head coach Frank Reich has done a fantastic job with this team. Reich would be favourite for coach of the year at this point of the season. Just like the Texans, the Colts are a dangerous team for those in the AFC. They are a real dark horse for the Super Bowl. 
Grade: A-
Jacksonville Jaguars 
Record: 4-4 
Minshew Mania has taken over Jacksonville! With a long term injury to quarterback Nick Foles in week 1 of the season, rookie quarterback Gardner Minshew II, who looks like he could fit right into any of the Australian cricket teams from the 1970's, has been fantastic for the Jags. Along with Minshew, running back Leonard Fournette has finally started to showcase just how good a player he is, playing a substantial role in the Jags offense. The defense has been the key component for the Jags success in recent years and after losing elite cornerback Jalen Ramsey to the Rams, the now less-star-studded defense, has still been able to be reliable enough for Minshew and co to get the Jags to 4-4 and still be in the mix for the playoffs. 
Grade: B-
Kansas City Chiefs 
Record: 5-3 
The story for the Chiefs through the first half of the season has been injuries. Regular injuries to key personnel has stifled the Chiefs ability to be their dynamic selves. With wide receiver, Sammy Watkins returning to action last week and last years MVP, quarterback, Patrick Mahomes only a game or two away from returning to the field, expect to see the Chiefs regain their mojo in the back half of the season. They'd be happy with the fact they are over .500, considering all the disruptions, however, this team is well and truly set up for Super Bowl or bust. 
Grade: B+
Los Angeles Chargers 
Record: 3-5 
If any team could wish for a do-over, the Chargers would probably wish the hardest. To the hold-out from running back, Melvin Gordon, to the injuries on defence, particularly, young star Derwin James, to the decline of veteran quarterback Phillip Rivers, the Chargers have not managed expectation well at all this season. Yes, they have some valid excuses, but they still run out a talented side every week, and a side that talented should not be losing games they way they do. Their season looks to be over, and now the story becomes, is this the last season we see Phillip Rivers in a Chargers uniform? 
Grade: D
Los Angeles Rams 
Record: 5-3 
Last seasons Super Bowl runners up have been hit and miss in their games so far this season. The Rams began the year going 3-0 before losing the next three straight. The McVay/Goff offense has struggled to reach the same heights it achieved last season. While still being more than serviceable, Rams fans will be hoping for improvements out of quarterback Jared Goff and running back Todd Gurley II. Defensively, the Rams continue to leak points with their boom or bust style, yet the addition of cornerback Jalen Ramsey will help to plug some of those concerns. 
Grade: B-
Miami Dolphins 
Record: 0-7 
Tank, Tank, Tank. The Dolphins have one objective and one objective only. Tank for Tua. The Dolphins have been unapologetic about their intentions for the number one overall pick in next years draft. With that pick, the Dolphins will more than likely select the highly sought after Alabama quarterback Tua Tagovailoa. Until then, keep expecting mundane performance after mundane performance from the Dolphins, who will aim to end up 0-16 for the season. 
Grade: F
Minnesota Vikings 
Record: 6-2
Well positioned at the halfway mark, the Vikings are only one win behind the Green Bay Packers in the fight for the NFC North. They've achieved this through their persistent running game, led by running back Dalvin Cook. The Vikings are ranked 3rd in both rushing yards per game and rushing attempts per game. Cook has been one of the best in his position so far throughout the season. Quarterback, Kirk Cousins has shown that he is capable of performing well against lesser opposition, however his ability to take it to the next level will dictate whether or not the Vikings can cause a stir in the playoffs. 
Grade: B+
New England Patriots 
Record: 7-0
The undefeated Patriots have been arguably the most impressive side throughout 8 weeks, however there is no mistaking that they have played against more of the lesser teams in the league. The favourable schedule so far has allowed the Patriots to flex their muscle, particularly through their defence. The reigning Super Bowl champions are setting a record pace statistically, leading the majority of all defensive categories. This isn't expected to continue though, considering the jump up in difficulty in the next few weeks, although don't expect it to decline too much either. 
Grade: A+
New Orleans Saints 
Record: 7-1 
When veteran quarterback Drew Brees went down with a thumb injury in week 3, Saints fans and NFL fans were collectively holding their breath. Any sort of absence of the 40-year-old has normally resulted in danger for the Saints. Yet, back up quarterback Teddy Bridgewater has exceeded expectations by going 5-0 since Brees' injury. With Brees returning to action last week, and looking like he hasn't missed a beat, the Saints are now look every part the Super Bowl contending team many expected them to be. 
Grade: A+
New York Giants 
Record: 2-6 
Beginning the season with stalwart quarterback Eli Manning under centre, the Giants continued to look like the miserable team they have been in the last couple of seasons. Head Coach Pat Shurmur finally pulled the trigger and made a much needed change at quarterback, starting the sixth overall pick in this seasons draft, Daniel Jones. While still not the complete product, Jones has certainly raised the Giants from a lacklustre team to a work in progress. This season is all about reps for Jones, the more he can play and develop fluency under centre, the quicker the Giants will become a playoff contending team again, 
Grade: C-
New York Jets 
Record: 1-6 
Where do you start with the Jets? Heading into this season there was some optimism swirling around New York. With a new head coach in Adam Gase, the acquisition of pro bowl running back LeVeon Bell, quarterback Sam Darnold entering his second season and a defence led by Jamal Adams, playoffs seemed a possibility for the Jets. However, it only took 1 week before things started to fall apart. Quarterback Sam Darnold was diagnosed with Mononucleosis and missed the next 4 games. But even with his return, the Jets has still looked like a defeated football team. Their only win against the Cowboys being far and away their only highlight thus far. In saying that, the Jets do have some favourable matchups in the back half of the season, perhaps they can build toward next season. 
Grade: D-
Oakland Raiders
Record: 3-4 
With the preseason controversy of Antonio Brown, the Raiders seemed to be heading into this season with very little offensive potency. Quarterback Derek Carr has done an ok job to keep things rolling in head coach Jon Gruden's offense. They've managed a surprise win against the impressive Indianapolis Colts, yet cannot manage to string multiple performances together. Still, Raiders fans would be happy with the 3-4 start. They are a work in progress and seem to be trending upward. 
Grade: C
Philadelphia Eagles
Record: 4-4
Last weeks victory over the Bills was a season saver for the Eagles. Fractures within the locker room were starting to rear their ugly head, thankfully for the Eagles though, nothing fixes problems quite like winning. Quarterback Carson Wentz has come under fire for his lack of leadership throughout the season, with former players speaking out about the quarterback. His performance against the Bills however was a gutsy one, he displayed great fight to come away with the win for his team. With injured players close to returning, the Eagles would like to maintain some consistency within their starting side for the back half of the season. It's been a slow start, but don't write them off yet. 
Grade: C+
Pittsburgh Steelers 
Record: 3-4
Losing veteran quarterback Ben Roethlisberger for the season, in week 2, came as a cruel shock to the Steelers and any sort of playoff hopes seemed to be well and truly buried. Replacement quarterback Mason Rudolph has struggled to get the most out of the offense, only averaging 21.4 points per game. Defensively the Steelers are strong, especially since acquiring Minkah Fitzpatrick from the Dolphins a few weeks ago. The defence can keep them in most games, but can the offense do the rest?
Grade: C-
San Fransisco 49ers 
Record: 7-0
The only other team to be undefeated alongside the New England Patriots at this point of the season. The 49ers have been the biggest surprise packets so far this NFL season. Key pre-season additions of Kwon Alexander, Dee Ford and number 2 overall pick in this years draft, Nick Bosa have brought intensity to this 49ers side. Along with this, head coach Kyle Shanahan has been brilliant in his scheming and game planing. The 49ers are very good in all aspects of the game, if injury luck can stay on their side, and quarterback Jimmy Garoppolo can continue to show growth, they will go very close to the Super Bowl. 
Grade: A+ 
Seattle Seahawks 
Record: 6-2 
Led by MVP style play by quarterback Russell Wilson, the Seahawks have gotten themselves to 6-2 and remain within touching distance of divisional rivals, San Fransisco. They've managed to win some close games, which is always a sign of a good team. Considering how difficult it is for opposing teams when they play in Seattle, it has been a surprise to see that the Seahawks are undefeated away from home so far this season. 
Grade: A-
Tampa Bay Buccaneers
Record: 2-5
The Jameis Winston experiment is still yet to record a decisive conclusion. At times he can be great, other times he can be very very bad. Head coach Bruce Arians was brought out of retirement to see if he could find the secret to consistent quarterback play for Winston. So far, he is yet to do it. Unfortunately for Winston, he is getting little help from his defence, even with the addition of former Jets head coach, Todd Bowles as co-ordinator. 
Grade: D
Tennesse Titans 
Record: 4-4 
Mediocrity has been the case for the Titans ever since drafting quarterback Marcus Mariota, so their midseason record of 4-4 is entirely fitting. The Titans did replace Mariota with Ryan Tannehill in the hopes of giving a jolt to the stagnant offense. The Titans defence is underrated, they constantly put in every week, unfortunately for Titans fans, the offense just haven't been able to score enough points. 
Grade: C+
Washington Redskins 
Record: 1-7
Dan Snyder, please just sell the team. Everything that is wrong with the Redskins starts from the top. Your fans are begging for a change, your players refuse to play for this organisation, coaches come here to die, do something for the poor folks in Washington. There's not much to say about the on-field performances from the Redskins, the team sometimes puts up a fight, but not nearly regularly enough.  
Grade: F