There were tears, there were cheers and there were legends everywhere you looked. The 2019 Sportscover Clubbies Award reached their climax at a glittering awards ceremony in Sydney's Tattersalls Club yesterday.
BEST ADMINISTRATOR
Dawn Butler
Dawn Butler began her association with Woy Woy FC in 1980 and is an outstanding ambassador for the NSW outfit.
In fact, the local football club has become an all-consuming passion for the Butler family. Dawn, her husband Phillip and all three kids play for the club.
Before they put on the boots, though, they set up the home ground and the canteen on weekends. Dawn has served on the committee for 20 years and was instrumental in lobbying the local council for a club house.
When she's not wearing her club secretary hat, the talented all-age women's player can be found kicking the ball around.  It's not unknown for the livewire to play three games in one day – arriving at 7am to set up, and still being there at 6pm to pack it all away.
Dawn says her motivation is "...I just want everyone to enjoy the sport like I do."
Honourable Mentions: Kelsey Singh, Disability Sports Australia; Bronwyn Beames, Southern City BMX (TAS)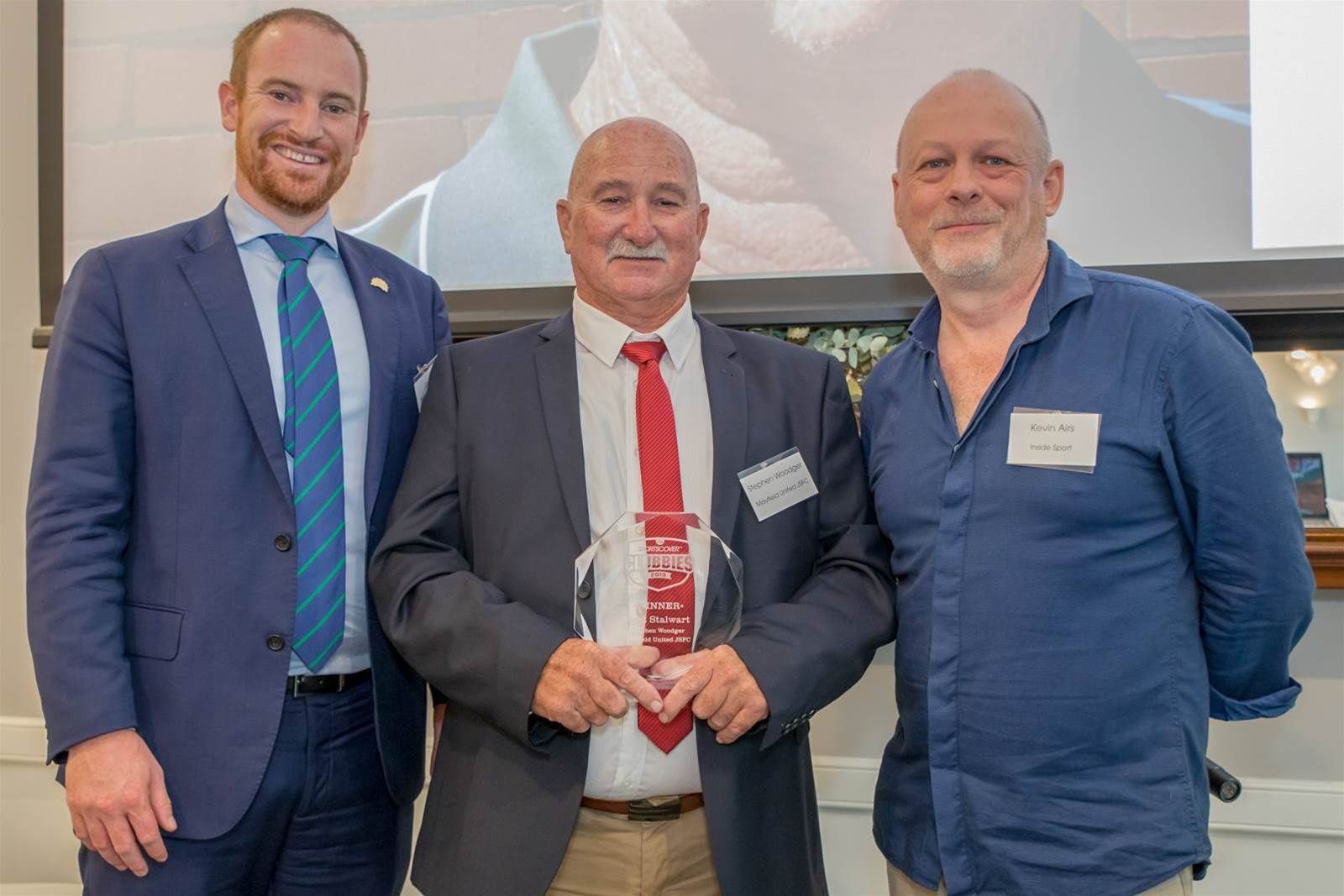 BEST STALWART
Stephen Woodger
Stephen is the very definition of stalwart after dedicating 30-plus years to Mayfield Junior Soccer FC.
Spurred on by the idea that things could "be better" the father of three – whose kids all played for the club – is one of the first to pitch in when a job needs doing…whether it's improving the club's financial outlook, designing new kits or upgrading facilities.
Last season he took on the thankless task of groundskeeper of the club's four fields. No easy task at a council-owned ground with shared facilities.
Stephen tells us it's all about "aeration, fertilizing, watering, mowing, marking"…and the small matter of walking 15-20ks a day.
You'll see him back on the mower for the upcoming season. And with registrations jumping from 509 to 650 it might take a few more ks to keep those grounds tip top.
Stephen on why he's stuck with the club: "More of a family atmosphere, and persistence maybe, you like to see it right through."
Honourable Mentions: Tony Smales, Surf Coast Trail Group (VIC)