The Dutch supercoach perfected the art of Total Football, Building one of the most iconic teams in the game's history.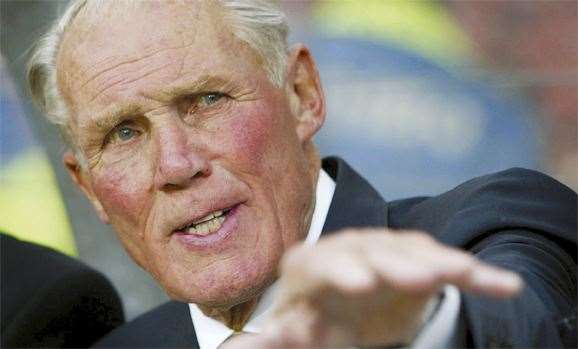 The concept, if not the complete practice, of "Total Football" might've been invented long before Dutch supercoach Rinus Michels perfected it, but the effect to which Michels employed the technique was remarkable. While it's an undeniable fact that Total Football was built around the talents of another of our Innovators, Johan Cruyff, who implemented it to perfection, it was the quiet, quirky and demanding Michels who saw the possibilities of the system and employed it as a team modus operandi.
Total Football is a system in which any outfield player (that is, anyone but the goalkeeper) can take the place of any other during the course of a match. No player is allocated a fixed role, which means anyone on the team can fill the role of attacker, defender or midfielder.
Michels recruited for, and trained, his Dutch Ajax team accordingly, placing incredibly high physical and technical expectations on each team member. Jack Reynolds, who was manager of Ajax for most of the period from 1915 to 1947, first wrote of the possibilities of the fluid system after witnessing an early version of its employment by the great Hungarian teams of the 1950s. Michels, himself a very good footballer, had played under Reynolds. With the advent of the great Cruyff, who played his own brand of football, often disregarding positional play if it meant he could influence a match from somewhere else, Michels suddenly saw the possibilities for Total Football.
The system dictated that a role would be filled by anyone, any time, with one hundred percent effectiveness. Cruyff could wander the field inside such a structure and do what he always did best – dominate soccer matches. Fitness, versatility and spatial awareness were required of each team member, as well as an intimate understanding of the requirements of each role.
Although Total Football demanded close organisation and unwavering discipline, it manifested as an organising principle which was so well-executed, the team was almost self-managing. But Michels' influence, though it seemed invisible, was everywhere. He was the man who created the enabling conditions and insisted on the all-round skills for Cruyff and his team to carry out the strategy.
While Cruyff was at his peak, Ajax dominated as it implemented Michels' philosophy, winning the European Cup in 1971, 1972 and 1973. It broke the stranglehold the negative, defensive "Catenaccio" style had on the game for many years. For this achievement alone, Total Football was remarkable.  The kaleidoscopic changes out on the pitch were an antidote to the robotic European approach. In comparison, Michels' team looked and played like an intelligent organism with an entirely different sense of space – concentrating on space and its use, rather than rigid structures, was a revolutionary approach.
From 1971 to 1974, Ajax played some incredible soccer, achieving 46 wins for no losses over two seasons (1971-72 and 1972-73) and winning five titles in 1972 alone – the Netherlands national league, KNVB Cup, European Cup, European Super Cup and Intercontinental Cup. Although they eventually lost the 1974 World Cup final to hosts West Germany 2-1 after dominating early, the Netherlands team achieved the most breathtaking victories of all in that tournament, beating Argentina, East Germany and Brazil. None of those vaunted teams succeeded in scoring against the Dutch. After nine wins and one loss, Michels resigned as national coach, returning ten years later. In Euro '88, long after Cruyff's retirement, he coached the team to victory.
When he took over in 1965, he immediately saved Ajax from relegation. Altogether, Michels won four Dutch League championships, all between 1966 and 1970. He also won three Dutch Cups, between 1967 and 1971. He won the European Cup with Ajax in 1971 and the Spanish Cup and Spanish League championship with Barcelona.
Cruyff, the man to whom most people routinely attribute Michels' success, was his greatest admirer. "Both as a player and
as a coach, there is nobody who taught me as much as him. He was a sportsman who put the Netherlands on the map in such a way that almost everybody still benefits from it. There is no one I learnt from more than Rinus Michels. I often tried to imitate him, and that's the greatest compliment one could give."
Under Michels, Total Football was highly-organised, yet spontaneous and imaginative. It was simple, yet its simplicity relied on complex interactions. It encouraged individualism, but only in the context of an uncompromising team approach.
In 1999, FIFA crowned Michels the Coach of the Century. An intelligent and thoughtful man with enough personal idiosyncrasies to keep his men – and their opponents – guessing, Michels remains an object of reverence in his native Netherlands, eight years after his death.
− Robert Drane
– Photo: Getty Images