Those in the know have seen this guy coming for years.
Introducing Australia's latest young surfing star ...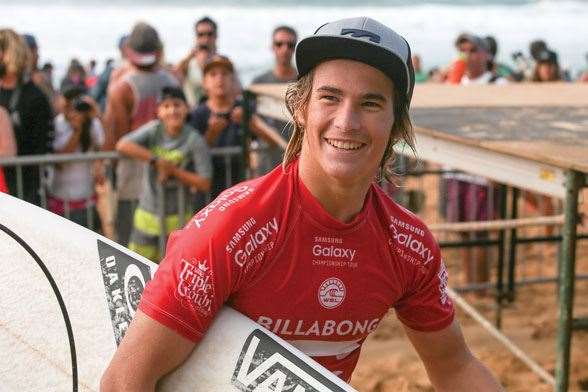 (Photo by Getty Images)
JACK WHO?
The Hawaiian leg of the World Surf League tour has a habit of announcing future stars of the sport – as it did again this year, when 17-year-old Jack Robinson from Western Australia beat a stellar field in sensational style to win the Trials event at the infamous Banzai Pipeline, earning himself a starting spot in the final (and deciding) leg of the pro tour, the Billabong Pipe Masters. Now everybody knows his name ...
WHAT'S HIS STORY?
Those in the know have seen this guy coming for years. His father had pushed him into waves since he could stand on two legs; by the age of ten he was already considered amongst the most dynamic grommets in the world, seen in films charging the powerful swells that engulf the coast of South-West WA in the Margaret River area; since he was 12 he has travelled to Hawaii on an annual basis with his dad to familiarise himself with the breaks there, and earned notices for his fearless approach to waves many times his height, and for his attractive, adventurous, new-school style.
But it was this past summer (Hawaii's winter) where all the promise was realised, and all those hours spent riding heavy West Australian reef breaks paid off. The week before the Pipe contest he acquitted himself remarkably in massive Sunset Beach surf during the Vans World Cup, and earned himself the title of Triple Crown Rookie of the Year. Sunset Beach is an awkward and scary wave anytime it is overhead, but it doesn't compare to the dangers present at Pipeline, where six-metre swells break in extremely shallow water over rugged reef; several pros narrowly escaped final curtains as a maxing swell pounded Oahu's North Shore during the contest period. But Robinson showed remarkable composure, and inspiring courage, to wait for his chances and repeatedly pull into spitting caverns of water, to emerge each time the winner of four heats in succession to win the whole shebang.
Up against the seasoned pros in the Masters, he couldn't find the right waves to progress, but he left the surfing world agog. This wasn't a display of pure potential: the kid had arrived.
WHO'S HE LIKE?
The Billabong Pipe Masters is still a contest run in memory of charismatic American surfer and thrice world champ Andy Irons, who died in 2010. Irons was renowned for his ultra-powerful repertoire of moves that were performed with an apparent casualness in his body language that gave the impression of total mastery of even the most critical situation. The comparisons of Robinson with "Andy" have revved up recently: both natural footers (surfing left-foot forward), both similar frames (though Robinson still has plenty of growing up and filling out to do), and both with their mops of surf-bleached hair and tanned good looks – though young Jack proudly sports a "bowl" cut of his fringe (performed by Dad) that recalls the cult surfing heroes of the '70s like George Greenough and Peter Crawford. The way he's going, Jack Robinson just might form a cult of his own ...
WHAT DO THEY SAY?
"There isn't a better surfer on the planet for his age."  – Pro surfer and fellow West Australian Taj Burrow.